County Geologic Maps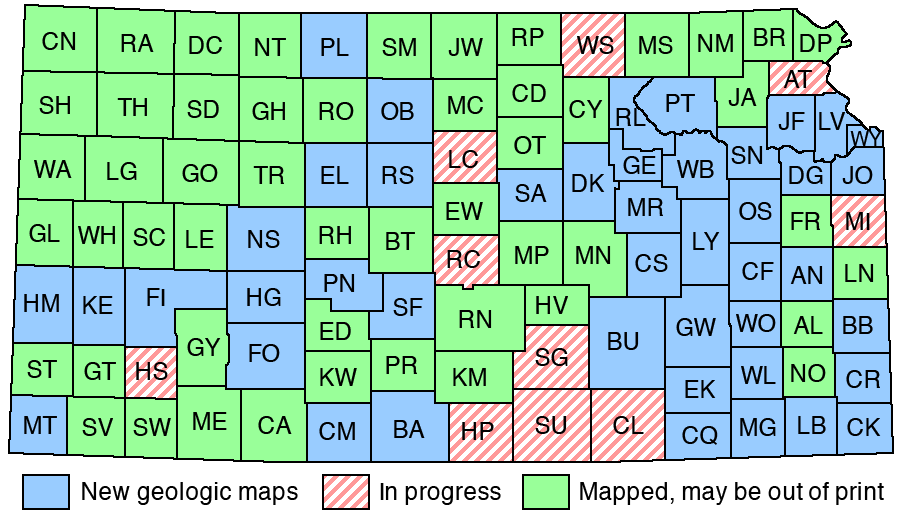 This page shows available geologic maps for the counties of Kansas. Click on the map to view information for a county, or scroll down and select from a list of counties.
In addition to these county maps, explore the geology of Kansas with our Interactive Geologic Map.
The KGS Library should have copies for examination of those reports listed as out of print. In-print KGS publications can be acquired from the KGS, but reports from the U.S. Geological Survey, Kansas Department of Transportation, or other organizations are generally NOT available from the Kansas Geological Survey. You may also wish to check the KGS Online Bibliography of Geology for references.
---
Geologic maps, data, charts, and publications are also available through the USGS National Geologic Map Database.
Updated STATEMAP Summary sheet for Kansas for FY2018
Kansas Geologic Mapping Advisory Committee
7 1/2 minute quadrangle maps created for county mapping projects
---
Allen || Anderson || Atchison || Barber || Barton || Bourbon || Brown || Butler || Chase || Chautauqua || Cherokee || Cheyenne || Clark || Clay || Cloud || Coffey || Comanche || Cowley || Crawford || Decatur || Dickinson || Doniphan || Douglas || Edwards || Elk || Ellis || Ellsworth || Finney || Ford || Franklin || Geary || Gove || Graham || Grant || Gray || Greeley || Greenwood || Hamilton || Harper || Harvey || Haskell || Hodgeman || Jackson || Jefferson || Jewell || Johnson || Kearny || Kingman || Kiowa || Labette || Lane || Leavenworth || Lincoln || Linn || Logan || Lyon || Marion || Marshall || McPherson || Meade || Miami || Mitchell || Montgomery || Morris || Morton || Nemaha || Neosho || Ness || Norton || Osage || Osborne || Ottawa || Pawnee || Phillips || Pottawatomie || Pratt || Rawlins || Reno || Republic || Rice || Riley || Rooks || Rush || Russell || Saline || Scott || Sedgwick || Seward || Shawnee || Sheridan || Sherman || Smith || Stafford || Stanton || Stevens || Sumner || Thomas || Trego || Wabaunsee || Wallace || Washington || Wichita || Wilson || Woodson || Wyandotte