Oil and Gas Well Statistics for Kansas
Updated: July 1, 2020 || View Previous Years
2017
2018
2019
2020
Wells permitted
1,561
1,905
1,208
265
New oil wells drilled
786
1,065
643
94
New gas wells drilled
32
37
34
2
Dry holes drilled
315
327
312
39
Service wells drilled
389
323
285
70
Suspended wells drilled
Total New Wells
Drilled
1,527
1,768
1,278
205
Total New Footage
Drilled
4,198,183
5,012,724
4,169,332
672,487
Coalbed methane
well permits issued
0
1
0
0
Coalbed methane
wells drilled
0
1
0
0
Horizontal
wells permitted
19
26
18
2
Horizontal
wells drilled
18
33
17
6
Number of wells
(as of update date)
Total Producing oil wells
68,751
Total Producing gas wells
24,866
Total Producing coalbed methane wells
4,451
Total SWD or INJ wells
5,337
Total EOR wells
8,762
Records in our Master List
489,924
Total Count of Wells
447,717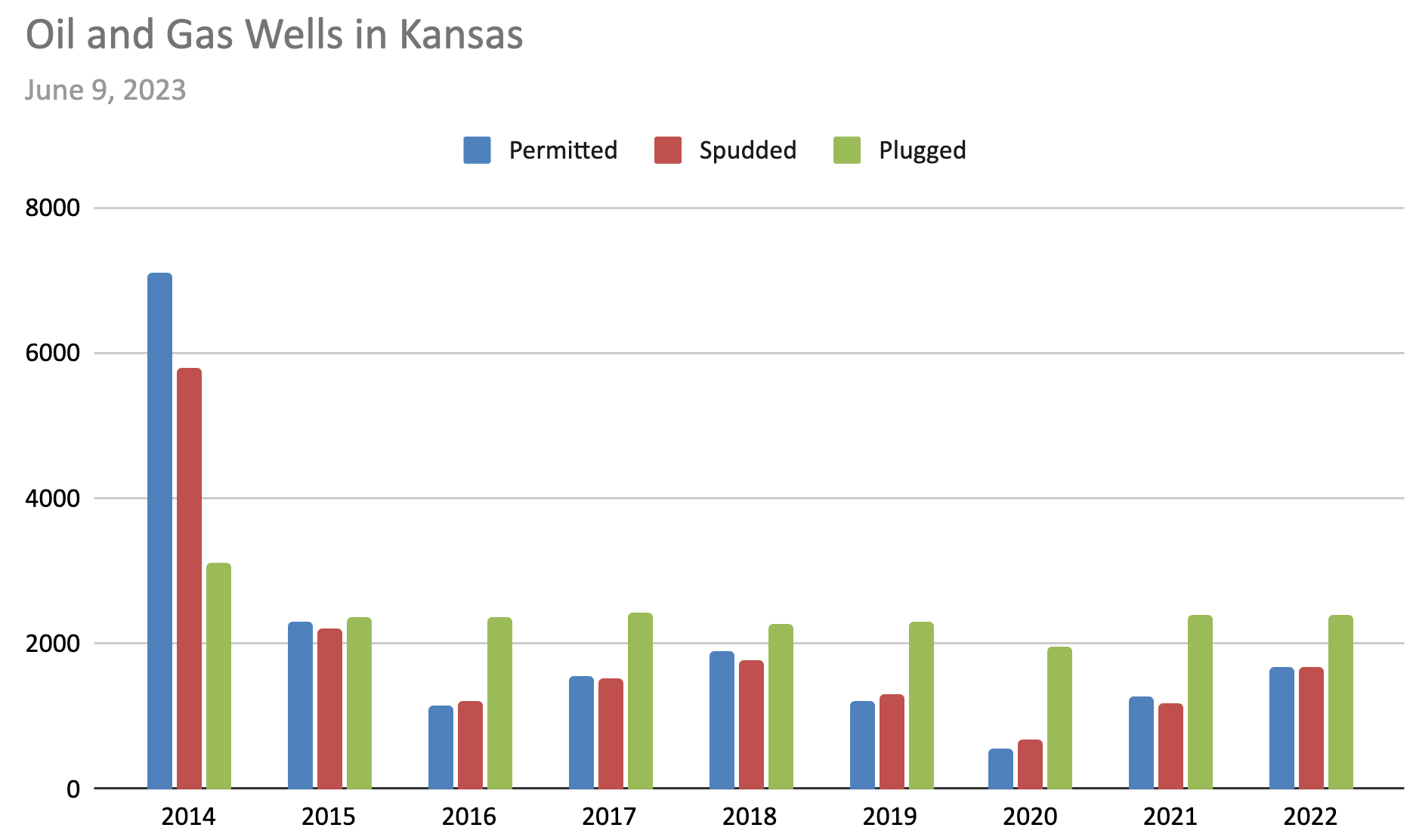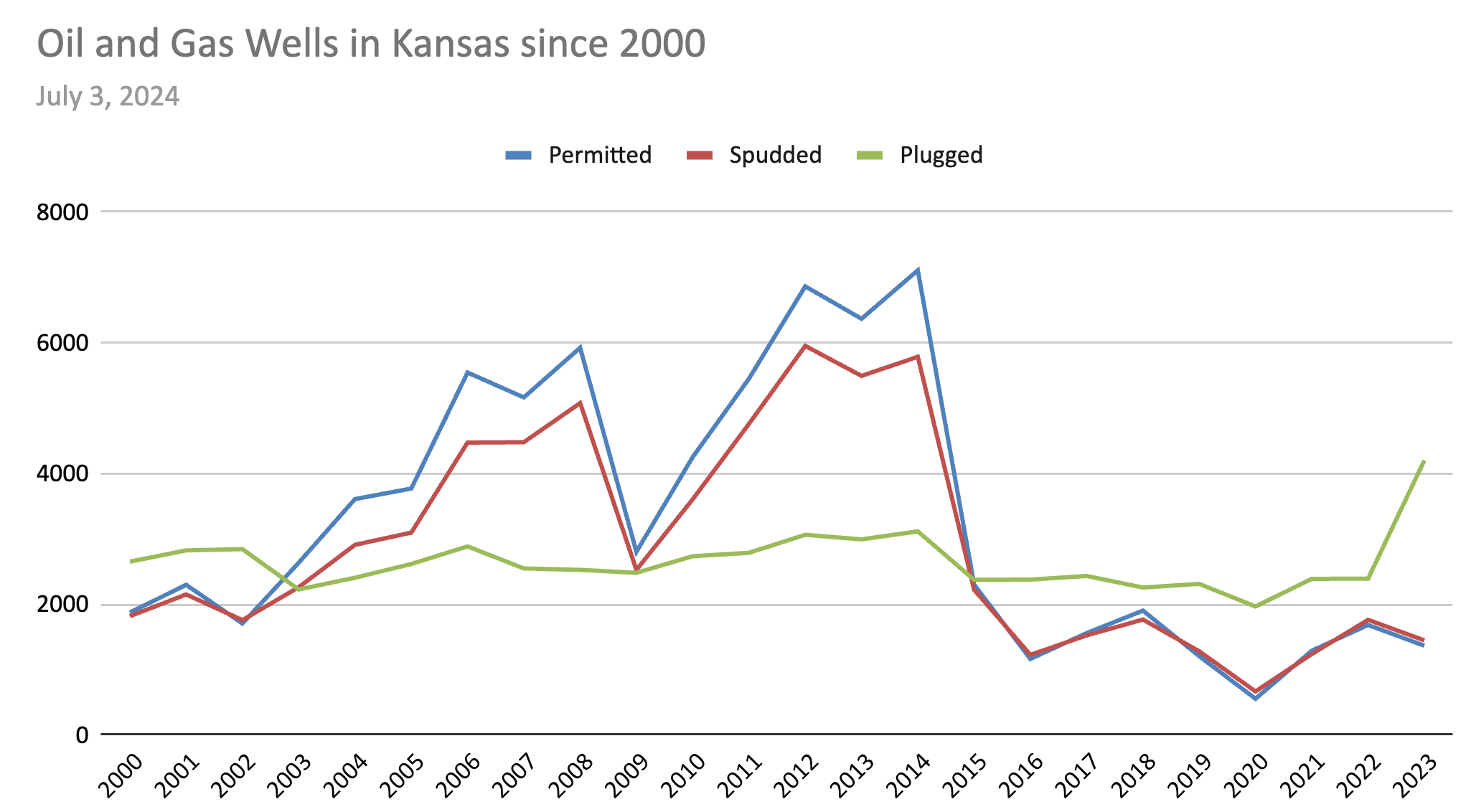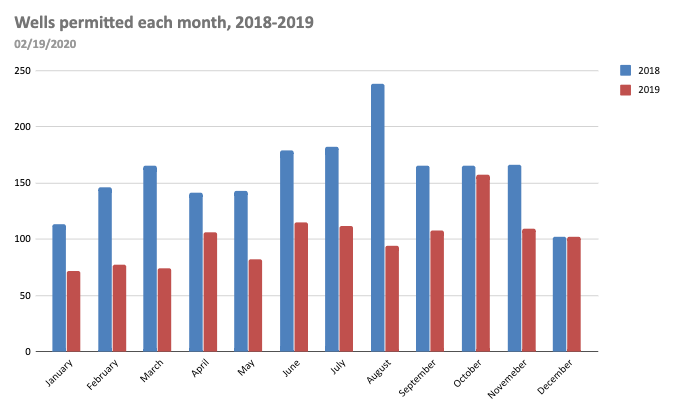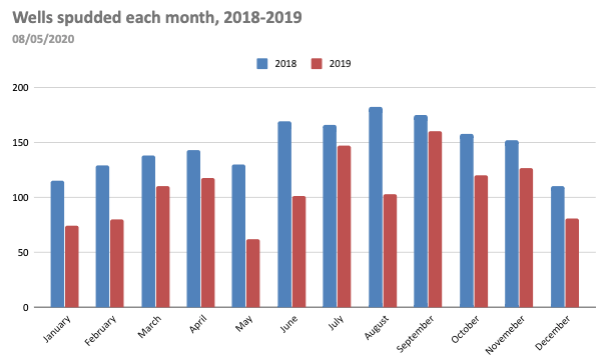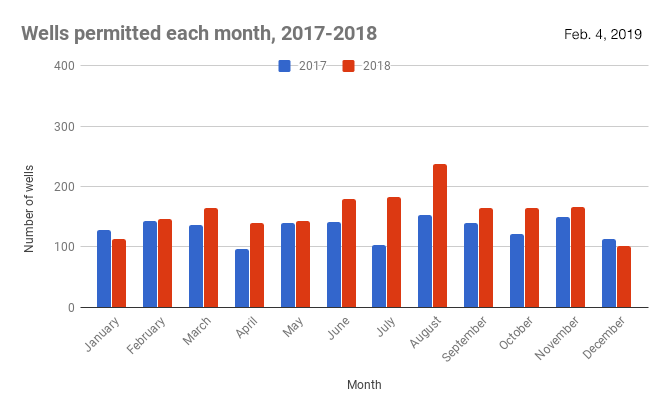 Notes on methods
Oil wells are those with a well status of "OIL", "O&G", "OIL-P&A", or "O&G-P&A". Gas wells are those with a well status of "GAS", "CBM", "GAS-P&A", "CBM-P&A". The "-P&A" flag means the well was completed successfully but has since been plugged. Service wells are those with a well status of "CATH," "EOR," "SWD," or "WATER."
Dry holes are those with a well status of "D&A".
Permitted coalbed methane wells are those for which we have a permit date within the desired year. Wells drilled may have been permitted in a previous year. Expired permits will often be changed from "CBM" to "LOC" at some point. Workovers are not included in CBM counts.
We have no information in our database on how an oil well is producing (flowing or artificial lift).
Total wells producing is calculated by adding all the wells with valid completion dates or spud dates and no plugging dates. Only wells with no workover code are counted, but a certain percentage of older wells are plugged but do not have a plugging date.
Horizontal wells listed are based on a digit present in second place of the workover code (i.e. '-0100','-0101','-0200', etc.). As with the other searches, a well is listed as drilled once we have a spud date in the database. Sometimes the status will be upgraded to drilled or completed before we have the date available.
"Records in our Master List" is a count of every Kansas record in our list of wells; can include highway test holes where core or cuttings were taken, water wells where electric logs were run, and so on. "Total Count of Wells" is a count of records where they do not appear to be workovers and the type of well is related to the oil and gas industry.