---
Core studies in Kansas
Sedimentology and diagenesis of economically important rock strata in Kansas
compiled by W. L. Watney1, A. W. Walton2, and J. H. Doveton1
1Kansas Geological Survey
2University of Kansas
edited by Marla D. Adkins-Heljeson, Kansas Geological Survey
Proceedings of a core workshop held at the 1983 Midcontinent American Association of Petroleum Geologists (AAPG) meeting in Wichita, Kansas. Workshop sponsored and supported by the Kansas Geological Society, Kansas Geological Survey, and the Department of Geology at Wichita State University.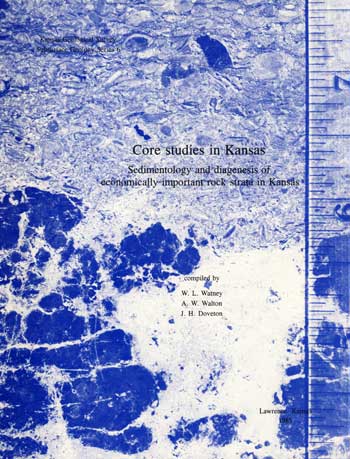 [Originally published in 1985 as Kansas Geological Survey Subsurface Geology Series 6. This is, in general, the original text as published. The information has not been updated.]
Contents
Wendy Autio
P. N. St. Clair
Craig D. Caldwell and Roger Boeken
Bill Coffey
D. E. Nodine-Zeller
R. H. Franz
T. J. Robinson, S. Chaudhuri, and L. M. Jones
J. W. Harris
D. H. Rofheart
C. D. Caldwell
W. L. Watney
M. K. Dubois
B. E. Prather
A. W. Walton and Gary Griffith
T. Y. Abdullah
Preface
As geologists have become more sophisticated in the interpretation of the rock record, studies of cores have progressed beyond their traditional level of determining porosity, permeability, and fluid saturations. These investigations have a variety of industrial and academic objectives. Oil in Kansas is found in traps that result from a combination of structural and stratigraphic components. Since the more obvious structures have been tested, industry interest is focused increasingly on traps in which the stratigraphic component is the dominant control. Exploration for such traps requires an understanding of the distribution of porous, permeable rock in the subsurface. Furthermore, secondary and tertiary oil recovery projects can be optimized where the distribution of reservoir rocks is well understood. Although subsurface studies may employ well logs and geophysical techniques, core studies of lithofacies and comparison with modern analogs are fundamental to any detailed geological interpretation.
Several features of rock bodies beside basic lithofacies affect reservoir quality. Cores provide a unique opportunity to examine directly sedimentary structures, directional permeability, reservoir discontinuities, and diagenetic minerals. These results guide not only recovery efforts, but also provide a basis for understanding diagenetic and burial histories of sedimentary basins from which the cores were taken.
Fourteen authors representing industry, government, and academia presented results of their studies of stratigraphy, facies analysis, and diagenesis at the Kansas Core Workshop held at the Department of Geology at Wichita State University on October 16, 1983. One hundred and forty-six geologists registered to examine the cores and discuss the results. The papers in this volume are edited and revised versions of the manuscripts that were available at the workshop. Several of the articles have been expanded and one has been added.
Most of the cores described during the workshop were donated to the Kansas Geological Survey (KGS) by various companies and are available for inspection at the KGS Core Repository in Lawrence.
Papers in this volume were critically reviewed by A. W. Walton, Paul Enos, J. W. Ebanks, Jr., and W. L. Watney.
Daniel Merriam, chairman of the Department of Geology at Wichita State University, arranged for use of the facilities for the workshop. The 1983 AAPG Midcontinent Meeting Committee of the Kansas Geological Society, chaired by Larry Richardson, provided supplemental financial assistance for the workshop. The Kansas Geological Survey provided staff time and financial support for the workshop itself as well as underwriting publication of the original notes and this revised version. David Killen and Talat Abdullah of the KGS and Gu Xiaozhong of the People's Republic of China, Visiting Scientist at the KGS, assisted with the workshop. Marla Adkins-Heljeson edited this publication and Patricia Acker provided graphic support. The convenors wish to thank all of these individuals and agencies.
W. Lynn Watney, Kansas Geological Survey
Anthony W. Walton, Department of Geology, The University of Kansas
John Doveton, Kansas Geological Survey
Location map and stratigraphic section showing areas and lithologic units covered by the papers of this volume:
Autio
St. Clair
Caldwell and Boeken
Coffey
Nodine-Zeller
Franz
Robinson, Chaudhuri, and Jones
Harris
Rofheart,
Caldwell
Watney
Dubois
Prather
Walton and Griffith
Abdullah.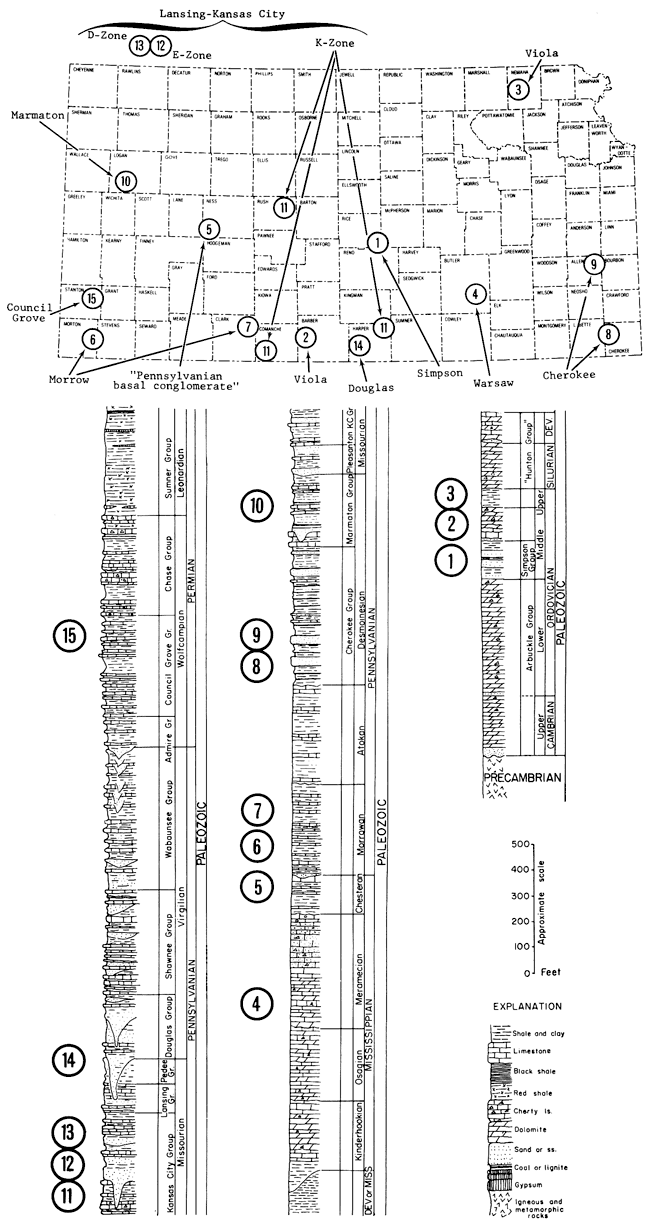 ---
Kansas Geological Survey
Comments to webadmin@kgs.ku.edu
Web version updated April 19, 2010. Original publication date 1985.
URL=http://www.kgs.ku.edu/Publications/Bulletins/Sub6/index.html