Prev Page--Contents || Next Page--Hydrogeologic Environment
---
Statement of Problem
Groundwater Management District No. 5 (GMD#5),which encompasses most of the Rattlesnake watershed (fig. 1), is concerned with declining ground-water supplies and potentially deteriorating water quality. Ground-water resources are being depleted as a result of continuous ground-water-based irrigation development. In the Rattlesnake watershed, five irrigation wells were in use in the 1940's compared to 1,700 wells in 1984 (fig. 2), resulting in wells currently extracting a substantial proportion from an appropriated ground-water amount of approximately 390,000 acre-ft from the Rattlesnake Creek watershed. During the decade from 1970 to 1980, the number of ground-water-appropriation rights issued more than tripled the entire amount of ground-water rights existing during the previous three decades. Estimated natural-recharge rates in the region generally are smaller than ground-water withdrawals (Sophocleous, 1981, 1989; Sophocleous and Perry, 1985). In certain areas, intensive ground-water withdrawals cause saltwater from deeper formations to intrude into shallower usable ground-water supplies. Water-level-decline areas of more than 10 ft (3 m) since the 1940's have occurred mainly in northeast Edwards and northwest Stafford counties. In addition, average streamflows in Rattlesnake Creek, which is the major stream draining the watershed and fed predominantly by ground water, have been in continuous decline since the early 1970's (fig. 3). A four-year average streamflow in the early 1960's was approximately 43 ft3/sec (cfs) [1.22 m3/sec] at the Macksville streamgaging station, compared to 9 cfs (0.25 m3/sec) for a four-year average in the early 1980's.
Figure 1--Location of study area.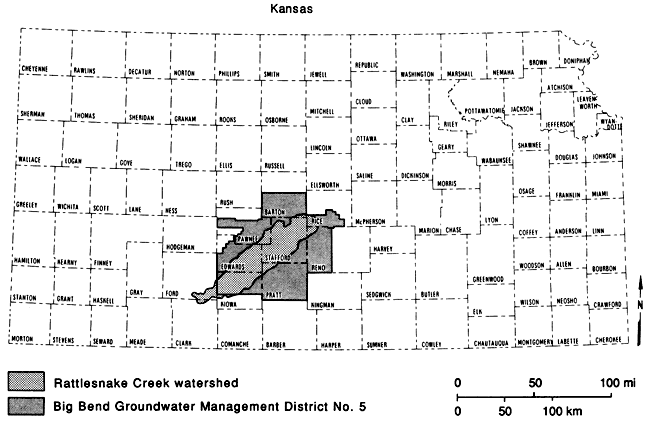 Figure 2--Ground-water rights issued in Rattlesnake Creek watershed from 1941 to 1984.
Figure 3--Mean annual flow on Rattlesnake Creek, 1974-1984.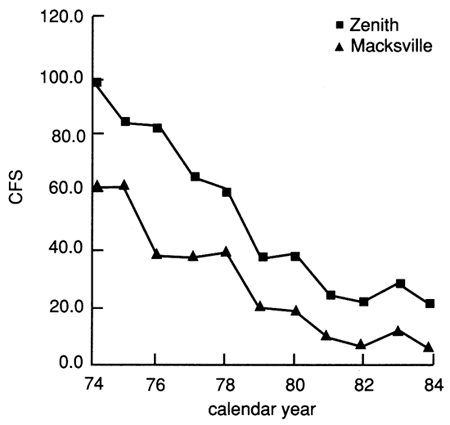 As a consequence of these trends, GMD#5 adopted a safe-yield program to safeguard and prolong the life of the ground-water supplies on which agricultural and other development depends. However, the safe-yield program depends on a single-average value of ground-water recharge, which may not be representative of all areas within the district. The GMD#5 safe-yield program was based on an empirically derived average value of 9 inches (229 mm) of ground-water recharge, which was reduced by half in November 1984, in view of the persistent water-level declines and the tentative results of the Kansas Geological Survey ongoing studies of the problem (Sophocleous, 1981, 1989; Sophocleous and Perry, 1985, among others).
Detailed information on the spatial distribution of ground-water declines and recharge rates are essential to sound planning for the conservation of the ground-water resources of the Rattlesnake watershed. As the need for water continues to grow, integrated approaches in assessing and predicting the components of the hydrologic cycle are needed to fully understand and utilize the area's water supplies in an efficient manner. One such planning tool is a basinwide water-balance simulator.
Purpose of Study
The purpose of this study is to develop a detailed, yet simple, hydrologic budget of the entire Rattlesnake watershed, which is able to characterize the spatial distribution of the hydrologic components of the water balance within the watershed using the soil-plant-water system-analysis methodology. It should be noted that this is an initial, pilot-study attempt to demonstrate the capabilities of the approach, as opposed to a multiyear predictive analysis for management purposes.
Location of Area
The Rattlesnake Creek watershed (fig. 1) is approximately 1,455 mi2 (3,783 km2) in area and is located within the Great Bend Prairie of south-central Kansas. It is an elongated watershed basin approximately 95 mi (152 km) long and 18 mi (29 km) wide with the long axis oriented in a southwest to northeast direction. The southwest-extreme boundary has a latitude of 37.26° and a longitude of 99.50°, while the northeast-extreme boundary has a latitude of 38.17° and a longitude of 97.21°. Parts of Rice, Barton, Reno, Stafford, Pawnee, Edwards, Kiowa, Pratt, Ford, and Clark counties are included in the Rattlesnake basin, with Stafford, Kiowa, and Edwards counties covering more than 82% of the watershed area.
---
Prev Page--Contents || Next Page--Hydrogeologic Environment
Kansas Geological Survey, Geohydrology
Placed on web Aug. 16, 2010; originally published 1990.
Comments to webadmin@kgs.ku.edu
The URL for this page is http://www.kgs.ku.edu/Publications/Bulletins/GW11/02_intro.html