Prev Page--Introduction || Next Page--Geology
---
Drainage and Topography
The principal streams in Gove County are Smoky Hill River, Hackberry Creek, and Big Creek. Smoky Hill River heads in eastern Colorado and flows across the southern part of Gove County, draining most of the southern half of the county. Hackberry Creek heads in Logan County and flows eastward across the central part of Gove County. Big Creek heads in the northwestern corner of Gove County and its course is approximately parallel to Hackberry Creek across the county. The extreme north-central and northeastern parts of Gove County are drained by tributaries to Saline River, which flows across the northeast corner of the county.
The total topographic relief in Gove County is about 700 feet. The highest elevation, about 3,000 feet, is in the northwestern part of the county; the lowest elevation, about 2,300 feet, is in the Smoky Hill valley on the eastern county line.
Gove County is in the High Plains section (Fig. 3) of the Great Plains physiographic province (Schoewe, 1949). The county differs from much of the High Plains of Kansas, however, in that in most of the southern half, the Tertiary capping of unconsolidated sand, gravel, and silt (Ogallala Formation) has been eroded away by Smoky Hill River and its tributaries, exposing the older underlying soft chalk beds, of Cretaceous age. The Smoky Hill valley in Gove County is about 15 to 20 miles wide and includes approximately the southern two-fifths of the county. The break from the High Plains into the valley is generally abrupt, but between the break and the narrow inner valley of Smoky Hill River the slope is relatively gentle. At places on this slope, badland topography is formed by erosion of the soft Cretaceous chalk beds. Rain wash, running water and wind have carved the chalk beds into small buttes and bizarre pinnacles and spires such as Castle Rock in southeastern Gove County and Monument Rocks in southwestern Gove County (Pl. 4).
Figure 3--Physiographic regions of Kansas, showing areas of topographic homogeneity (after Frye and Schoewe, 1953).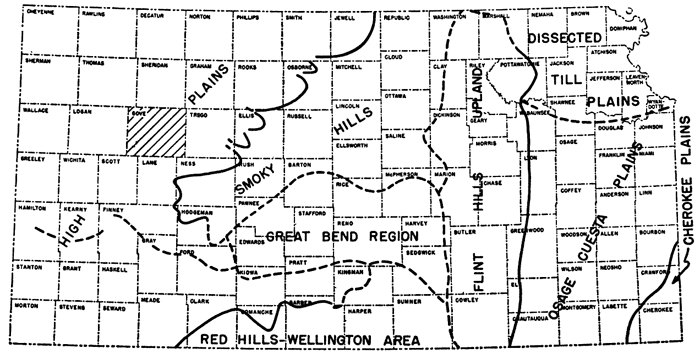 Plate 4--Erosional features of Smoky Hill Chalk in Gove County. A, Monument Rocks, near center of west line of sec. 34, T. 14 S., R. 31 W. B, Castle Rock, in NW SW sec. 1, T. 14 S., R. 26 W.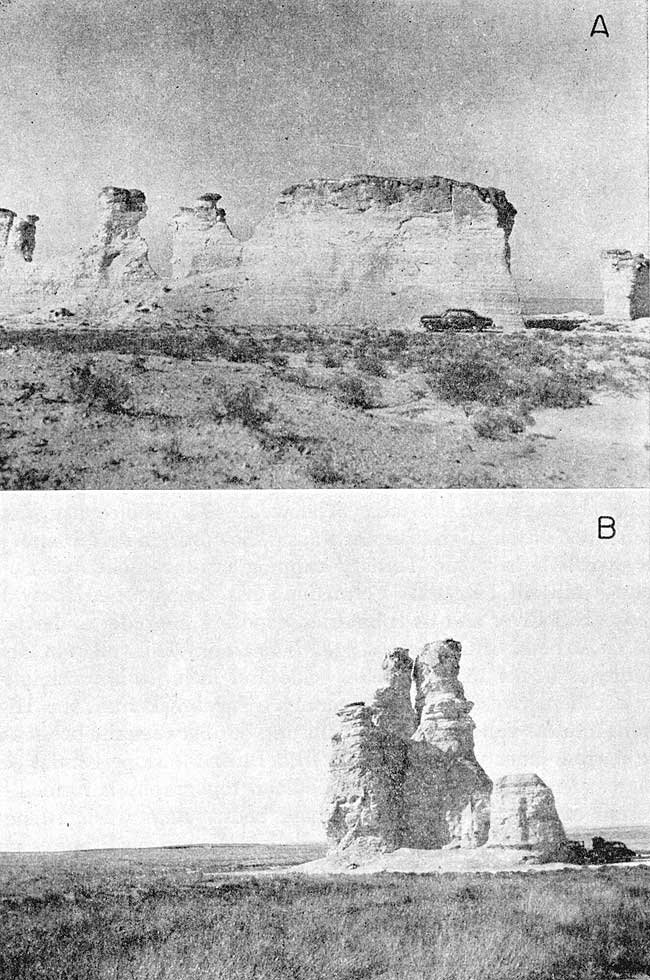 Flanking pediments, erosional surfaces thinly veneered with local rock debris, are characteristic of much of the Smoky Hill valley. In their streamward part, the flanking pediments approach a horizontal attitude, and in places the pediments blend into the terrace surfaces so imperceptibly that delineation of the upland edge of the terrace deposits is arbitrary. Eolian silts have further masked the slopes, hence areal mapping and correct interpretation of valley history is difficult in many places without subsurface information. In contrast to the gentle slopes and flanking pediments of most of the Smoky Hill valley is the area between Smoky Hill River and Hackberry Creek in south-central Gove County, known locally as the "Missouri Flats", a flat fertile strip 10 to 12 miles long and 6 to 8 miles wide along the north side of the Smoky Hill valley in T. 14 S., R. 27 and 28 W., and the northern part of T. 15 S., R. 27 and 28 W. The "Missouri Flats" is underlain by about 40 to 100 feet of unconsolidated material, the lower part of which is believed to be fluviatile. Logs of test holes indicate that thin sand and gravel beds are characteristic of the lower part, but that the beds are lenticular and are separated by thin silt and clay layers. Only the lower part is below the water table, hence the total volume of ground water available is not large, although supplies adequate for stock and domestic use are available in most of this area. The "Missouri Flats" area seems to be a segment of an old channel of Smoky Hill River that was cut off and abandoned during Kansan or Illinoisan time, later to be masked by eolian silts (Pl. 3, B-B' and D-D').
The inner valley of Smoky Hill River, 1/4 to 1/2 mile wide, is filled with alluvium believed to be of late Wisconsinan and Recent age. The alluvium is about 100 feet thick in the deepest part of the valley fill. Adjacent to the inner valley but generally separated from it by Cretaceous bedrock bluffs are deeply dissected terrace deposits consisting chiefly of unconsolidated sand and gravel of middle Pleistocene age. The terraces have an upland appearance in many places because of thorough dissection by small tributary streams.
The northern two-fifths of Gove County consists of nearly flat, gently rolling uplands mantled by eolian silts of late Pleistocene age and underlain by the Ogallala Formation. Small streams have dissected the surface moderately and in places have exposed the underlying rocks. The upland surface declines eastward at an average rate of about 15 feet per mile. Most of this area is drained by Big Creek and by tributaries to Hackberry Creek.
Climate
The climate of Gove County is semiarid and is characterized by abundant sunshine, low to moderate precipitation, moderate wind velocity, and a high rate of evaporation. During the summer the days are hot, but the nights are generally cool. The hot weather in summer is moderated by brisk wind movement and low humidity. The winters are moderate and generally have little snowfall and only short periods of severe cold weather.
In Gove County the amount of precipitation and its seasonal distribution are the chief factors controlling crop growth. According to records of the U. S. Weather Bureau, 67 percent of the annual precipitation in Gove County falls during the growing season of about five months (Fig. 4). The normal annual precipitation at Quinter is 20.89 inches. The greatest annual precipitation was 35.38 inches in 1957; the least was 7.97 inches in 1910. A weather Bureau precipitation gage was maintained at Gove from 1889 to 1930 and one has been maintained at Quinter since 1930. The annual precipitation and the cumulative departure from normal precipitation for the period of record are shown in Figure 5.
Figure 4--Normal monthly precipitation and average growing season in Gove County.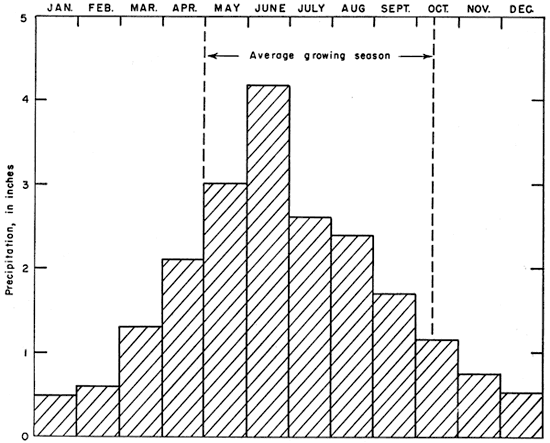 Figure 5--Annual precipitation and cumulative departure from normal precipitation at Gove from 1889 to 1930 and at Quinter from 1931 to 1958.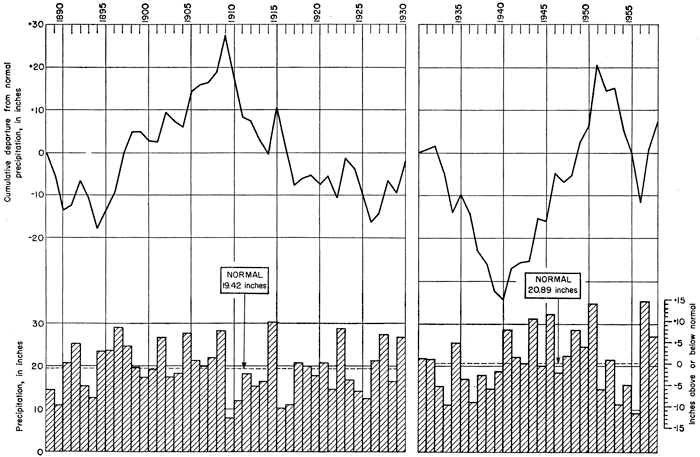 The annual mean temperature at Quinter is 53.2° F. July generally is the hottest month and has an average temperature of 79.4° F. January generally is the coldest month and has an average temperature of 28.7° F. The average length of the growing season is 167 days; the average date of the last killing frost is April 28; and the average date of the first killing frost is October 12.
Population
According to figures reported by county assessors to the Kansas State Board of Agriculture, Gove County had a population of 4,185 in 1957. [Note: Gove County population was listed as 3,068 in 2000 U.S. census (KU Institute for Policy & Social Research).] This is an average of 3.9 persons per square mile as compared to 23.2 persons per square mile for the state [Gove at 2.9 persons per square mile and Kansas at 32.9 in 2000]. Gove, the county seat, had a population of 197 [105 in 2000]. Other towns and their 1957 populations are Quinter, 726 [961 in 2000]; Grinnell, 388 [329 in 2000]; Grainfield, 369 [327 in 2000]; and Park, 243 [151 in 2000]. Although the population of the county has declined since 1930 when the population was 5,643, the population of most of the towns has increased.
Transportation
Gove County is served by the Union Pacific Railroad, which crosses east-west near the northern edge of the county and passes through the towns of Quinter, Park, Grainfield, and Grinnell. U. S. Highway 40 parallels the Union Pacific Railroad across the county. Kansas Highway 23 crosses north-south through the middle of the county and passes through Grainfield and Gove. The rest of the county is served by county and township roads.
Agriculture
Agriculture is the chief occupation in Gove County. According to the State Board of Agriculture (1956), the county contains 644 farms comprising about 684,000 acres of which about 320,000 acres is pasture or range land and about 364,000 acres is crop land. Because of the practice of summer following, however, only a part of the crop land is in cultivation each year. Wheat is the principal crop in the county, and sorghums, alfalfa, barley, rye, oats, and corn follow in order of acreage harvested. The acreages of the principal crops grown in 1955 are given in Table 1.
Table 1--Acreage of principal crops grown in Gove County in 1955 (data from Kansas State Board of Agriculture).
| Crop | Acres |
| --- | --- |
| Wheat | 98,000 |
| Sorghums | 65,100 |
| Alfalfa | 4,430 |
| Barley | 2,000 |
| Rye | 950 |
| Oats | 400 |
| Corn | 220 |
| Total | 171,100 |
Mineral Resources
Mineral resources of Gove County other than soil and ground water include oil and gas, construction materials, and volcanic ash.
Oil and Gas
The first producing oil well in Gove County was drilled in 1951, although several dry holes were drilled prior to that time. The first production was in the Coberly field from rocks of the Marmaton Group of Pennsylvanian age. The Gove and Jasper pools also were discovered in 1951 and the Beougher, Lundgren, Lundgren South, and Pyramids pools were discovered in 1952. Production of oil in Gove County in 1958 was 18,902 barrels from 7 wells. At the end of 1958 the cumulative production of oil in Gove County was 205,446 barrels. Three zones, at depths ranging from 3,670 to 4,547 feet have produced oil in Gove County. These zones are in the Lansing-Kansas City and Marmaton Groups, of Pennsylvanian age, and in Mississippian rocks. [For current information on oil and gas production, see the Survey's oil and gas page for Gove County.]
Construction Material
Sand and gravel from terrace deposits have been used in Gove County for road construction and road surfacing and large quantities are available. Sand and gravel are also available from the Ogallala Formation and from alluvium along the principal streams.
Chalk layers within the Smoky Hill Chalk in Gove County were quarried at one time for building stone but little chalk if any is now quarried for this purpose. Chalk is still used for road fill on county roads, however.
Volcanic Ash
Volcanic ash consists of fine glass-like shards ejected during the explosive phase of a volcanic eruption. Six deposits of ash within the county were examined and discussed in a report on Kansas ash resources (Carey and others, 1952). A deposit in the NE SW sec. 21, T. 13 S., R. 26 W., is reported to be 17 feet thick and of relatively good quality. This deposit had been mined earlier but when visited in 1956 showed no evidence of recent operation.
---
Prev Page--Introduction || Next Page--Geology
Kansas Geological Survey, Geology
Placed on web Sept. 30, 2008; originally published June 1960.
Comments to webadmin@kgs.ku.edu
The URL for this page is http://www.kgs.ku.edu/General/Geology/Gove/03_geog.html