---
by Reza Moussavi-Harami
Department of Geology, Mashhad University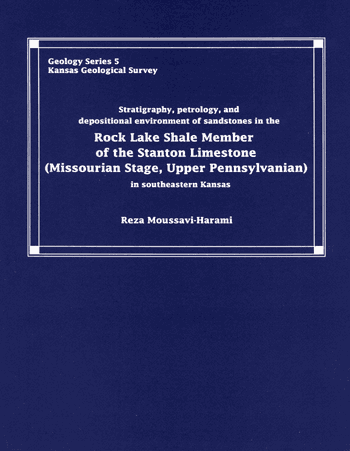 Originally published in 1990 as Kansas Geological Survey Geology Series 5.
Abstract
The Pennsylvanian epicontinental sea periodically covered much of midcontinent North America during Missourian time, burying local siliciclastic source areas in Kansas with carbonate sediments. During regressive depositional phases in the Missourian, siliciclastic sediments were transported to Kansas mainly from the south. The paleoenvironmental setting within which these sediments were deposited can be delineated, despite the lack of close modern analogues, by constructing a process -response model. Ms is accomplished by relating the physical properties of rocks to sedimentologic processes that can be interpreted to have operated within the limits set by the stratigraphic and tectonic settings. The five members of the Stanton Limestone (in ascending order, Captain Creek Limestone Member, Eudora Shale Member, Stoner Limestone Member, Rock Lake Shale Member, and South Bend Limestone Member) form a transgressive -regressive-transgressive sequence, in which the black phosphatic shale of the Eudora Shale Member represents maximum transgression and in which the sandy Rock Lake Shale Member (where it overlies the Stoner limestone) represents maximum regression. In southernmost Kansas the Stoner limestone grades southward into a siliciclastic sequence of quartzarenite and shale, most of which is assigned to the Rock Lake Shale Member. Detailed surface and subsurface study of these siliciclastics shows that deltaic system prograded into the sea predominantly from the southeast. Lobe complexes were sequentially abandoned as the sediment sources shifted generally northward along the eastern margin of the sea. At the same time, similar siliciclastics were transported across the carbonate platform from the northeast, filling preexisting marine channels with quartzarenites. Petrographic similarity of the sandstones from both deltaic and marine channel complexes indicates that they were derived from preexisting sedimentary rocks, possibly from the same ultimate source. Formation of the Ouachita Mountains during Pennsylvanian time uplifted early Paleozoic sedimentary rocks, from which sediments were shed northward and westward. This resulted in punctuation of the dominantly carbonate rocks of the Missourian Stage with siliciclastics in southeastern Kansas, particularly during regressive episodes. Because these sandstones were deposited in deltaic complexes on a shallow-marine shelf within a relatively stable carbonate-rich craton, they were subjected to shallow burial and mild stress fields during their postdepositional history. Diagenetic alteration of these units and associated rocks resulted in two stages of carbonate cementation, etching of siliciclastic grains, and in some units silica overgrowths.
Editor's Note: This publication is the result of Ph.D. dissertation work by the author at the University of Iowa. This work was completed in 1980, at which time the author returned to Iran. No further research has been conducted for this publication.
---
Kansas Geological Survey, Geology
Placed on web Nov. 4, 2010; originally published 1990.
Comments to webadmin@kgs.ku.edu
The URL for this page is http://www.kgs.ku.edu/Publications/Bulletins/GS5/index.html