Main Report || Next Page--Well Location and Percent Dakota Yield
---
Donald O. Whittemore, P. Allen Macfarlane, and Blake B. Wilson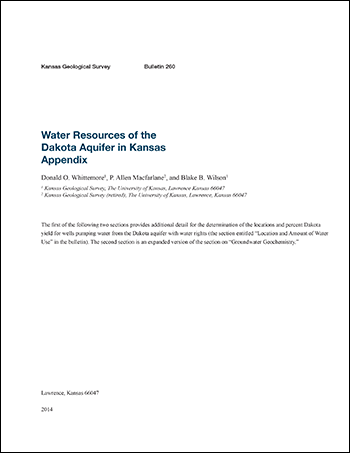 Published online in 2015 as additional material for Kansas Geological Survey Bulletin 260. An Acrobat PDF version (29 MB) is also available.
The first of the following two sections provides additional detail for the determination of the locations and percent Dakota yield for wells pumping water from the Dakota aquifer with water rights (the section entitled "Location and Amount of Water Use" in the bulletin). The second section is an expanded version of the section on "Groundwater Geochemistry."
Acknowledgments
Several students and staff at the KGS contributed to the development of information and data on groundwater geochemistry as part of the Dakota Aquifer Program. Tyan-ming Chu conducted his Ph.D. dissertation on hydrogeochemical processes in the Dakota aquifer, including numerical modeling of the evolution of groundwater geochemistry, especially as affected by cation exchange. He also participated with the author of this appendix in the collection of some of the samples from water-supply wells in the Dakota aquifer. Rogheyeh Eskrootchi, Elizabeth Grieve, Xiaodong Jian, Brian Wardlow, Brownie Wilson, and John Woods worked on or assisted in various aspects of the chemical data base and generation of regional maps of chemical constituents in Dakota aquifer waters. Roger Boeken determined resistivities from geophysical logs in northwest Kansas for estimating total dissolved solids concentration in the Dakota aquifer where there are no or very little sample data and used the study for his M.S. thesis. Don Butcher, Kansas Corporation Commission, collected samples from Hays test wells, and staff of Ground Water Associates, Inc. of Wichita sampled water from Russell County test wells and provided them to the KGS. R. D. Black, School of Engineering, Kansas State University, collected water samples during an energy use study of high-capacity wells in the Dakota aquifer and had the soils test laboratory at Kansas State University analyze the samples for selected constituents. Lawrence Hathaway, Karmie Galle, Truman Waugh, and Masato Ueshima analyzed the water samples collected by or sent to the KGS for chemical constituent concentrations. Mark Schoneweis assisted in the final graphics for some of the figures. Julie Tollefson edited and produced the final publication. The authors appreciate the reviews of this appendix by Scott Ross, Division of Water Resources, Kansas Department of Agriculture, Susan Stover, Kansas Water Office, and Mark Rude, Southwest Kansas Groundwater Management District No. 3, and earlier reviews of the geochemistry section by Dr. Robert Cullers, Department of Geology, Kansas State University, and Dr. George Schurr, GeoSchurr Resources LLC, Ellsworth, Minnesota.
Contents
Well Location and Percent Dakota Yield
1. PDs with DWR Dakota codes within the Dakota aquifer extent
a. PDs with WWC5 log
b. PDs without WWC5 well loqs
2. PDs within the Dakota extent and with DWR aquifer codes other than the Dakota aquifer or with no aquifer code
a. PDs with WWC5 well logs outside the HPA and alluvial aquifer extents
b. PDs within the HPA extent and with well depths greater than 50 ft (15 m) below the bedrock surface underlying the HPA
Chemical Data for Groundwaters
Data for Water Samples
Water-Quality Data Base
Existing Data
Data collected for the Dakota Aquifer Program
Sampling and analytical procedures
Supply and test well sampling
Water Quality from Geophysical Logs
Factors that Control Groundwater Chemistry
Chemical Properties and Major Dissolved Constituents
Relationships among Conductance and Major Dissolved Constituents
Minor and Trace Dissolved Constituents
Characteristics of Contaminated Groundwater
Regional Groundwater Geochemistry
Areal Geochemical Patterns
Salinity Characterization
Fluoride and Nitrate Distributions
Distribution of Chemical Water Types
Geochemical Profiles Across an Aquifer Flow Path
Profiles of Salinity and Major Constituents
Profiles of Minor Constituents and Isotopes
Regional Changes
Site-Specific Changes
Changes in Russell County
Geochemical Modeling of Groundwater Evolution
Chemical Water Types and Mixing
1-D Coupled Flow and Reaction Model
2-D Coupled Flow and Reaction Model
---
Main Report || Next Page--Well Location and Percent Dakota Yield
Kansas Geological Survey, Geohydrology
Placed on web Feb. 6, 2015.
Comments to webadmin@kgs.ku.edu
The URL for this page is http://www.kgs.ku.edu/Publications/Bulletins/260/appendix.html