Prev Page--Landfills || Next Page--Summary, Glossary
---
Many excellent engineering designs have been developed for septic-tank seepage fields in different soils and in problem situations. Most of these designs have been tested through many years of engineering experience. The Manual of Septic-Tank Practice (Public Health Service, 1969) outlines standard proven practices which are used, with modifications, throughout most of the USA. Excellent texts (Salvato, 1972; Goldstein and Moberg, 1973) are also available to assist in solution of septic-tank problems and other related problems of environmental sanitation as well. In addition, experiences in other states with the same soils and similar soils can benefit Kansas residents in helping solve disposal problems (Colorado Department of Health, 1970; Texas State Department of Health, 1971).
In Kansas, different regulations exist in different counties, cities, and sanitation districts governing waste disposal. Thus, laws and zoning ordinances are complex and not standardized, although guidelines for waste disposal are developed for the State of Kansas by the Kansas State Department of Health in Topeka. Different lot size regulations and other criteria also have considerable effect upon the pattern of land use in Kansas.
In this discussion, only proven designs will be outlined in a general manner in line with the recommendations of the Kansas State Department of Health. Detailed specifications, of course, are to be obtained from the Department of Health in each county and from professional engineers. Soil maps and descriptions can be used to give information about soil capabilities for waste disposal, soil problems to be encountered, and probable designs that should be employed for adequate disposal in the different soils.
In general, soils with slight limitations for septic-tank seepage fields in Kansas (Table 6) are acceptable for standard tile lines with lengths and areas outlined by standard manuals (Public Health Service, 1969; Kansas State Department of Health, 1971). Figure 21 pictorially shows one arrangement of the tile lines; many variations are possible. For soils with slower percolation rates, the area occupied by tile lines in gravel can be expanded; for sloping soils, tile lines can be run (on specified grade) along the contours of the soil surface (Figure 22). Each soil site, of course, is somewhat unique and should be examined and approved by officials of each local public health department. The soil map should, in each case, serve as a guide to outline the problems and potentials of each soil. The septic-tank seepage field outlined in Figure 21 is generally the simplest and cheapest on-site disposal technique for the best soils of Kansas with only slight limitations (Table 6).
Figure 21--One tile arrangement for a septic-tank seepage field in soils with slight limitations (Table 6; Adapted from Bender, 1971, page 3).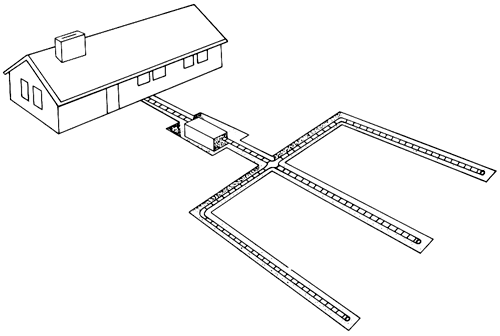 Figure 22--Adaptation of tile arrangement along the contour (with specified grade) for soils with moderate limitations (Table 6; Adapted from Bender, 1971, page 8).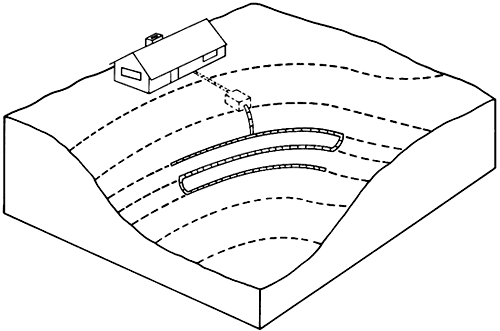 The moderate limitations for septic-tank seepage fields in soils of Kansas are due to retarded permeability, seasonal or permanent high water table, flooding, slope, bedrock, stoniness, or rockiness. Modifications in the design outlined in Figure 21 can overcome some of the lesser moderate limitations by:
Increasing area of tile lines in seepage field in soils with slower permeability.
Raising tile lines above water table with permeable fill material.
Raising tile lines above flood levels with permeable fill material.
Laying tile lines (on grade) along the contour on sloping soils (Figure 22).
Providing sufficient thickness above bedrock with tile lines in permeable fill.
Removing stones from soils with coarse fragments.
Moving tile lines out of rocky soils.
All of the seven possible tile line seepage field modifications are expensive, of course, and all involve hazards of pollution if adequate control is not maintained over the quality of the installations. For example, if a grade of about 1/16-inch drop per foot of tile line is not properly maintained, effluent will not run adequately through the tile lines for proper filtration. Tile lines in fill (Figure 23) will have problems due to settling if adequate compacting is not done before installation. Any design modification to overcome moderate limitations of soils is expensive, but it is necessary in order to accomplish adequate effluent filtration at the particular site.
Figure 23--Placement of tile lines in specified permeable fill to overcome moderate soil limitations due to shallowness to bedrock, apparent water table, impermeable soil horizons, or flood levels (Table 6; Adapted from Salvato, 1972, page 305).

Soils of Kansas with severe limitations (Table 6) have serious hazards so that construction may not be feasible at many of these sites. Some people living in places with limited space on deep, permeable well-drained soils might be able to dispose of effluent in a deep seepage pit (see local health department for design and approval). Some sites with almost impermeable soils can have sand filters (Figure 24); these are extremely expensive to construct properly. Sand filters must have extensive site preparation, water diversion, specified sand of large quantity, and discharge to an approved drainageway outside of an inhabited area. People living in places with wet impermeable soils with no other alternative for waste disposal might resort to a sewage lagoon or waste -stabilization pond (Kansas State Department of Health, 1971), but these require extensive grading (dike seven feet above bottom), expensive fencing, drainage diversion, and are subject to considerable odor and aesthetic problems if they fail. Soils on very steep slopes, soils in swamps, soils often flooded, soils shallow to hard and fissured bedrock, very stony and very rocky soils, and soils with some other serious severe limitations are probably not feasible for septic-tank seepage fields. Soils of Kansas with severe limitations are listed in Table 6; detailed soil maps locate the soil areas with severe limitations.
Figure 24--Sand filter acceptable for some effluent filtration in impermeable soils with severe limitations (Table 6; Adapted from Salvato, 1972, page 310).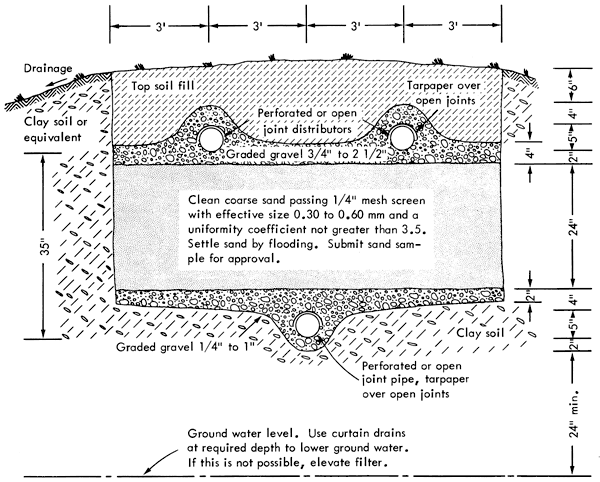 Research has shown that seepage-field design can be improved. Resting periods are beneficial; alternate dosing of two smaller seepage fields will enable better filtration than continual soaking of one larger field of the same size. Distribution boxes are probably not necessary in most tile junctions from the septic tank. Absorption beds (Texas State Department of Health, 1971) and aboveground disposal systems (Colorado Department of Health, 1970) will function where the soil is nearly impermeable. New materials, like lightweight septic tanks and improved tile, offer possibilities for reducing equipment costs. Generally, however, there is no substitute for good engineering expertise in seepage field design, installation, and maintenance. It is a simple fact of life that adequate subsurface sewage disposal and maintenance will be more expensive in soils with moderate and severe limitations than in those soils with slight limitations. If adequate designs for seepage fields are not used in different soils, soil maps can be used to predict percentages of failures of waste disposal in the various areas (Huddleston and Olson, 1967).
If you are contemplating using soils for waste disposal (Figure 25), you should first obtain a detailed soil map of the area in which you are interested. If you are a county or regional planner, you may be interested in the soils of an entire county or larger area; if you are a homeowner, you may be interested only in a specific lot and in the surrounding area that affects the drainage and aesthetic qualities of your lot. Published soil maps are available from a variety of sources; unpublished soil maps are available in the district offices of the Soil Conservation Service in nearly every county in Kansas, and in some offices of cooperating agencies. Some places, of course, have not been soil-mapped.
Figure 25--Drainage from a farm feedlot. Soil maps and soil information can be useful in helping solve many kinds of waste disposal problems. Table 2 and Table 6, for example, show limitations of soils for septic-tank seepage fields for homes. Feedlot runoff can also be a problem, especially where farms are near reservoirs and close to urban areas. Below feedlots, sewage lagoons can be particularly valuable to reduce pollution (Table 3). Where feedlot effluent is irrigated by sprinklers from lagoons, soil-permeability data from Table 1, Table 2, and Table 6 can be useful in locating areas on soil maps where soils can absorb quantities of liquid wastes without undue hazards.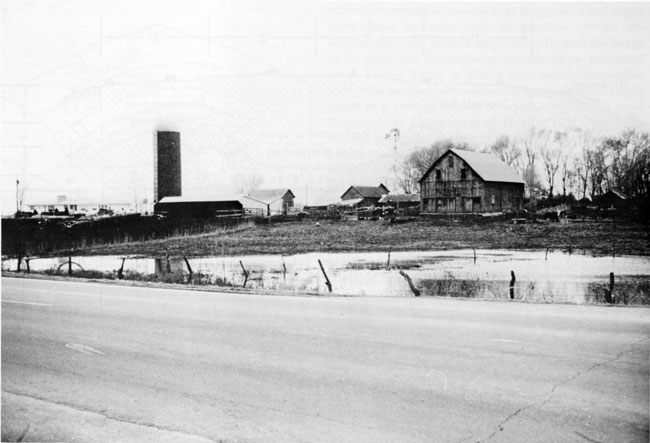 After you have your soil map, you should identify the soil names in the legend that accompanies the map. These names are usually place names where the soils were identified and described. Legends and map numbering systems vary, but the soil names are standardized throughout Kansas and the USA. The soil-profile descriptions, available from the SCS offices and other sources, give the most detailed information about the soils located on the map. Table 1 in this publication lists some of the important characteristics of soils of Kansas for waste disposal.
You should test the soil map by digging some holes yourself. If you find drainage mottles (color spots), apparent water tables, bedrock at shallow depth, or see steep slopes or flood debris in places, you will know these soils are not ideal for waste disposal. If you dig up loose sand or tight clay, you will know problems of pollution hazards or slow permeability will have to be overcome for adequate disposal.
When you have looked at the soil map and soil conditions, you should then consult your local health department. Local health officials also have soil maps, and are familiar with waste-disposal problems, zoning ordinances, and sanitation districts in the area. They have engineering designs developed to handle difficult soil conditions, and can specify what kind of materials or engineering assistance is needed. Limited assistance from soil scientists is sometimes available for consultations and site evaluations,
Tables 2-6 indicate what soil properties are important for septic-tank seepage fields, sewage lagoons, and sanitary landfill in specific soils of Kansas. If the area you are interested in has soils with slight limitations, you will have few problems for waste disposal and costs will be minimal. If the area has soils with moderate limitations, more costs and hazards are involved. If the soils have severe limitations, then steep slopes, flooding, free water, bedrock, stones, or undesirable permeability are serious problems-these sites may not be feasible for safe waste disposal under existing economic conditions. In many cases it is helpful to shade or color soil maps to show the different limitations of the different soils (Figure 26); in this way a planner or developer can see immediately what is the magnitude of the soil problems in the different places. Other single factor maps can be made to show the locations of the most important soil properties, including slopes, bedrock, water table, stones, flooding, and so on.
Figure 26--Soil groupings into slight, moderate (lightest shading), and severe (darkest shading) limitations categories for septic-tank seepage fields on an unpublished soil map from an area in Riley County, Kansas (Adapted from Soil Survey Staff, 19721); this map was made from the soil map also shown in Figure 1 of this publication). Top of map is north; scale is approximately 3 inches = 1 mile.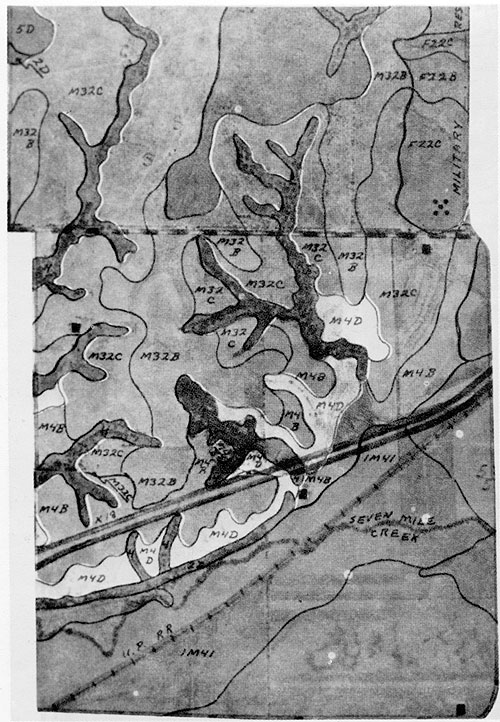 Much can be learned by study of the soil maps. Figure 27, for example, shows the soil pattern northeast of Liberal, Kansas. Soil areas marked "Ra" consist of Randall clay; a description of that soil is given in this publication in the section on soil-profile descriptions. Randall soils are very poor for waste disposal (Table 6), but can be made suitable for sewage lagoons with careful engineering designs. From the aerial photograph (Figure 27), it appears that sewage from Liberal is being diverted into the large Randall soil area northeast of the town. In contrast, "Rm" and "Rh" soil areas (Figure 27) consist of Richfield silt loam soils; they are good for most kinds of waste disposal (Table 6). The Dalhart fine sandy loam soils (Da, Db), on different slopes, are also good for most kinds of waste disposal.
Figure 27--Soil pattern northeast of Liberal, Kansas (Adapted from Dickey et al., 1965, soil map sheet 45). Top of map is north; scale is reduced from 1:20,000 to approximately 2 1/2 inches = 1 mile.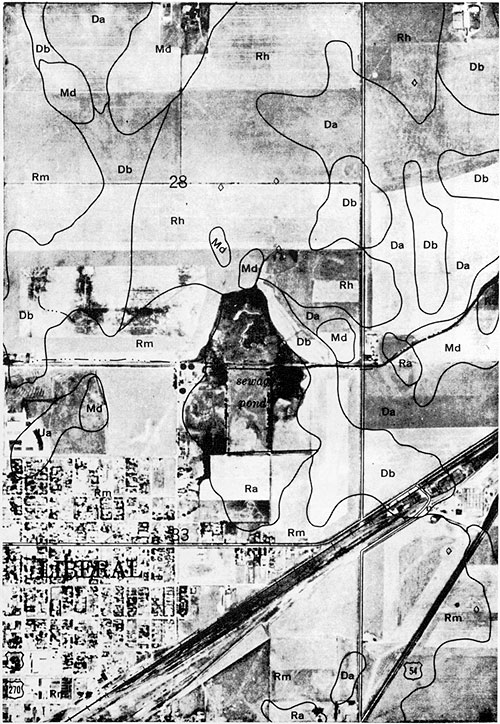 The best solution of most waste-disposal problems is not a simple matter, but involves complex and interrelated planning procedures. One of the best descriptions of a thorough planning process to create an environment for people to grow in has been given by Hoppenfeld for the new city of Columbia, Maryland (1967); almost everyone who has visited or lived in the new city of Columbia is convinced that it represents a creative attempt to build a better city at feasible cost. Similar concepts could be applied to rural and urban planning in Kansas, and soil maps can help in the total planning process. Examples of special soil studies for environmental planning are available (Olson and Marshall, 1968; Olson, 1969, 1972b). Detailed and comprehensive planning using soil maps is particularly relevant in parts of Kansas with more complex soil patterns.
Figure 28 shows the soil pattern east of Wakarusa, Kansas. The Wabash silty clay soils (Wb) have severe limitations for most kinds of waste disposal; the Reading silty clay loam soils (Re) are more suitable for waste disposal in some places, but both soils are subjected to flooding on broad flats. The "Br" drainageways have steep sideslopes and narrow floodplains. Martin silty clay loam soils (Me, Mb) have some potential for sanitary landfill, but severe limitations for septic-tank seepage fields. Pawnee clay loam soils (Pc, Pe) have different limitations for waste disposal on different slopes. Areas marked "Sw" are stony steep land. If these areas are uncleared, it is probably wisest to let them remain that way. As Figure 28 shows, most soils in this area have limitations for waste disposal, but the soil limitations are different and can be turned to an advantage for planning. Thus the very poor stony steep soils (Sw) and stream channels (Br) have unique forest vegetation already, which can be put to good use as green belts and "open" space; floodplains (Wb, Re) can be preserved for farming; uplands (Me, Mb, Pc, Pe) could have cluster housing developments with municipal sewer systems. The topographic variability of the soils gives the area great aesthetic potential, so that it could be enhanced considerably as a planned community for people to live in and enjoy.
Figure 28--Soil pattern east of Wakarusa, Kansas (Adapted from Abmeyer and Campbell, 1970, soil map sheet 43). Top of map is north; scale is 1:20,000, or approximately 3 1/2 inches = 1 mile.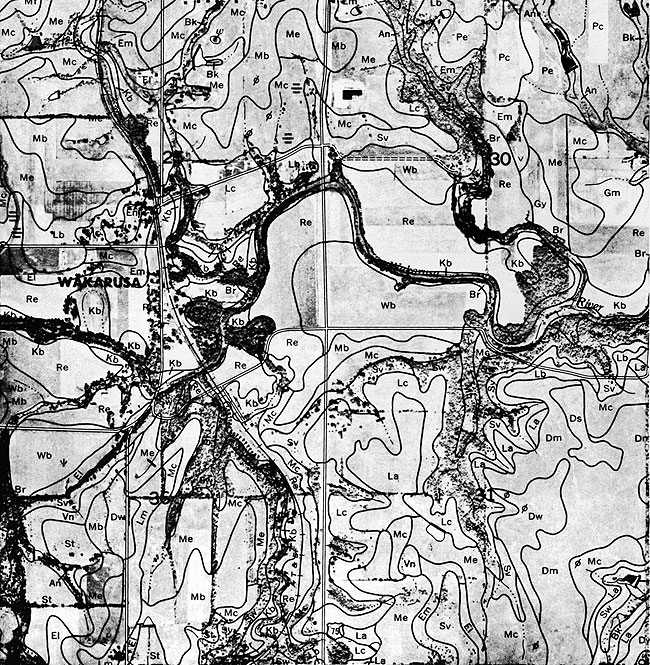 Special critical areas in Kansas which can benefit from use of soil maps include areas around reservoirs. Mission Lake, northeast of Horton, Kansas, is one small lake that can be used as an example. Figure 29 shows the soil pattern around the lake. The variable soil slopes, indicated by B, C, and D letters in the last part of the soil symbols, indicate considerable complexities for aesthetic planning of vistas and plantings for landscape design. Most of the soils around the lake have clayey textures, so that they are poor for subsurface sewage disposal in septic-tank seepage fields. Cluster developments built along the west shore of the lake could have sewer lines and a central sewage-treatment plant; the rest of the lakeshore could be kept open for golf courses and other recreational activities (Figure 30). The upper part of the reservoir area, which is more subject to flooding and sedimentation, can be used for wildlife and conservation education projects. Watershed management of all soil areas (Kling, 1973) draining into the lake, of course, is essential if the life and desirable qualities of the lake are to be maximized. Thus, soil maps should be used not only to assist in waste disposal, but in all other aspects of land-area management as well.
Figure 29--Soil pattern around Mission Lake northeast of Horton, Kansas (Adapted from Eikleberry, 1960, soil map sheet 24). Top of map is north; scale is 1:20,000, or approximately 3-1/2 inches = 1 mile.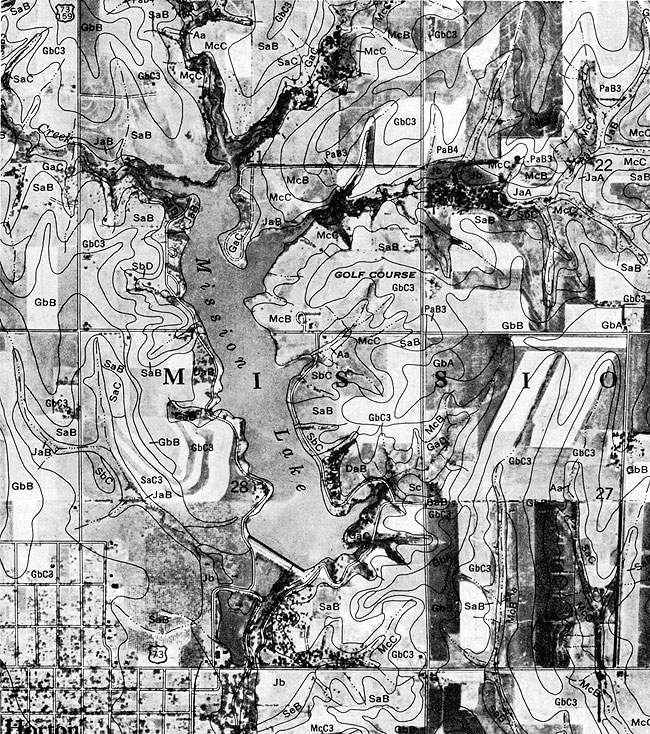 Figure 30--View of Mission Lake in Brown County, from the east shore. Although most of the soils around Mission Lake have severe limitations for waste disposal, soil maps show the various magnitudes of the limiting characteristics, and delineate slopes and other criteria which are vital for landscape design. Many reservoir lakeshores should probably be preserved for recreational and aesthetic use; this also reduces the pollution of the lake and prevents property damage when floods come.
Soil maps, of course, will not by themselves solve all of the problems of waste disposal, and their accuracy is not 100 percent for all areas. Soil maps are probably at least 80-90 percent accurate for most uses, but they should be continually tested in the field. Soil maps should be considered to be a first approximation for solution to land use problems, as the title page of this publication indicates. For complex projects, soil maps are most useful when combined with deeper geologic investigations, well-log data, water-table fluctuation measurements, sedimentation studies, pollution monitorings, and other careful planning, engineering, and geologic studies. If our environment is to be substantially improved, most of the waste-disposal problems of the future will likely be complex, unique, and individualistic problems involving many interdisciplinary efforts (Stevens, 1971)-with laymen taking an active role in project implementation along with the professional scientists and environmentalists.
Table 6--Major limiting soil characteristics and ratings of limitations* for waste disposal in soils of Kansas (Adapted from soil interpretation sheets for soil series; Soil Survey Staff, 1971; and other sources). Numbers indicate specific limitations of each soil for each use--1 Slow permeability rates, 2 Rapid permeability rates, 3 Too clayey (workability), 4 Too sandy (workability), 5 Slopes, 6a Occasional and frequent flooding, 6b Rare flooding, 7 Water table, 8 Possible pollution hazard, 9 Drainage, 10a Hard bedrock at 10"-20", 10b Hard bedrock at 20"-40", 10c Hard bedrock at 40"-60", 11a Rippable bedrock at 10"-20", 11b Rippable bedrock at 20"-40", 11c Rippable bedrock at 40"-60", 12 Coarse fragments. *Limitations of some series are subject to change pending final correlations and acquisition of more data about the soils and the various disposal systems.
Soil
series
name
Septic-tank
seepage
fields
Sewage
lagoons
Sanitary landfills
Trench types
Area types
ABILENE
Severe--1
Slight
Severe--3
Slight
ALBION
Slight < 8%
Moderate > 8%--5
Severe--2
Severe--2
Severe--2
ALTUS
Slight
Moderate--2
Slight
Slight
ANGELUS
Severe--6a
Severe--6a
Severe--6a
Severe--6a
ANSELMO
Slight < 8%
Moderate 8-15%--5
Severe > 15%--5
Severe--2
Severe--2
Severe--2
ARMO
Slight < 8%
Moderate > 8%--5
Moderate < 7%--2
Severe > 7%--5
Slight
Slight < 8%
Moderate > 8%--5
ARMSTER
Severe--1
Moderate < 7%--5
Severe > 7%--5
Moderate--3
Slight < 8%
Moderate 8-15%--5
Severe > 15%--5
ATTICA
Slight
Severe--2
Severe--2
Severe--2
BANKARD
Slight < 8%
Severe > 8%--8
Severe--2
Severe--2
Severe--2
BARLANE
Severe--6a, 7
Severe--6a, 7
Severe--6a, 7
Severe--6a, 7
BASEHOR
Severe--10a
Severe--2, 10a
Severe--2, 10a
Severe--2
BATES
Severe--11b
Severe--11b
Moderate--11b
Slight
BAXTER
Moderate < 15%--1
Severe > 15%--5
Moderate < 7%--1
Severe > 7%--5
Severe--3
Slight < 8%
Moderate 8-15%--5
Severe > 15%--5
BAYARD
Slight < 8%
Moderate 8-15%--5
Severe > 15%--5
Severe--2
Severe--2
Severe--2
BENFIELD
Severe--11b
Severe--11b
Severe--3
Slight < 8%
Moderate 8-15%--5
Severe > 15%--5
BETHANY
Severe--1
Slight < 2%
Moderate > 2%--5
Severe--3
Slight
BIPPUS
Slight
Moderate--2
Moderate--3
Slight
BODINE
Slight < 8%
Moderate 8-15%--5
Severe > 15%--5
Severe--2
Severe 2
Severe--2
BOEL
Severe--6a, 7
Severe--2, 6a, 7
Severe--2, 6a, 7
Severe--2, 6a, 7
BOGUE
Severe--11b
Severe--11b
Severe--3
Slight < 8%
Moderate 8-15%--5
Severe > 15%--5
BOLIVAR
Severe--10b
Severe--10b
Severe--10b
Slight < 8%
Moderate > 8%--5
BOWDOIN
Severe--1, 6a
Severe--6a
Severe--3, 6a
Severe--6a
BREWER
Severe--1
Slight
Moderate--3
Slight
Moderate--6b
BRIDGEPORT
Severe--6a
Severe--6a
Severe--6a
Severe--6a
BROWNELL
Severe--10b
Severe--10b
Severe--10b
Slight < 8%
Moderate > 8%--5
BURCHARD
Severe--1
Slight < 2%
Moderate 2-7%--5
Severe > 7%--5
Moderate--3
Slight < 8%
Moderate 8-15%--5
Severe > 15%--5
BUTLER
Severe--1
Slight
Severe--3, 9
Severe--9
CAMPUS
Severe--11b
Severe--11b
Moderate--3
Slight < 8%
Moderate > 8%--5
CANADIAN
Moderate--6b
Severe--2
Severe--2
Severe--2
CANLON
Severe--11a
Severe--11a
Severe--11a
Slight < 8%
Moderate 8-15%--5
Severe > 15%--5
CANYON
Severe--10a
Severe--10a
Moderate < 25%--3, 10a
Severe > 25%--5
Slight < 8%
Moderate 8-15%--5
Severe > 15%--5
CAREY
Slight
Moderate--2
Moderate--3
Slight
CARLSON
Severe--1
Slight < 2%
Moderate > 2%--5
Moderate--3
Slight
CARR
Severe--6a
Severe--6a
Severe--6a
Severe--6a
CARUSO
Severe--6a, 7
Severe--6a, 7
Severe--6a, 7
Severe--6a, 7
CARWILE
Severe--1
Slight
Severe 3
Moderate--9
CASE
Slight
Moderate < 7%--2
Severe > 7%--5
Moderate--3
Slight
CASS
Moderate--6b
Severe-8
Severe--2
Severe--2
Severe--2
CATOOSA
Severe--10b
Severe--10b
Severe--10b
Slight
CAWKER
Moderate--6b
Moderate--2
Moderate--6b
Moderate--6b
CHARITON
Severe--1
Slight
Severe--3, 9
Severe--9
CHASE
Severe--1
Moderate--6b
Severe--3
Moderate--6b, 9
CHEROKEE
Severe--1
Slight
Severe--3
Moderate--9
CHURCH
Severe--1, 7
Severe--7
Severe--3, 7
Severe--7
CLAIREMONT
Severe--6a
Severe--6a
Severe--6a
Severe--6a
CLAREMORE
Severe--10a
Severe--10a
Severe--10a
Slight
CLARESON
Severe--10a
Severe--10a
Severe--10a
Slight
CLARK
Slight
Moderate--2
Slight
Slight
CLEORA
Severe--6a
Severe--2, 6a
Severe--2, 6a
Severe--2, 6a
CLIME
Severe--11b
Severe--11b
Severe--3
Slight < 8%
Moderate > 8%--5
COLBY
Slight < 8%
Moderate 8-15%--5
Severe > 15%--5
Moderate < 7%--2
Severe > 7%--5
Slight < 15%
Moderate 15-25%--5
Severe > 25%--5
Slight < 8%
Moderate 8-15%--5
Severe > 15%--5
COLLINSVILLE
Severe--10a
Severe--10a
Severe--10a
Slight < 8%
Moderate 8-15%--5
Severe > 15%--5
COLY
Slight < 8%
Moderate 8-15%--5
Severe > 15%--5
Moderate < 7%--2
Severe > 7%--5
Slight < 15%
Moderate 15-25%--5
Severe > 25%--5
Slight < 8%
Moderate 8-15%--5
Severe > 15%--5
CORBIN
Severe--1
Moderate--2
Moderate--3
Slight
CORINTH
Severe--11b
Severe--11b
Severe--3
Slight < 8%
Moderate 8-15%--5
Severe > 15%--5
COZAD
Slight
Moderate--2
Slight
Slight
CRETE
Severe--1
Slight < 2%
Moderate > 2%--5
Severe--3
Moderate--9
CRISFIELD
Moderate--6b
Severe--2
Severe--2
Severe--2
CROCKER
Slight < 8%
Moderate 8-15%--5
Severe > 15%--5
Severe--2
Severe--2
Severe--2
DALE
Moderate--6b
Severe--6b
Moderate--6b
Moderate--6b
DALHART
Slight
Moderate--2
Slight
Slight
DARNELL
Severe--11b
Severe--2, 11b
Severe--2
Severe--2
DEEPWATER
Moderate--1
Moderate--2
Moderate--3
Slight < 8%
Moderate > 8%--5
DENNIS
Severe--1
Slight < 2%
Moderate > 2%--5
Severe--3
Slight
DETLOR
Severe--1, 11b
Severe--11b
Severe 3
Slight < 8%
Moderate > 8%-5
DETROIT
Severe--1
Slight
Severe--3
Moderate--6b
DILLWYN
Severe--7, 8
Severe--2, 7
Severe--2, 7
Severe--2, 7
DOXIE
Severe--1
Slight
Severe--3
Moderate--6b
DRUMMOND
Severe--1, 7
Slight
Severe--3, 7
Severe--7
DWIGHT
Severe--1
Moderate--10c
Severe--10c, 3
Slight
DWYER
Slight < 8%
Moderate 8-15%-5
Severe > 15%--5, 8
Severe--2
Severe--2
Severe--2
EDALGO
Severe--11b
Severe--11b
Severe--3
Slight < 8%
Moderate > 8%--5
EDINA
Severe--1
Slight
Severe--3, 9
Severe--9
ELKADER
Moderate--11c
Moderate < 7%--11c
Severe > 7%--5
Moderate--3, 11c
Slight < 8%
Moderate > 8%--5
ELMONT
Severe--1
Moderate < 7%--11c
Severe > 7%--5
Moderate--3, 11c
Slight < 8%
Moderate > 8%--5
ELSMERE
Severe--7, 8
Severe--2, 7
Severe--2, 7
Severe--2, 7
ELTREE
Slight < 8%
Moderate > 8%--5
Moderate < 7%--2
Severe > 7%--5
Moderate--3
Slight < 8%
Moderate > 8%--5
ENGLUND
Severe--11b
Severe--11b
Severe--3
Slight
ENTERPRISE
Slight < 8%
Moderate > 8%--5
Severe--2
Severe--2
Severe--2
ERAM
Severe--1, 11b
Severe--11b
Severe--3
Slight
EUDORA
Severe--6a
Severe--6a
Severe--6a
Severe--6a
FARNUM
Severe--1
Slight < 2%
Moderate > 2%--5
Moderate--3
Slight
FLORENCE
Severe--1
Severe--12
Severe--12
Slight < 8%
Moderate > 8%--5
GARA
Severe--1
Moderate < 7%--5
Severe > 7%--5
Moderate < 25%--3
Severe > 25%--5
Slight < 8%
Moderate 8-15%--5
Severe > 15%--5
GEARY
Slight < 8%
Moderate > 8%--5
Moderate < 7%--2
Severe > 7%--5
Moderate--3
Slight < 8%
Moderate > 8%--5
GERLANE
Severe--6a, 7, 8
Severe--2, 6a, 7
Severe--2, 6a, 7
Severe--2, 6a, 7
GEUDA
Severe--11b
Severe--11b
Severe--3
Slight
GIRARD
Severe--1, 6a, 7, 10b
Severe--6a, 7, 10b
Severe--3, 6a, 7, 10b
Severe--6a, 7
GLENBERG
Severe--6a
Severe--2, 6a
Severe--2, 6a
Severe--2, 6a
GOESSEL
Severe--1
Slight
Severe--3
Slight
GOSHEN
Moderate--6b
Moderate--2
Moderate--6b
Moderate--6b
GOSPORT
Severe--11b
Severe--11b
Severe--3
Slight < 8%
Moderate 8-15%--5
Severe > 15%--5
GRABLE
Moderate-7
Severe--2
Severe--2
Severe--2
GRANT
Moderate < 15%--11c
Severe > 15%--5
Moderate < 7%--11c
Severe > 7%--5
Moderate--3
Slight < 8%
Moderate 8-15%--5
Severe > 15%--5
GRIGSTON
Moderate--6b
Moderate--2
Moderate--6b
Moderate--6b
GRUNDY
Severe--1
Slight < 2%
Moderate 2-7%--5
Severe > 7%--5
Severe--3
Moderate < 8%--9
Severe > 8%--5
GYMER
Severe--1
Moderate < 7%--5
Severe > 7%--5
Moderate--3
Slight < 8%
Moderate > 8%--5
HALL
Severe--1
Slight < 2%
Moderate > 2%--5
Moderate--3
Slight
HARNEY
Severe--1
Slight < 2%
Moderate 2-7%--5
Severe > 7%--5
Moderate--3
Slight < 8%
Moderate > 8%--5
HASTINGS
Severe--1
Slight < 2%
Moderate 2-7%--5
Severe > 7%--5
Moderate--3
Slight < 8%
Moderate > 8%--5
HAYNIE
Moderate--6b
Moderate--2
Moderate--6b
Moderate--6b
HECTOR
Severe--10a
Severe--2, 10a
Severe--2, 10a
Severe--2
HEDVILLE
Severe--10a
Severe--10a
Severe--10a
Slight < 8%
Moderate 8-15%--5
Severe > 15%--5
HEIZER
Severe--10a
Severe--10a
Severe--10a
Slight < 8%
Moderate 8-15%--5
Severe > 15%---5
HEPLER
Severe--1, 6a
Severe--6a
Severe--6a
Severe--6a
HOBBS
Severe--6a
Severe--6a
Severe--6a
Severe--6a
HOLDER
Moderate--1
Slight < 2%
Moderate 2-7%--5
Severe > 7%--5
Moderate--3
Slight < 8%
Moderate > 8%--5
HOLDREGE
Slight
Moderate--2
Moderate--3
Slight < 8%
Moderate > 8%--5
HORD
Slight
Moderate--2
Slight
Slight
HUMBARGER
Severe--6a
Severe--6a
Severe--6a
Severe--6a
INAVALE
Severe--6a, 8
Severe--2, 6a
Severe--2, 6a
Severe--2, 6a
IRWIN
Severe--1
Slight < 2%
Moderate 2-7%--5
Severe > 7%--5
Severe--3
Slight
IVAN
Severe--6a
Severe--6a
Severe--6a
Severe--6a
JUDSON
Moderate--6b
Severe--6b
Moderate--6b
Moderate--6b
KAHOLA
Severe--6a
Severe--6a
Severe--6a
Severe--6a
KANZA
Severe--6a, 7, 8
Severe--2, 6a, 7
Severe--2, 6a, 7
Severe--2, 6a, 7
KASKI
Severe--6a
Severe--6a
Severe--6a
Severe--6a
KEITH
Slight < 8%
Moderate > 8%--5
Moderate < 7%--2
Severe > 7%--5
Slight < 8
Moderate > 8%--5
Slight < 8%
Moderate > 8%--5
KENESAW
Slight < 8%
Moderate > 8%--5
Moderate < 7%--2
Severe > 7%--5
Slight < 8%
Moderate > 8%--5
Slight < 8%
Moderate > 8%--5
KENNEBEC
Severe--6a
Severe--6a
Severe--6a
Severe--6a
KENOMA
Severe--1
Slight < 2%
Moderate > 2%--5
Severe--3
Slight
KIM
Slight < 8%
Moderate > 8%--5
Moderate < 7%-2
Severe > 7%--5
Moderate--3
Slight < 8%
Moderate > 8-5%
KIMO
Severe--1, 7, 8
Severe--6b, 7
Severe--7
Severe--7
KINGFISHER
Severe--1, 11c
Severe--11c
Moderate--3, 11c
Slight < 8%
Moderate > 8%--5
KINGMAN
Severe--1, 6a, 7
Severe--6a, 7
Severe--6a, 7, 9
Severe--6a, 7, 9
KIPSON
Severe--11a
Severe--11a
Moderate--11a
Slight < 8%
Moderate 8-15%--5
Severe > 15%--5
KIRKLAND
Severe--1
Slight < 2%
Moderate > 2%--5
Severe--3
Slight
KNOX
Slight < 8%
Moderate 8-15%--5
Severe < 15%--5
Moderate < 7%--2
Severe > 7%--5
Slight < 15%
Moderate 15-25%--5
Severe > 25%--5
Slight < 8%
Moderate 8-15%--5
Severe > 15%--5
KONAWA
Slight
Moderate < 7%--2
Severe > 7%--5
Slight
Slight
LABETTE
Severe--1, 10b
Severe--10b
Severe--10b
Slight
LADOGA
Severe--1
Moderate < 7%--5
Severe > 7%--5
Moderate--3
Slight < 8%
Moderate 8-15%--5
Severe > 15%--5
LADYSMITH
Severe--1
Slight < 2%
Moderate > 2%--5
Severe--3
Moderate--9
LAGONDA
Severe--1
Moderate < 7%--5
Severe > 7%--5
Moderate--3, 9
Moderate-9
LAMO
Severe--6a, 7
Severe--6a, 7
Severe--6a, 7
Severe--6a, 7
LANCASTER
Severe--11b
Severe--11b
Moderate--3, 11b
Slight < 8%
Moderate > 8%--5
LAS
Severe--6a, 7
Severe--6a, 7
Severe--6a, 7
Severe--6a, 7
LAS ANIMAS
Severe--6a, 7
Severe--2, 6a, 7
Severe--2, 6a, 7, 9
Severe--2, 6a, 7, 9
LEANNA
Severe--1, 6a
Severe--6a
Severe--6a, 9
Severe--6a, 9
LESHARA
Severe--6a, 7
Severe--6a, 7
Severe--6a, 7
Severe--6a, 7
LESHO
Severe--1, 6a, 7
Severe--6a, 7
Severe--6a, 7
Severe--6a, 7
LIGHTNING
Severe--1, 6a
Severe--6a
Severe--3, 6a, 9
Severe--6a, 9
LIKES
Slight
Severe--2
Severe--2, 4
Severe--2
LINCOLN
Severe--6a
Severe--2, 6a
Severe--2, 4, 6a
Severe--2, 6a
LISMAS
Severe--11a
Severe--11a
Severe--3
Slight < 8%
Moderate 8-15%--5
Severe > 15%--5
LOCKHARD
Severe--1
Slight
Severe--3
Slight
LOFTON
Severe--1
Slight
Severe--3
Slight
LONGFORD
Severe--1
Slight < 2%
Moderate 2-7%--5
Severe > 7%--5
Moderate--3
Slight < 8%
Moderate > 8%--5
LUBBOCK
Severe--1
Slight
Slight
Slight
LUCIEN
Severe--11a
Severe--2a, 11a
Severe--2
Severe--2
LULA
Moderate--10c
Moderate--10c
Severe--10c
Slight
MANDEVILLE
Severe--11b
Severe--11b
Moderate--11b
Slight < 8%
Moderate 8-15%--5
Severe > 15%--5
MANGUNI
Severe--1, 6a
Severe--6a
Severe--3, 6a
Severe--6a
MANSIC
Moderate-1
Moderate < 7%--2
Severe > 7%--5
Moderate-3
Slight < 8%
Moderate > 8%--5
MANSKER
Slight
Moderate < 7%--2
Severe > 7%--5
Moderate--3
Slight
MANTER
Slight
Severe--2
Severe--2
Severe--2
MANVEL
Severe--1
Slight < 2%
Moderate 2-7%--5
Severe > 7%--5
Slight
Slight < 8%
Moderate > 8%--5
MARSHALL
Slight < 8%
Moderate 8-15%--5
Severe > 15%-5
Moderate < 7%--2
Severe > 7%--5
Moderate--3
Slight < 8%
Moderate 8-15%--5
Severe > 15%--5
MARTIN
Severe--1
Moderate < 7%--11c
Severe > 7%--5
Severe--3
Slight < 8%
Moderate > 8%--5
MASON
Severe--1
Slight < 2%
Moderate 2-7%--2
Severe > 7%--6b
Moderate--3, 6b
Slight < 8%
Moderate > 8%--5, 6b
MATFIELD
Severe--1
Severe--12
Severe--12
Slight
MAYBERRY
Severe--1
Moderate < 7%--5
Severe > 7%--5
Severe--3
Slight < 8%
Moderate > 8%--5
McCUNE
Severe--1, 6a
Severe--6a
Severe--6a
Severe--6a
McLAIN
Severe--1
Slight
Moderate--3, 6b
Moderate--6b
MENFRO
Slight < 8%
Moderate 8-15%--5
Severe > 15%--5
Moderate < 7%--2, 5
Severe > 7%--5
Moderate < 25%--3
Severe > 25%--5
Slight < 8%
Moderate 8-15%--5
Severe > 15%--5
MENTO
Severe--1
Slight < 2%
Moderate 2-7%--5
Severe > 7%--5
Moderate--3
Slight
MILAN
Moderate--1
Moderate < 7%--2
Severe > 7%--5
Moderate--3
Slight
MILLER
Severe--1, 6a
Severe--6a
Severe--6a
Severe--6a
MINCO
Slight < 8%
Moderate 8-15%--5
Severe > 15%--5
Moderate < 7%--2
Severe > 7%--5
Slight < 15%
Moderate 15-25%--5
Severe > 25%--5
Slight < 8%
Moderate 8-15%--5
Severe > 15%--5
MINNEQUA
Severe--11b
Severe--11b
Moderate--11b
Slight < 8%
Moderate 8-15%--5
Severe > 15%-5
MISSLER
Severe--1
Slight < 2%
Moderate > 2%--5
Moderate-3
Slight
MONONA
Slight < 8%
Moderate 8-15%--5
Severe > 15%--5
Moderate < 7%--2
Severe > 7%--5
Slight < 15%
Moderate 15-25%--5
Severe > 25%--5
Slight < 8%
Moderate 8-15%--5
Severe > 15%--5
MORRILL
Severe--1
Slight < 2%
Moderate 2-7%--5
Severe > 7%--5
Slight < 15%
Moderate > 15%--5
Slight < 8%
Moderate 8-15%--5
Severe > 15%--5
MUIR
Moderate-6b
Moderate-2
Moderate--6b
Moderate--6b
MULDROW
Severe--1
Slight
Severe--3
Moderate-6b
MUNJOR
Severe--6a
Severe--2, 6a
Severe--2, 6a
Severe--2, 6a
NARON
Slight
Moderate to
Severe--2
Slight to
Severe 2
Slight to
Severe--2
NASH
Severe--11b
Severe--11b
Moderate--11b
Slight < 8%
Moderate 8-15%--5
Severe > 15%--5
NASHVILLE
Severe--11b
Severe--11b
Moderate--11b
Slight < 8%
Moderate > 8%--5
NESS
Severe--1
Slight
Severe--3, 6a
Severe--6a
NEW CAMBRIA
Severe--1
Slight
Severe--3
Moderate--6b
NEWTONIA
Slight
Moderate--2
Severe--3
Slight
NIBSON
Severe--11a
Severe--11a
Moderate--11a
Slight < 8%
Moderate 8-15%--5
Severe > 15%--5
NIOTAZE
Severe-01, 11b
Severe--11b
Severe--3
Slight < 8%
Moderate 8-15%--5
Severe > 15%--5
NODAWAY
Severe--6a
Severe--6a
Severe--6a
Severe--6a
NORGE
Severe--1
Slight < 2%
Moderate > 2%--5
Moderate--3
Slight
NORWOOD
Severe--6a
Severe--6a
Severe--6a
Severe--6a
NUCKOLLS
Slight < 8%
Moderate 8-15%--5
Severe > 15%--5
Moderate < 7%--2
Severe > 7%--5
Slight < 15%
Moderate > 15%--5
Slight < 8%
Moderate 8-15%--5
Severe > 15%--5
OAKWOOD
Severe--11 6a, 7
Severe--6a, 7
Severe--6a, 7
Severe--6a, 7
OKEMAH
Severe--1
Slight < 2%
Moderate > 2%--5
Severe--3
Slight
OLMITZ
Moderate--1
Moderate--2
Moderate--3
Slight < 8%
Moderate > 8%--5
OLPE
Severe--1
Severe--12
Severe--3
Slight < 8%
Moderate > 8%--5
ONAWA
Severe--1, 6a, 7
Severe--6a, 7
Severe--6a, 7
Severe--6a, 7
ORD
Severe--6a, 7
Severe--6a, 7
Severe--6a, 7
Severe--6a, 7
ORTELLO
Slight < 8%
Moderate > 8%--5
Severe--2
Severe--2
Severe--2
OSAGE
Severe--1, 6a, 7
Severe--6a, 7
Severe--6a, 7
Severe--6a, 7
OSKA
Severe--1, 10b
Severe--10b
Severe--101)
Slight
OST
Severe--1
Slight < 2%
Moderate 2-7%--5
Severe > 7%--5
Moderate--3
Slight
OTERO
Slight < 8%
Moderate 8-15%--5
Severe > 15%--5
Severe--2
Severe--2
Severe--2
OWEGO
Severe--1, 6a, 7
Severe--6a, 7
Severe--6a, 7
Severe--6a, 7
OWENS
Severe--1, 11a
Severe--11a
Severe--3
Slight < 8%
Moderate 8-15%--5*
Severe > 15%--5
PARSONS
Severe--1
Slight < 2%
Moderate > 2%--2
Severe--3
Moderate--9
PAWNEE
Severe--1
Moderate < 7%--5
Severe > 7%--5
Severe--3
Slight < 8%
Moderate > 8%--5
PENDEN
Severe--1
Slight < 2%
Moderate 2-7%--5
Severe > 7%--5
Moderate--3
Slight < 8%
Moderate > 8%--5
PENROSE
Severe--10a
Severe--10a
Severe--10a
Slight < 8%
Moderate 8-15%--5
Severe > 15%--5
PLATTE
Severe--6a, 7
Severe--2, 6a, 7
Severe--2, 6a, 7
Severe--2, 6a, 7
PLEASANT
Severe--1
Slight < 2%
Moderate > 2%--5
Severe--3
Slight
PLEVNA
Severe--6a, 7
Severe--2, 6a, 7
Severe--2, 6a, 7
Severe--2, 6a, 7
POND CREEK
Severe--1
Slight < 2%
Moderate > 2%--5
Moderate--3
Slight
PORT
Moderate--1, 6b
Moderate--2
Moderate--3, 6b
Moderate--6b
POTTER
Severe--11a
Severe--11a
Moderate < 25%--11a
Severe > 25%--5
Slight < 8%
Moderate 8-15%--5
Severe > 15%--5
PRATT
Slight < 8%
Moderate > 8%--5
Severe--2
Severe--2
Severe--2
PROMISE
Severe--1
Slight < 2%
Moderate 2-7%--5
Severe > 7%--5
Severe--3
Slight < 8%
Moderate 8-15%--5
Severe > 15%--5
QUINLAN
Severe--11a
Severe--2, 11a
Severe--2
Severe--2
RADLEY
Severe--6a
Severe--6a
Severe--6a
Severe--6a
RANDALL
Severe--1
Slight
Severe--3, 6a
Severe--6a
READING
Severe--1
Slight < 2%
Moderate 2-7%--5
Severe > 7%--5
Moderate--6b
Moderate--6b
REINACH
Moderate--6b
Moderate--2
Moderate--6b
Moderate--6b
RENFROW
Severe--1
Slight < 2%
Moderate > 2%--5
Severe--3
Slight
RICHFIELD
Moderate--1
Slight < 2%
Moderate > 2%--5
Moderate--3
Slight
RINGO
Severe--1, 11b
Severe--11b
Severe--3
Slight < 8%
Moderate > 8%--5
RIVERTON
Moderate--1
Moderate--2, 12
Moderate--3, 12
Slight
ROSEHILL
Severe--1, 11b
Severe--11b
Severe--3
Slight
ROXBURY
Moderate to
Severe--6a, 6b
Severe--6a, 6b
Moderate to
Severe--6a, 6b
Moderate to
Severe--6a, 6b
RUELLA
Slight < 8%
Moderate > 8%--5
Moderate < 7%--2
Severe > 7%--5
Slight
Slight < 8%
Moderate > 8%--5
RYUS
Severe--1
Slight
Moderate--3, 6b
Moderate--6b
SARPY
Severe--6a, 8
Severe--2, 6a
Severe--2, 4, 6a
Severe--2, 6a
SATANTA
Slight < 8%
Moderate > 8%--5
Moderate < 7%--2
Severe > 7%--5
Slight
Slight < 8%
Moderate > 8%--5
SHARPSBURG
Severe--1
Slight < 2%
Moderate 2-7%--5
Severe > 7%--5
Moderate--3
Slight < 8%
Moderate > 8%--5
SHELBY
Severe--1
Moderate < 7%--5
Severe > 7%--5
Moderate--3
Slight < 8%
Moderate 8-15%--5
Severe > 15%--5
SHELLABARGER
Slight < 8%
Moderate > 8%--5
Moderate < 7%--2
Severe > 7%--5
Slight
Slight < 8%
Moderate > 8%--5
SIBLEYVILLE
Moderate--11b
Severe--11b
Moderate--11b
Slight < 8%
Moderate > 8%--5
SMOLAN
Severe--1
Slight < 2%
Moderate 2-7%--5
Severe > 7%--5
Moderate--3
Slight < 8%
Moderate > 8%--5
SOGN
Severe--10a
Severe--10a
Severe--10a
Slight < 8%
Moderate > 8%--5
SOLOMON
Severe--1, 6a, 7
Severe--6a, 7
Severe--3, 6a, 7
Severe--6a, 7
SPEARVILLE
Severe--1
Slight < 2%
Moderate > 2%--5
Severe--3
Slight
STEEDMAN
Severe--11b
Severe--11b
Severe--3
Slight < 8%
Moderate 8-15%--5
Severe > 15%--5
STEINAUER
Moderate < 15%--1
Severe > 15%--5
Moderate < 7%--2
Severe > 7%--5
Moderate < 25%--3
Severe > 25%--5
Slight < 8%
Moderate 8-15%--5
Severe > 15%--5
STEPHENVILLE
Severe--11b
Severe--11b
Moderate--11b
Slight < 8%
Moderate 8-15%--5
Severe > 15%--5
SUMMIT
Severe--1
Moderate < 7%--11c
Severe > 7%--5
Severe--3
Slight < 8%
Moderate > 8%--5
SUTPHEN
Severe--1, 6a
Severe--6a
Severe--3, 6a
Severe--6a
SWEETWATER
Severe--1, 6a, 7
Severe--6a, 7
Severe--6a, 7
Severe--6a, 7
TABLER
Severe--1
Slight < 2%
Moderate > 2%--5
Severe--3
Slight
TALIHINA
Severe--11a
Severe--11a
Severe--3
Slight < 8%
Moderate 8-15%--5
Severe > 15%--5
TALOKA
Severe--1
Slight < 2%
Moderate > 2%--5
Severe--3
Moderate--9
THURMAN
Slight < 8%
Moderate 8-15%--5
Severe > 15%--8
Severe--2
Severe--2
Severe--2
TIMKEN
Severe--1, 11a
Severe--11a
Severe--3
Slight < 8%
Moderate 8-15%--5
Severe > 15%--5
TINA
Severe--1
Slight
Severe--3
Moderate--6b
TIPTON
Slight
Moderate--2
Slight
Slight
TIVOLI
Slight < 8%
Moderate 8-15%--5
Severe > 15%--5
Severe--2
Severe--2, 4
Severe--2
TOBIN
Severe--6a
Severe--6a
Severe--6a
Severe--6a
TRAVESSILLA
Severe--11a
Severe--11a
Severe--11a
Slight < 8%
Moderate 8-15%--5
Severe > 15%-5
TULLY
Severe--1
Slight < 2%
Moderate 2-7%--5
Severe > 7%-5
Severe--3
Slight < 8%
Moderate > 8%--5
ULY
Slight < 8%
Moderate 8-15%--5
Severe > 15%--5
Moderate < 7%--2
Severe > 7%--5
Slight < 15%
Moderate > 15%--5
Slight < 8%
Moderate 8-15%--5
Severe > 15%--5
ULYSSES
Slight < 8%
Moderate > 8%--5
Moderate < 7%-2
Severe > 7%--5
Slight
Slight < 8%
Moderate > 8%--5
VALENTINE
Slight < 8%
Moderate 8-15%--5
Severe > 15%--5
Severe--2
Severe--2, 4
Severe--2
VANOSS
Slight
Moderate--2
Moderate--3
Slight
VERDIGRIS
Moderate to
Severe--6a, 6b
Severe--6a
Moderate to
Severe--6a, 6b
Moderate to
Severe--6a, 6b
VERNON
Severe--1, 11b
Severe--11b
Severe--3
Slight < 8%
Moderate 8-15%--5
Severe > 15%--5
VINLAND
Severe--11a
Severe--11a
Moderate--3
Slight < 8%
Moderate > 8%--5
VONA
Slight < 8%
Moderate > 8%--5
Severe--2
Severe--2
Severe--2
WABASH
Severe--1, 6a, 7
Severe--6a, 7
Severe--6a, 7
Severe--6a, 7
WAKEEN
Severe--11b
Severe--11b
Moderate--3
Slight < 8%
Moderate 8-15%--5
Severe > 15%--5
WALDECK
Severe--6a, 7
Severe--2, 6a,
Severe--2, 6a, 7
Severe--2, 6a, 7
WANN
Severe--6a, 7
Severe--2, 6a, 7
Severe--2, 6a, 7
Severe--2, 6a, 7
WAURIKA
Severe--1
Slight
Severe--3
Moderate--9
WELDA
Severe--1
Moderate < 7%--5
Severe > 7%--5
Severe--3
Slight < 8%
Moderate > 8%--5
WINDTHORST
Severe--1
Slight < 2%
Moderate 2-7%--5
Severe > 7%--5
Moderate--3
Slight
WOODSON
Severe--1
Slight < 2%
Moderate > 2%--5
Severe--3
Moderate--9
WOODWARD
Severe--11b
Severe 11b
Moderate--11b
Slight < 8%
Moderate 8-15%--5
Severe > 15%--5
WYMORE
Severe--1
Slight < 2%
Moderate 2-7%--5
Severe > 7%--5
Severe--3
Slight < 8%
Moderate > 8%--5
YAHOLA
Moderate to
Severe--6a, 6b
Severe--2
Severe--2
Severe--2
ZAAR
Severe--1
Slight < 2%
Moderate 2-7%--5
Severe > 7%--5
Severe--3
Slight < 8%
Moderate 8-15%--5
Severe > 15%--5
ZAVALA
Severe--6a
Moderate--6b
Severe--2
Severe--2
Severe--2
ZENDA
Severe--6a, 7
Severe--6a, 7
Severe--6a, 7
Severe--6a, 7
ZOOK
Severe--1, 6a, 7
Severe--6a, 7
Severe--6a, 7, 9
Severe--6a, 7, 9
---
Prev Page--Landfills || Next Page--Summary, Glossary
Kansas Geological Survey, Geology
Placed on web Aug. 7, 2009; originally published March 1974.
Comments to webadmin@kgs.ku.edu
The URL for this page is http://www.kgs.ku.edu/Publications/Bulletins/208/07_desi.html