Prev Page--Introduction || Next Page--Ground Water
---
Location and Extent of the Area
Marshall County is in the first tier of counties south of the north border of Kansas and is the fourth county west of the east border. Marshall County is bounded on the west by Washington County, on the south by Riley and Pottawatomie Counties, on the east by Nemaha County and on the north by Nebraska. The county contains 25 townships totaling 911 square miles.
Topography and Drainage
Marshall County lies within the region designated by Fenneman (1931) as the Dissected Till Plains section of the Central Lowlands province. Most of Marshall County east of Big Blue River and north of Black Vermillion River is topographically till plains. Here the divide areas between major drainage lines are gently undulating, and the local relief seldom exceeds 100 feet. Near the larger streams the relief is more pronounced, and the wide valleys are flanked by a subdued bluff line.
The parts of Marshall County lying west of Big Blue River and south of Black Vermillion River have chiefly a rock-controlled type of topography similar to that of the Flint Hills region farther south. In parts more remote from major streams, the rock-controlled topography is mantled by glacial drift and loess.
The major alluvial valleys are those of the Big Blue River, the Little Blue River, Black Vermillion River, and Vermillion Creek.
Big Blue River and its tributaries drain almost all of Marshall County. Little Blue River, the largest tributary of Big Blue River, joins it near the City of Blue Rapids. Black Vermillion River is a large, westward-flowing tributary of Big Blue River and joins it about a mile north of the Pottawatomie County line. Vermillion Creek, a major southward-flowing tributary of Black Vermillion River, joins it near the City of Frankfort. A small area in the northeast corner of Marshall County is drained by Nemaha River, and another in the southeast corner by a tributary of Vermillion River.
Climate
Marshall County is well supplied by precipitation, especially during the growing season, and has abundant sunshine. During the summer, the highest daily temperatures seldom rise above 100 degrees for more than a few successive days, and during the winter the lowest temperature seldom falls below zero for more than three or four consecutive days.
According to data presented by the United States Weather Bureau, the normal annual temperature for Oketo in Marshall County is 53.6° F. The hottest month, in general, is July which has a normal temperature of 79.7° F., and the coldest month is January, which has a normal temperature of 25.8° F. The average growing season, the interval between the last killing frost in the spring and the first killing frost in the fall, is approximately 170 days. The normal annual precipitation at Blue Rapids is 28.30 inches. The annual precipitation and the cumulative departure from normal precipitation at Blue Rapids for the period 1911 through 1951 are shown in Figure 3. The normal monthly precipitation for the period 1898 through 1942 is given in Table 1.
Table 1--The normal monthly precipitation at Blue Rapids, Kansas.
Month
Precipitation,
inches
Month
Precipitation,
inches
January
0.6
July
3.01
February
0.94
August
3.57
March
1.4
September
3.65
April
2.6
October
2.28
May
3.54
November
1.5
June
4.44
December
0.77
Figure 3--Annual precipitation and the cumulative departure from normal precipitation at Blue Rapids.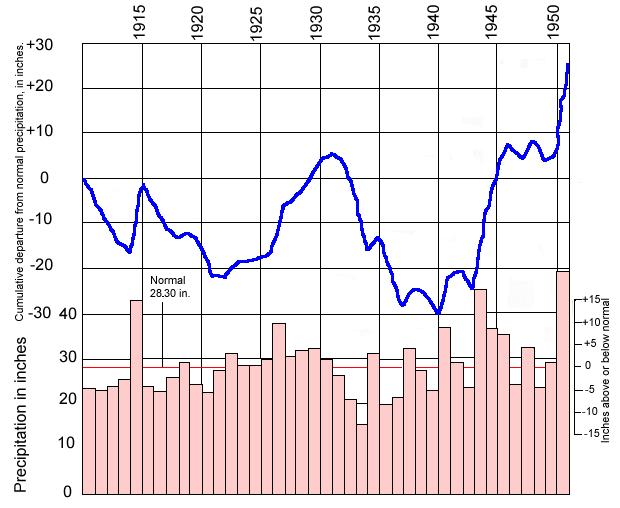 Population
According to the 1950 Federal Census, the population of Marshall County was 17,926, the average density of population being 19.7 to the square mile. The population of Marshall County decreased 14.6 percent between 1940 and 1950, and decreased 9.0 percent between 1930 and 1940. In 1950, 21.6 percent of the population of the county was urban. The urban population of the county decreased 4.7 percent between 1940 and 1950, while the rural population decreased 17.0 percent during the same, period. The population of the cities in Marshall County, as reported by the 1950 census, were as follows: Marysville, 3,866; Blue Rapids, 1,430; Frankfort, 1,237; Waterville, 676; Axtell, 510; Beattie, 321; Summer-field, 305; Vermillion, 283; Irving, 279; and Oketo, 169.
Transportation
Marshall County is crossed by the Topeka cut-off of the Union Pacific Railroad Company, which connects Topeka with the main West Coast line of that company. A branch line of the Union Pacific Railroad Company extends up the Big Blue River Valley from Manhattan in Riley County to Beatrice, Nebraska. A branch line of the Union Pacific Railway Company also connects Marysville with St. Joseph, Missouri. The Central Branch of the Missouri Pacific Railroad Company passes through Waterville, Blue Rapids, and Irving.
Several hard-surfaced Federal and State highways pass through Marshall County. U. S. Highway 36 traverses the county east west through Home City and Marysville, and U. S. Highway 77 north south through Marysville, Blue Rapids, and Waterville. State Highway 9, east west through Frankfort, Blue Rapids, and Waterville, is not hard-surfaced between Frankfort and Blue Rapids. State Highway 99, which is partly hard-surfaced and partly gravel-surfaced, passes north south through Summerfield, Beattie, and Frankfort. State Highway 13, a gravel-surfaced road traversing the valleys of Big Blue River and Black Vermillion River from the south line of Marshall County, joins State Highway 9 about a mile southwest of Frankfort. State Highway 113, a gravel-surfaced road, extends from Blue Rapids to its junction with State Highway 13 a few miles southeast of Irving. State Highway 87 is a gravel-surfaced road extending straight north from Vliets to U. S. Highway 36. Marshall County maintains many graveled county and township roads in addition to the highways.
AGRICULTURE
Agriculture is the chief occupation in Marshall County. Corn, wheat, alfalfa, and oats are the principal crops. About one-third of the acreage of Marshall County is grazing land; a large part of this is in the southwest quarter of the county where the soil is less suitable for tilling. The comparative value of the agricultural products of Marshall County for 1948 is shown in Table 2.
Table 2--Comparative values of the agricultural products of Marshall County for 1948.
Crops produced in 1948
Livestock on farms in 1948
Crop
Acres
Value
Livestock
Number
Value
Corn
125,400
$6,956,700
Cattle (other than milk cows)
32,480
$3,361,200
Wheat
102,200
4,169,000
Milk cows
13,520
2,217,300
Alfalfa
30,300
1,019,890
Swine
28,100
1,171,900
Oats
33,390
718,080
Chickens
379,900
456,300
Sorghum
7,470
210,070
Horses & mules
5,920
248,640
Others
17,397
285,770
Sheep & lambs
6,710
115,000
Total
$13,359,510
Total
$7,570,340
About 160 acres of land are irrigated from Big Blue River near Marysville.
Mineral Resources
Marshall County has a greater diversity of mineral raw materials than most counties of northeast Kansas. The principal mineral resources of the county, aside from ground water, are sand, gravel, gypsum, and limestone. No oil or gas is produced in Marshall County.
Sand and gravel--Marshall County is one of the largest producers of sand and gravel in northeast Kansas. According to figures released by the United States Bureau of Mines and the State Geological Survey of Kansas, Marshall County produced approximately 38,000 short tons of this material in 1951. Of this total about 77 percent was structural sand for use in concrete and mortar, about 6 percent was structural gravel for use in concrete, and the remaining 17 percent was paving gravel and miscellaneous sand and gravel. The large plants now in operation in the county pump the sand and gravel directly from the stream beds of Big Blue and Little Blue Rivers. Several large nonoperating gravel pits are located on terraces of Little Blue River. The sand and gravel of these river deposits is of good quality and is satisfactory for most uses.
Several pits in the county are producing gravel from glacial deposits. The material in these deposits is, in general, very poorly sorted and the mineral composition of the sand and gravel is variable. The glacial gravel produced in Marshall County is used almost exclusively for road surfacing.
Gypsum--The first gypsum deposits worked within the State of Kansas were in the area around Blue Rapids (Grimsley and Bailey, 1899). The first mine, which operated on a very small scale, was opened in 1872; the locations of several abandoned mines are as follows; Fowler mine, NW1/4 NE1/4 sec. 18, T. 4 S., R. 7 E.; Electric mine, in NE1/4 SE1/4 sec. 17, T. 4 S., R. 7 E.; Blue Rapids Gypsum Company mine, SW1/4 NW1/4 sec. 17, T. 4 S., R. 7 E.; Winter mine, NE1/4 SE1/4 sec. 24, T. 4 S., R. 6 E.; U. S. Gypsum mine, near the SE cor. sec. 29, T. 4 S., R. 7 E. The Certainteed Products mine near the NE cor. sec. 21, T. 4 S., R. 7 E., is the only mine now operating in Marshall County. The Certainteed mine is worked by the room and pillar method, and the gypsum is processed into "specialty gypsums" at the Blue Rapids plant.
The age and stratigraphic position of the gypsum deposits are discussed in the section on geologic formations and their water-bearing properties.
Limestone--Abundant limestone suitable for building stone is available in Marshall County. Although no building stone is now being produced, large quantities have been quarried in the past. The Fort Riley, Cottonwood, and Neva limestone members have been quarried at many sites in the county for use as building dimension stone, foundation blocks, and bridge material. In addition to the above mentioned units, the Florence, Schroyer, Eiss, and Morrill limestone members have been quarried for riprap material, road metal, or agricultural lime.
Prev Page--Introduction || Next Page--Ground Water
---
Kansas Geological Survey
, Geologic History of Kansas
Comments to
webadmin@kgs.ku.edu
Web version March 2004. Original publication date March 1954.
URL=http://www.kgs.ku.edu/General/Geology/Marshall/04_geog.html