Geography
History
[History of the organization of these counties is taken primarily from Blackmar (1912).]

Grant County was created in 1887 by an act of the Kansas legislature by taking eight townships each from Hamilton and Kearny Counties. A census was taken in August 1887, indicating a population of 2,716. The county was organized in 1886 and the governor named Ulysses the temporary county seat. After the election of October 1888 Ulysses became the permanent county seat, having received more votes than the cities of Cincinnati and Surprise. The election was contested by Cincinnati but in 1890 the Supreme Court ruled in favor of Ulysses.

Because of the extended drought during the 1890s, which culminated in the panic of 1898, the population of Ulysses decreased from 1,500 to 40 and the bonded indebtedness grew to $84,000. In order to avoid financial chaos, the entire city (with the exception of the schoolhouse and courthouse) was moved 2 miles northwest and the city of New Ulysses was organized.

The unorganized county of Arapahoe was created by the legislature in 1873 and later (1883) became a part of Finney County. It was separated from Finney County in 1887 and named Haskell County for Dudley C. Haskell, congressman from Kansas. As a result of a census taken in March 1887 (population 2,841), the governor declared the county organized and named Santa Fe the temporary county seat. Santa Fe was chosen the permanent county seat by popular vote in preference to Ivanhoe and Lockport. In 1912, the Atchison, Topeka and Santa Fe Railway Company completed a branch line through Haskell County to Elkhart in Morton County. The city of Santa Fe was left without railroad facilities and the county seat was moved to Sublette.

The unorganized county of Stevens was created in 1873 and named for Thaddeus Stevens. The area became a part of Seward County in 1883 when the western boundary of Seward was extended to the Kansas-Colorado line. Stevens county was re-created in 1886, a census was taken (population 2,662), and Hugoton was designated the county seat.

Grant, Haskell, and Stevens Counties are in the High Plains section of the Great Plains physiographic province. The area comprises parts of eight physiographic divisions (Fig. 2), most of which were defined by Smith (1940, pp. 140-146). These areas are described briefly in the following pages.

Figure 2--Map of Grant, Haskell, and Stevens counties showing physiographic divisions.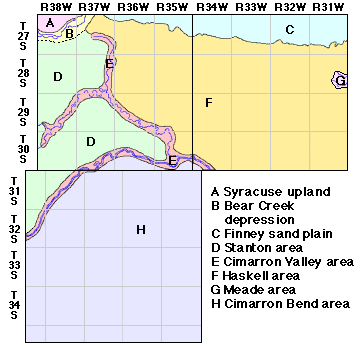 Syracuse upland--This is the name given by Smith to the long tableland that extends from western Hamilton County to northwestern Grant County. The area is relatively flat but has fairly steep slopes on all sides. It was formed primarily by the folding of the rock strata on the north and by faulting and subsidence of the strata on the south. The surface of the area slopes east-southeastward at the rate of 10 to 30 feet to the mile.

Bear Creek depression--Bear Creek crosses the northwestern corner of Grant County where it becomes a series of sinkholes and short intermittent streams rather than one continuous stream. It is bordered on the north and northwest by the Syracuse upland and on the east by the Haskell area. The southern boundary is not distinct, because it grades imperceptibly into the Stanton area.

Finney sand plain--The Finney sand plain (Smith, 1940) is an area intermediate in level between the Arkansas Valley and the uplands of the Haskell area. It extends from the Arkansas Valley southward into Grant and Haskell Counties (Fig. 2) and is covered by dune sand in all but its southern part. The southern boundary is a low bluff, which generally is less than 50 feet high.

Stanton area--Most of the western half of Grant County and the northwestern corner of Stevens County lie within the Stanton area, which is a broad, relatively flat plain that slopes east-northeastward. The lowest part of the area is near Bear Creek in the northwestern part of Grant County. The area is bordered on the south by the Cimarron River and on the east by Lakin Draw and North Fork Cimarron River.

Cimarron Valley area--The valleys of the Cimarron River, North Fork Cimarron River, Sand Arroyo, and Lakin Draw constitute the Cimarron Valley area (Pls. 5 and 6). These valleys have a relatively small amount of flat bottomland. In many places along the Cimarron Valley the bottomland has been cut away by the widening channel of the Cimarron River leaving only moderate pediment-like slopes along the sides of the valley. In other places, dune sand has been deposited within the valley and forms a typical sand-dune topography.

Haskell area--The Haskell area, which was named by Smith 1940), is a broad, relatively flat upland extending across most of Haskell County and the eastern half of Grant County. In contrast to the Stanton area, which slopes east-northeastward, the Haskell area slopes gently toward the east-southeast. The area is bordered on the east by Crooked Creek, on the north by the Finney sand plain, and on the south and west by the Cimarron River and its tributaries.

Meade area--The Meade area was defined by Smith (1940) as comprising the drainage basin of Crooked Creek. The headwaters of Crooked Creek are in easternmost Haskell County; therefore the Meade area comprises only a small part of the Grant-Haskell-Stevens area. The Meade area is lower than the Haskell upland and slopes toward the east.

Cimarron Bend area--The large upland area south of the Cimarron River was called the Cimarron Bend area by Smith (1940). It is a broad upland almost devoid of surface drainage and almost completely covered by sand dunes in various stages of development. The average slope is east-northeastward as in the Stanton area.

The Grant-Haskell-Stevens area is drained by the Cimarron River and its tributaries (North Fork Cimarron River, Crooked Creek, Bear Creek, and Lakin Draw). The Cimarron River rises in New Mexico and enters Stevens County northwest of Feterita. It flows northeastward through northwestern Stevens County, eastward through southern Grant County, and southeastward through the southwestern corner of Haskell County.

Bear Creek rises in southeastern Colorado and enters Kansas a few miles north of Saunders whence it flows northeastward and joins Little Bear Creek in northeastern Stanton County. From there the stream flows eastward and enters Grant County about 3.3 miles south of the northwest corner of the county. In Grant and Kearny Counties, Bear Creek is not a single stream but is a series of short intermittent streams whose courses are determined largely by depressions or sinkholes. The streams have no valley and have only small, shallow channels bordered by low natural levees. Many years ago flood waters flowed from one depression to another and terminated in the sand hills south of Lakin. Several dikes have been built in an attempt to control the flood waters of Bear Creek, and little water can now reach the sand hills in Kearny County. Much of the flood water spreads over the fields and some enters the Cimarron drainage system by way of Lakin Draw.

Crooked Creek rises in northeastern Haskell County (Fig. 21 and drains parts of Haskell, Gray, Ford, and Meade Counties. It enters the Cimarron River in northeastern Beaver County, Oklahoma.

North Fork Cimarron River flows across the northwestern corner of Stevens County and the southeastern corner of Stanton County and enters Grant County near its southwest corner. The stream flows northeastward to Ulysses where it turns abruptly toward the southeast and joins the Cimarron River near the southeast corner of the county.

Sand Arroyo flows across southern Stanton County and enters Grant County about 7 miles north of the southwest corner of the county. It enters North Fork Cimarron River a short distance cast of the Grant County line.

Lakin Draw is a short intermittent stream, which flows southward from northern Grant County to North Fork Cimarron River near Ulysses. Part of the flood waters of Bear Creek flow southward through Lakin Draw to North Fork Cimarron River, but because of the low gradient of Lakin Draw part of the flood waters of North Fork Cimarron River extend northward in the channel of Lakin Draw for about 2 miles above their confluence. [Mr. Joseph Jungferman, personal communication.]