---
By Raymond C. Moore, John C. Frye, John Mark Jewett, Wallace Lee, and Howard G. O'Connor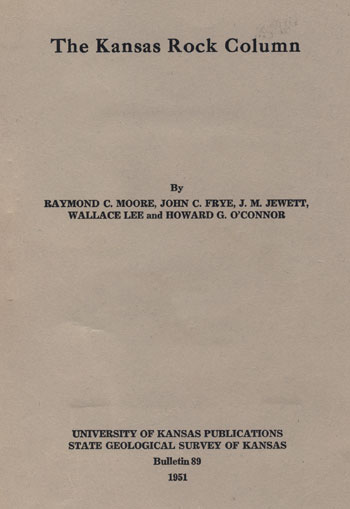 Originally published in 1951 as Kansas Geological Survey Bulletin 89. This is, in general, the original text as published. The information has not been updated.
For more current information, visit our Stratigraphic Nomenclature of Kansas web pages.
Abstract
This paper summarizes knowledge of the sequence of rock strata in Kansas. A generalized composite section of rocks occurring above the Pre-Cambrian basement rocks is presented with classification and nomenclature used by the Kansas Geological Survey. This is accompanied by graphically represented selected measured sections and well logs for most parts of the rock column and summaries of areal distribution of major rock units.
---
Kansas Geological Survey, Geology
Placed on web Oct. 28, 2008; originally published Jan. 1951.
Comments to webadmin@kgs.ku.edu
The URL for this page is http://www.kgs.ku.edu/Publications/Bulletins/89/index.html