---
by P. H. Heckel1 and W. L. Watney2
1Department of Geoscience, University of Iowa
2Kansas Geological Survey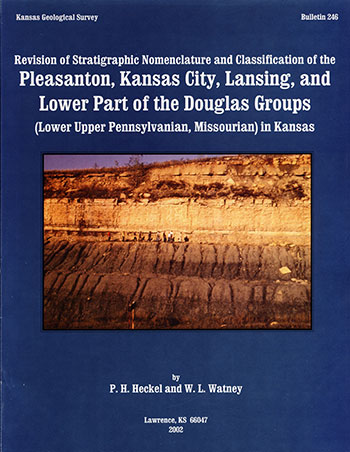 Originally published in 2002 as Kansas Geological Survey Bulletin 246. This is, in general, the original text as published. The information has not been updated. An Acrobat PDF version (7 MB) is also available.
Front cover: Photograph from early 1990's, looking northeast across southbound ramps between I-435 and Holliday Road, northern Johnson County, Kansas. Succession includes dark Liberty Memorial Shale in lower half, overlain by light-colored Wyandotte Limestone, with Frisbie Limestone Member behind people, dark line of Quindaro Shale Member at head level, overlain by thick Argentine Limestone Member. Top of section is Lane Shale, with Island Creek Shale Member covered by brush, overlain by limestone and shale beds of Farley Limestone Member. Because it is the principal reference section for many of these units, this section is located in fig. 29 and graphically illustrated in fig. 30.
Abstract
Correction of several long-standing miscorrelations within the Missourian succession in Kansas has resulted from recent field work along outcrop and has been substantiated by near-surface drilling. This requires some revision of nomenclature and classification of this succession of rocks so that its stratigraphy is clarified and sufficiently characterized to facilitate its utilization in the interpretation of geologic history and assessment of resources. The revision also is timely for consideration of the succession in the pending selection of international Series/Stage boundary stratotypes. New formations now recognized in Kansas are the Hepler and Shale Hill Formations in the Pleasanton Group; the Elm Branch Shale and Mound Valley Limestone, both essentially reinstated, in the Bronson Subgroup of the Kansas City Group; the Nellie Bly Formation and Dewey Limestone, both newly extended into Kansas (from Oklahoma) in the Linn Subgroup of the Kansas City Group; the Liberty Memorial Shale, reinstated (from Missouri) in the Zarah Subgroup of the Kansas City Group; and the Cass Limestone, newly extended into Kansas (from Nebraska) in the middle of the Douglas Group. In addition, the Coffeyville Group is now recognized in southern Kansas to more adequately characterize the southward facies transition of the upper Pleasanton and lower Kansas City Groups (most of the Bronson Subgroup). Several formations previously recognized in Kansas have been revised (Tacket Formation, Hertha Limestone, Cherryvale Formation, Wyandotte Limestone, Lane Shale, Stanton Limestone), with members shifted from or to adjacent formations. Two members are raised in rank (Rock Lake Shale and South Bend Limestone); four members are extended into Kansas from surrounding areas (Exline Limestone Member of Shale Hill Formation, Gretna Shale Member of South Bend Limestone, Little Pawnee Shale Member and Shoemaker Limestone Member ofCass Limestone); one member is reinstated (Little Kaw Limestone Member of South Bend Limestone); and two members are newly defined in Kansas (Mantey Shale Member and Guthrie Mountain Shale Member of Shale Hill Formation).
---
Kansas Geological Survey, Geology
Placed on web Oct. 20, 2014; originally published 2002.
Comments to webadmin@kgs.ku.edu
The URL for this page is http://www.kgs.ku.edu/Publications/Bulletins/246/index.html