---
By Henry V. Beck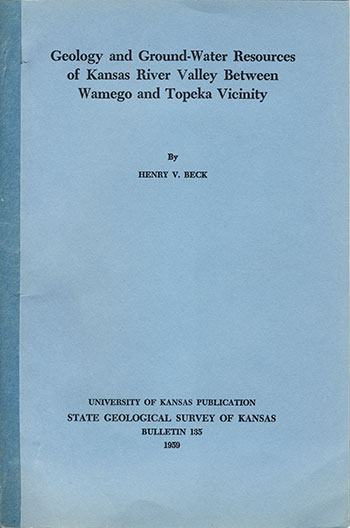 Originally published in 1959 as Kansas Geological Survey Bulletin 135. This is, in general, the original text as published. The information has not been updated. An Acrobat PDF version (25 MB) is also available; plates available separately.
Abstract
The geography, geology, and ground-water resources of Kansas River valley from Kiro in Shawnee County to the west boundary of Range 10 East in Pottawatomie County are described in this report. The area comprises about 280 square miles, including parts of Shawnee, Wabaunsee, and Pottawatomie Counties. It is a major agricultural area and a potential industrial area.
The valley is asymmetrical, having steep bluffs on the south and gentle slopes on the north. The indurated rocks, limestone, shale, and sandstone of Pennsylvanian and Permian age, dip gently westward to the Nemaha Anticline, where the dip reverses. These rocks are the source of construction materials and small but important quantities of ground water.
Unconsolidated Pleistocene sediments blanket much of the area north of the river, and sediments representing all subdivisions of the Pleistocene Series are present. The principal deposits are till of Kansan age, terrace deposits formed during the Kansan, Illinoian, and Wisconsinan stages, loesses of Illinoian and Wisconsinan age, alluvium of Wisconsinan and Recent age, and dune sand of Recent age. The interglacial stages are represented by soils formed during times of ice retreat.
The Illinoian and Wisconsinan terrace deposits and Wisconsinan and Recent alluvium are the most prolific sources of ground water, yielding large supplies for irrigation and municipal wells. The till of Kansan age, found chiefly on divides, yields little water. The Kansan terrace deposits, which rest on bedrock that lies above the present valley surface, have been dissected by erosion; hence much of the water drains from them. The principal use of ground water is for irrigation, and the data indicate that the supply of ground water is sufficient for additional development of irrigation and industrial supplies.
Maps, cross sections, plates, and figures are used to present geologic and ground-water data. Well logs, water-level measurements, aquifer-test data, and chemical analyses are given.
---
Kansas Geological Survey, Geology
Placed on web June 16, 2014; originally published March 1959.
Comments to webadmin@kgs.ku.edu
The URL for this page is http://www.kgs.ku.edu/Publications/Bulletins/135/index.html