Kansas River Index Well Network
In the spring and summer of 2018, the KGS established a network of observations wells in the Kansas River alluvial aquifer. The wells operate under the Kansas Index Well Program to provide continuously recorded water levels of the aquifer throughout the year. Funding for the project was made possible by the Kansas Water Plan Fund and the USGS National Groundwater Monitoring Network.
Interactive Map
Use our interactive map to explore the data received, or use the data links below.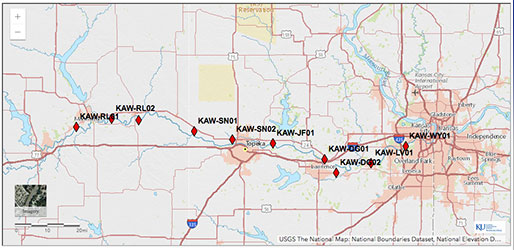 Data
RL01, Riley County southwest of Manhattan

RL02, Riley County near St. George

WB01, Wabaunsee County southeast of Wamego

WB02, Wabaunsee County, south of St Marys

SN01, Shawnee County near Rossville

SN02, Shawnee County north of Topeka

JF01, Jefferson County southeast of Grantville

JF02, Jefferson County, south of Perry

DG03, Douglas County, northeast of Lawrence

DG01, Douglas County near Lawrence Municipal Airport

GEMS4-1, Douglas County

DG02, Douglas County between Lawrence and Eudora

LV01, Leavenworth County north of De Soto

WY01, Wyandotte County north of Lake Quivira
Reports
Kansas River Alluvial Aquifer Index Well Program: 2019 Annual Report, by J. J. Butler, Jr., E. C. Reboulet, S. Knobbe, D. O. Whittemore, B. B. Wilson, and G. C. Bohling
Maintenance of the Kansas Geological Survey's Data Services to the National Groundwater Monitoring Network and Establishment of a Trend Well Network in the Kansas River Alluvial Aquifer, by Brownie Wilson
Kansas River Alluvial Aquifer: Water Use and Real-Time Monitoring, Guide for Field Trip, March 27, 2019, Geological Society of America, 2019 Joint Section Meeting, Manhattan, Kansas, by Donald O. Whittemore, Brownie Wilson, and James J. Butler, Jr.