---
By John M. Jewett and Norman D. Newell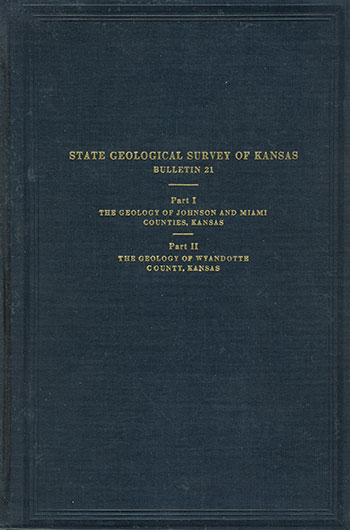 Originally published in 1935 as Kansas Geological Survey Bulletin 21, Part 2. This is, in general, the original text as published. The information has not been updated. An Acrobat PDF version (62 MB) is also available, and contains both Parts 1 (Johnson and Miami) and 2 (Wyandotte).
You may also wish to visit our web site on the Wyandotte County geologic map.
Introduction
This report is the outgrowth of studies of Pennsylvanian rocks and other geologic features of Wyandotte and parts of adjoining counties carried on during a period of approximately two years. It describes in detail the rocks which are exposed, and gives a map showing the distribution of these rocks. The structural conditions are discussed and they are illustrated by means of a structural geologic map. The topography and economic geology are briefly treated.
Field Work
Most of the field work of the writers in this county and adjacent areas was done during the months from September, 1929, to June, 1930. The stratigraphy was studied in detail and the units were traced into adjacent areas, including parts of Platte, Clay, and Jackson counties in Missouri, and Leavenworth, Johnson and Douglas counties in Kansas. The stratigraphy was rather well known to the writers before work on the areal geologic map was undertaken. The areal and structural geologic maps were made entirely from field observations of the writers. Later studies by Jewett on the Bronson group and by Newell on the stratigraphy of Johnson and Miami counties and on the Missouri series, in general, has enabled the writers to trace the formations exposed in Wyandotte County completely across Kansas.
The areal geologic map of Wyandotte County was made from data obtained by making automobile traverses over all roads and keeping check on distances by speedometer. Data on the distribution of outcrops away from the roads were obtained through use of a plane-table and open-sight alidade, and by pacing distances.
Acknowledgments
The writers are greatly indebted to Dr. R. C. Moore, state geologist, for the facilities of the Kansas Geological Survey, including transportation. Doctor Moore gave indispensable advice and helpful criticism both in the field and office while the report was in preparation. Dr. J. W. Ockerman, Kansas Geological Survey, gave information relative to correlation of rocks revealed by well logs, and prepared the chart shown as plate XXII. Dr. K. K. Landes offered suggestions regarding the preparation of the illustrations. Residents in the county were courteous and helpful on every occasion. Clifton Roberts, assistant manager of the Kansas City Chamber of Commerce, supplied information concerning industries. R. S. Collins, roadmaster, Atchison, Topeka, and Santa Fe Railroad, Topeka; E. A. Hadley, chief engineer, Union Pacific Railroad, St. Louis; and G. L. Adamson, chief engineer, Union Pacific Railroad, Omaha, were helpful in supplying information concerning bench marks.
---
Kansas Geological Survey, Geology
Placed on web Feb. 25, 2014; originally published May 1935.
Comments to webadmin@kgs.ku.edu
The URL for this page is http://www.kgs.ku.edu/General/Geology/Wyandotte/index.html