Kansas Geological Survey, Public Information Circular (PIC) 4
Geologic Mapping in Kansas--Part 4 of 4
---
KGS Mapping Program
The Kansas Geological Survey is evaluating the status of geologic maps in each Kansas county. Some counties have modern geologic maps, while others have older maps that need updating. Several counties in Kansas are being mapped for the first time. Some counties with outdated base maps (particularly in areas of population growth) are being produced with modern bases. Each county has been placed in one of these categories and prioritized according to need. Counties with no geologic map have the highest priority, whereas counties with modern, accurate geologic maps will not be remapped. The status of geologic mapping in each county in Kansas is illustrated in fig. 5.
Figure 5--Status of geologic mapping in Kansas. You may also want to visit the KGS Digital Geologic Mapping Page, containing information on maps available and sample county maps.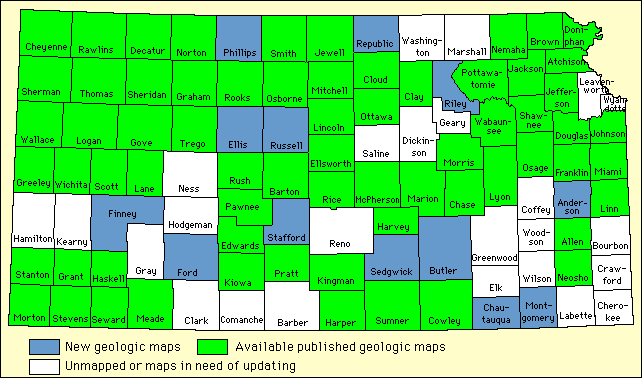 A portion of the KGS geologic mapping program in Kansas is part of the National Cooperative Geologic Mapping program authorized by Congress through the National Geologic Mapping Act of 1992. The purpose of the act is to encourage geologic mapping and to produce detailed geologic maps of the entire United States. Federal funding for the Kansas geologic mapping is matched with State funds.
Acquiring Geologic Maps
Geologic maps, books, in-print bulletins, reports, and other geological information are available to the public from the Kansas Geological Survey. A Catalogue of Publications is free upon request. The KGS has offices in Lawrence and Wichita. Orders are accepted by phone or mail, or customers may visit either location:
Kansas Geological Survey
Publications Sales
1930 Constant Avenue
University of Kansas--Campus West
Lawrence, Kansas 66047
(785) 864-3965
FAX: (785) 864-5317
e-mail: pubsales@kgs.ku.edu
World Wide Web: http://www.kgs.ku.edu
or:
Kansas Geological Survey
Wichita Well Sample Library
4150 Monroe Street
Wichita, Kansas 67209
(316) 943-2343
Out-of-print maps and publications, and other selected publications are available through the Survey's library in Lawrence. These materials can be viewed in the library or may be checked out for no charge. Open-file reports--unpublished reports and maps relating to Kansas geology--also are available from the library. The collection may be used in the library or copies may be obtained for a fee. The library also maintains a bibliography of Kansas geology that is available in hardcopy (KGS Bulletins 221 and 234) or through an on-line version on the World Wide Web. For information about on-line bibliographic searches or library loans, contact the Survey librarian at the Lawrence address.
The U.S. Geological Survey also has several Kansas-related publications that may be available through the KGS, or from the USGS directly at:
Kansas District Office
U.S. Geological Survey
4821 Quail Crest Place
Lawrence, Kansas 66049
(785) 842-9909
Internet Access: http://ks.water.usgs.gov/
---
Kansas Geological Survey, Geology Extension
1930 Constant Ave., Lawrence, KS 66047-3726
Phone: (785) 864-3965, Fax: (785) 864-5317
Comments to webadmin@kgs.ku.edu
Web version August 1996
http://www.kgs.ku.edu/Publications/pic4/pic4_4.html