Geophysical Atlas
Geophysics has long been an important source of information about the Kansas subsurface. Geophysical techniques, such as reflection seismology, have been used in oil and gas exploration and environmental studies.
A new book highlighting the status of geophysical research in Kansas was recently published by the Kansas Geological Survey and the Kansas Geological Society. Edited by Neil Anderson and Dennis Hedke, the Geophysical Atlas of Selected Oil and Gas Fields in Kansas contains 28 papers, including an introduction, 10 exploration case histories, 10 test-site seismic studies, two potential-fields case studies, and three overview papers. Many of the papers reproduce the actual data—seismic lines, logs, maps of potential field data—that were used to locate and develop an oil field, allowing readers to see those records and analyze how they were used. Although the book emphasizes the application of geophysics to oil and gas exploration, several papers discuss the use of reflection seismology in understanding salt dissolution, hydrogeologic problems, and geomorphologic phenomena.
The book was published as an oversized volume (18 by 13 inches). Copies are available from the KGS for $80, plus tax and shipping. They may also be obtained from the Kansas Geological Society in Wichita.
Two New Public Information Circulars
Most people don't associate earthquakes with Kansas; however, earthquakes strong enough to crack foundations and topple chimneys have been recorded in the state. Earthquakes, a new public information circular by Don Steeples, McGee Professor of Geophysics at the University of Kansas, and Liz Brosius, Assistant Editor at the Survey, provides general information about where earthquakes occur in the world, how they are measured and recorded, and their relationship to plate tectonics. The six-page circular, a revision of a Survey brochure originally published in 1978, also discusses historical occurrences and regional tectonic factors associated with earthquakes in Kansas.
To help answer questions about geologic mapping, the Survey published Geologic Mapping in Kansas in July. The five-page circular, by Robert Sawin, Geology Extension coordinator, describes what geologic maps are and how they are used and made. The circular also discusses the KGS mapping program and tells how geologic maps can be acquired.
Copies of Earthquakes (Public Information Circular 3) and Geologic Mapping in Kansas (Public Information Circular 4) can be obtained online or free of charge by contacting Publications Sales at the Survey.

Open-file Reports Catalogue
The 1996 List of Open-file Reports, a compilation of unpublished reports, graduate theses, maps, and data representing research findings in the state, is now available from the KGS. Contact Publications Sales for a free copy.
New
Publications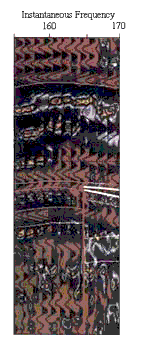 Segment of seismic profile from Geophysical Atlas.

P icture a scene from the ancient past: giant dragonflies, cockroaches up to three inches long, millipedes two feet long. The trees, unlike any that inhabit the earth today, look like scaly telephone poles. Amphibians, reptiles, and mammal-like reptiles called protomammals roam the stream bank and forest floor.
This scene, based on Kansas fossils found at Hamilton Quarry, is part of the Denver Museum of Natural History's new paleontology exhibition, completed in fall 1995. The fossils from Hamilton Quarry (near Hamilton in Greenwood County) come from rocks deposited about 295 million years ago during the Pennsylvanian Period. At that time, the Hamilton site was near the ocean's coast, and rocks were deposited with each tide in a shallow, coastal stream valley, forming layered deposits, and leaving spectacularly preserved fossils.
The Hamilton Quarry display is one of eight new dioramas that make up the Denver Museum's exhibition. A companion book, Prehistoric Journey: A History of Life on Earth, by Kirk R. Johnson and Richard K. Stucky, both with the Denver Museum, is loaded with photographs and illustrations from the exhibit.
For people who can't get to Denver, the Geology Museum at Emporia State University also contains fossils from the Hamilton Quarry.
Denver Museum Features Kansas Fossils