A Place to Visit

Echo Cliffs

Wabaunsee County,
Kansas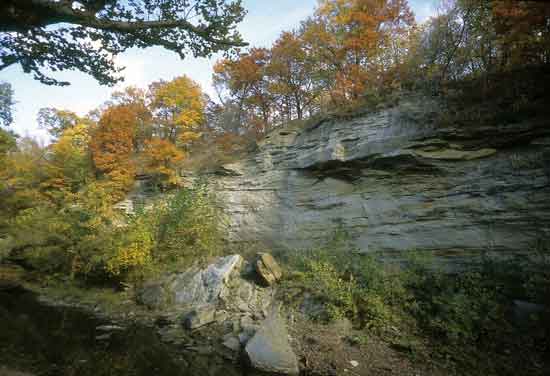 Echo Cliffs are sandstone bluffs along Mission Creek in eastern Wabaunsee County. The sandstone, known informally as the Indian Cave sandstone, was deposited in a river channel cut in the landscape during the Late Pennsylvanian Period, about 300 million years ago. Echo Cliffs is a local park, about 2 miles southwest of Dover. Photo by John Charlton.

Kansas Geological Survey
1930 Constant Avenue, Campus West
Lawrence, Kansas
66047-3726
(785) 864-3965
Kansas Geological Survey Advisory Council
Tom Collinson, Chair, Pittsburg

Robert Crangle, Lincoln

Dyan Conway, Prairie Village

David J. Heinemann, Topeka

Gary Hulett, Hays

Jeffrey Mason, Goodland

Dennis McKinney, Greensburg

Stephen Morris, Hugoton

David Nance, Pittsburg

Marvin Odgers, Sublette

Larry J. Richardson, Wichita

John K. Strickler, Manhattan

William W. Hambleton, Emeritus Member, Lawrence

A. Scott Ritchie, KU Geology Assoc. Rep., Wichita
---
Director: Lee C. Gerhard

Editors: Liz Brosius, Robert Sawin, Rex Buchanan

Design: Jennifer Sims

The mission of the Kansas Geological Survey, operated by the University of Kansas in connection with its research and service program, is to conduct geological studies and research and to collect, correlate, preserve, and disseminate information leading to a better understanding of the geology of Kansas, with special emphasis on natural resources of economic value, water quality and quantity, and geologic hazards.

The Geology Extension program furthers the mission of the KGS by developing materials, projects, and services that communicate information about the geology of Kansas, the state's earth resources, and the products of the Kansas Geological Survey to the people of the state.