Impacts of climate change on water resources
Research into the impacts of climate change on the hydrologic system at a variety of scales, and in a variety of physical environments using HydroGeoSphere, a fully-integrated surface/subsurface flow and transport model is being conducted. One of the goals of this research is to better understand the role of groundwater-surface water interactions in the response of the hydrologic system to changing precipitation quantities and patterns, and other changing atmospheric conditions. Future research is anticipated to include field studies to support and guide future modeling work.
Effects of diurnal atmospheric fluctuations surface/subsurface interactions
Capturing and representing the effect of diurnal fluctuations in atmospheric conditions (such as temperature and solar radiation) in thermal energy transport models is important for understanding the interactions between the atmosphere and surface and subsurface hydrology. This research aims to better understand the effects of these diurnal cycles on the surface and subsurface thermal system with both field and modeling-based activities.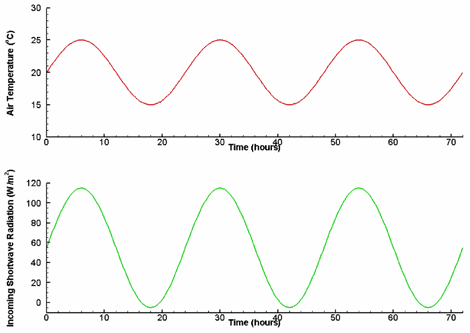 Lower Republican River Basin model development
Simulations of the Lower Republican River Basin in Kansas are ongoing. These simulations will provide a basis for understanding the potential impacts of future land use and climate change on this watershed.
Surface/Subsurface thermal energy transport model development
Further development and refining of the fully-integrated surface/subsurface thermal energy transport component of HydroGeoSphere is ongoing to better represent atmospheric inputs to the surface and subsurface.