Prev Page--Introduction || Next Page--Geology
---
Topography and Drainage
Lane County is entirely in the High Plains section of the Great Plains physiographic province except for a small area on the eastern edge of the county which is included in the Smoky Hills Upland section (Adams, 1903, p. 113; Frye and Swineford, 1949). The county consists of nearly flat to gently rolling uplands dissected in several places by relatively shallow valleys (Pl. 3A). In the southwest corner of the county is an enclosed depressional basin, the origin of which is uncertain. The upland plains surface slopes gradually eastward at the rate of about 10 feet to the mile. The relief in the county is approximately 450 feet. The highest point is about 9 miles south of Amy and has an altitude of more than 2,930 feet. The lowest point, where Hackberry Creek enters Ness County in southeastern Lane County, has an altitude less than 2,480 feet.
Plate 3--Views of the High Plains surface in Lane County. A, High Plains surface, underlain by Ogallala formation covered by silts of the Sanborn formation. View looking northwest 2 miles east of Dighton. Photograph by J.C. Frye. B, Undrained upland depression filled with water. Looking north on section line separating secs. 34, T. 17 S., R. 29 W.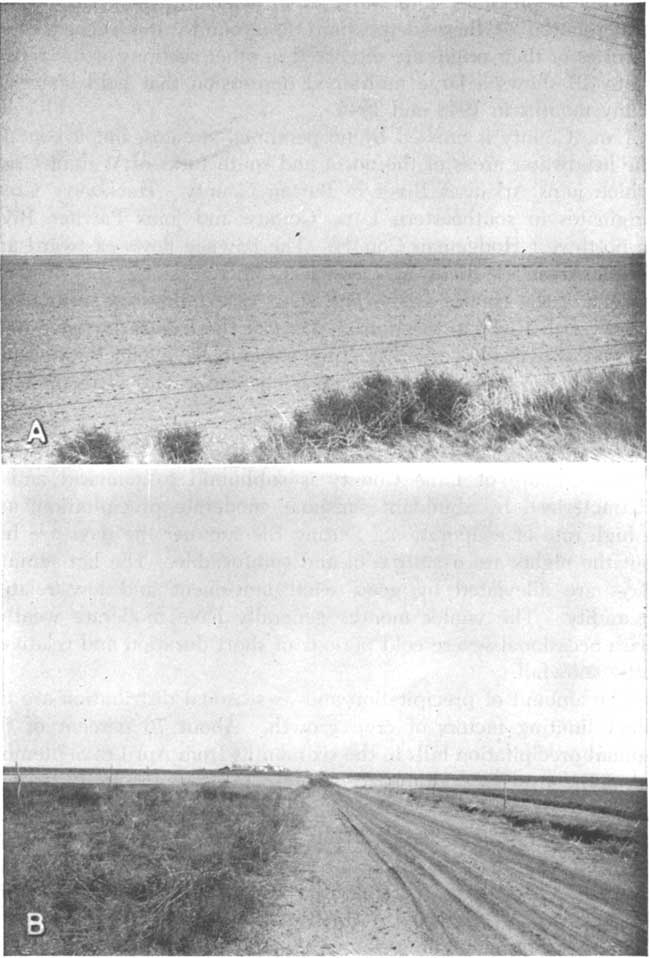 A common feature of nearly flat upland plains is the occurrence of numerous shallow undrained depressions, ranging in diameter from a few tens of feet to nearly a mile. After a heavy rain, many of these depressions hold water, thus becoming temporary ponds. The relation of these depressions to ground-water recharge and theories of their origin are discussed in other sections of the report. Plate 3B shows a large undrained depression that held water for many months in 1948 and 1949.
Lane County is crossed by no perennial streams, but it contains the headwater areas of the north and south forks of Walnut Creek which joins Arkansas River in Barton County. Hackberry Creek originates in southeastern Lane County and joins Pawnee River in northwest Hodgeman County. The Pawnee flows eastward and meets Arkansas River in Pawnee County. Along the northern border of the county are several short creeks that are tributary to Smoky Hill River to the north. Most of the tributaries have deep rugged canyons where dissecting streams have cut through the Ogallala formation into the underlying Smoky Hill chalk member of the Niobrara formation.
Climate
The climate of Lane County is subhumid to semiarid and is characterized by abundant sunshine, moderate precipitation, and a high rate of evaporation. During the summer the days are hot, but the nights are usually cool and comfortable. The hot summer days are alleviated by good wind movement and low relative humidity. The winter months generally have moderate weather with occasional severe cold periods of short duration and relatively little snowfall.
The amount of precipitation and its seasonal distribution are the chief limiting factors of crop growth. About 76 percent of the annual precipitation falls in the six months from April to September when the growing season is at its height and moisture is needed.
According to the U. S. Weather Bureau, the normal annual precipitation is 18.77 inches at Healy. The precipitation has ranged from a minimum of 9.79 inches in 1916 to a maximum of 36.71 inches in 1923. The annual precipitation and the cumulative departure from normal precipitation at Healy are shown in Figure 3; the normal monthly precipitation is shown in Figure 4.
Fig. 3--Graphs showing annual precipitation and cumulative departure from normal precipitation at Healy, Kansas.
Fig. 4--Graph showing the normal monthly precipitation at Healy.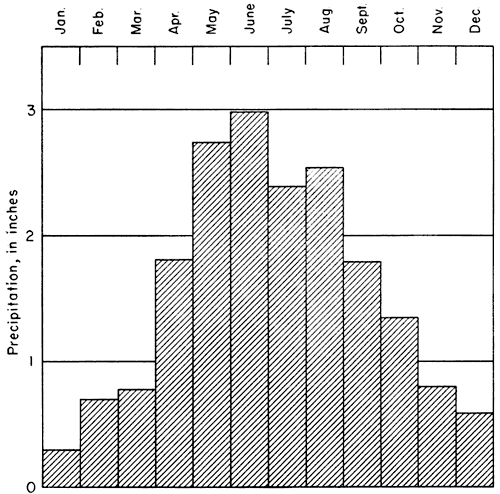 The normal annual mean temperature as recorded at Healy is 53.6° F. The lowest temperature on record is -31° F which occurred on January 11, 1918, whereas the highest temperature is 116° F on July 13, 1913. The average length of the growing season is 167 days and has ranged from extremes of 132 to 199 days. Killing frosts have occurred as late as May 27 and as early as September 12.
Population
According to the census of 1940, Lane County had a population of 2,821 and an average density of population of 3.9 persons to the square mile as compared with 21.9 for the entire state. [Note, Lane County population was 2,155 in 2000 U.S. Census, with a population per square mile of 3.0 (KU Institute for Policy & Social Research).] The 1940 figure is a decrease of 16.3 percent from 3,372 in 1930. The population of the county was 2,060 in 1890; it declined to 1,563 in 1900, and then increased to 2,603 in 1910 and to 2,848 in 1920.
The Thirty-fifth Biennial Report of the Kansas State Board of Agriculture reports a population of 2,626 in 1946. It also lists the population of Dighton, the county seat of Lane County, as 1,037, an increase of 63 over the 1940 census figure of 974 [1,390 in 1980]. Lane County ranks 96th in population within the State.
Transportation
Lane County is crossed by the main line of the Missouri Pacific Railway as well as by a branch line of the Atchison, Topeka, and Santa Fe Railway. The Missouri Pacific Railway enters the county about 4.5 miles east of Pendennis, and continues diagonally southwest through Shields and Healy to the county line. The Great Bend and Garden City branch of the Atchison, Topeka, and Santa Fe Railway enters the county about 3.5 miles southeast of Alamota, continues northwestward to Dighton, thence due west to the Scott County line.
State Highway 96 bisects the county from east to west and passes through Dighton and Amy. State Highway 23 extends from north to south across the county and passes through Dighton. State Highway 4 (gravel-surfaced) parallels the Missouri Pacific Railway as far as Healy, whence the highway continues on west whereas the railroad trends southwestward. Several of the county roads have been graded and graveled, and many other county and township roads have been improved.
Agriculture
Agriculture is the chief occupation in Lane County which has 454 farms comprising 460,800 acres (1946 census figures). Virtually all the land is in farms. According to the Kansas State Board of Agriculture, 190,185 acres of major crops were harvested in 1946. About 93 percent of the farmed acreage was used for the production of wheat; sorghums, barley, and hay were other principal crops. A large percentage of the land area was used for grazing. The acreage of principal crops harvested in 1946 is shown in Table 1.
Table 1--Acreage of principal crops grown in Lane County, Kansas, in 1946.
Crop
Acres
Wheat
176,000
Corn
40
Oats
560
Barley
1,600
Rye
280
Sorghum:
For grain
2,390
For forage
8,350
For silage
110
Irish potatoes
5
All hay
850
Total
190,185
Mineral Resources
Lane County has no known mineral resources of great economic importance. A small amount of sand and gravel may be obtained from the Ogallala formation (Pl. 4A), and caliche beds in the Ogallala are worked to a small extent for road-surfacing material. In southeastern Lane County the Fort Hays limestone member of the Niobrara formation has been quarried and used for building homes (Pl. 4B). A limited amount of exploration for oil and gas has been done, but until the present, it has been unsuccessful. [Current information on the oil production in Lane County can be found online.]
Plate 4--A, Gravel pit in Ogallala formation in the SE sec. 12, T. 16 S., R. 27 W., Gravel is poorly sorted. B, Fort Hays limestone member of the Niobrara formation in the SW sec. 2, T. 20 S., R. 27 W. Blocks have been quarried here for building stone. Photograph by H.G. O'Connor.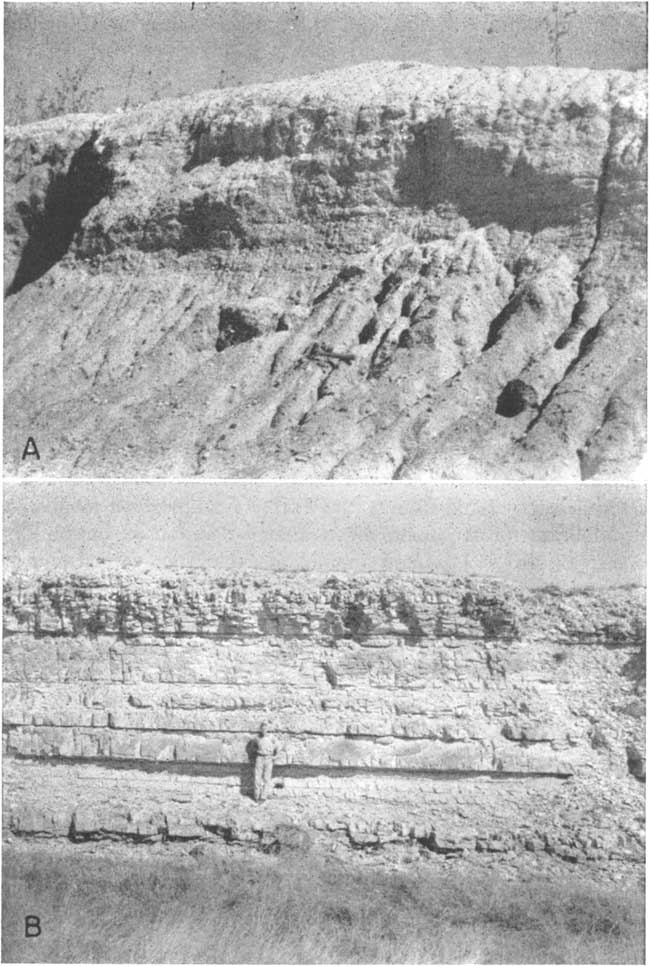 ---
Prev Page--Introduction || Next Page--Geology
Kansas Geological Survey, Geology
Placed on web Jan. 18, 2008; originally published Sept., 1951.
Comments to webadmin@kgs.ku.edu
The URL for this page is http://www.kgs.ku.edu/General/Geology/Lane/03_geog.html