---
by Bruce F. Latta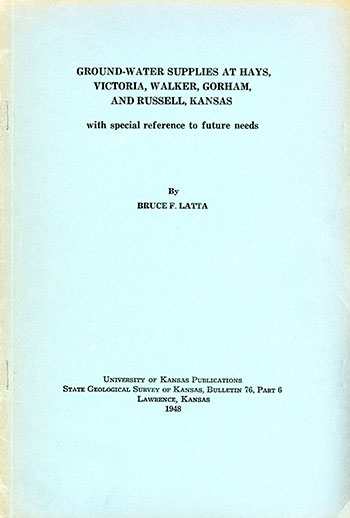 Originally published in 1948 as Kansas Geological Survey Bulletin 76, Part 6. This is, in general, the original text as published. The information has not been updated. An Acrobat PDF version (9 MB) is also available.
Abstract
This report was prepared at the request of the United States Bureau of Reclamation to determine whether provisions should be made to supply water to the cities and towns of Hays, Victoria, Walker, Gorham, and Russell, Kansas, from the proposed Cedar Bluff reservoir or whether ground water adequate to supply the present and future needs of these cities and towns can be developed.
The cities and towns with which the report is concerned are in an area about 25 miles long in Ellis and Russell Counties in north-central Kansas, and lie about midway between Saline and Smoky Hill Rivers. The proposed Cedar Bluff reservoir is on Smoky Hill River in southeastern Trego County about 22 miles southwest of Hays, the western-most city considered.
Ellis and Russell Counties are underlain by sedimentary rocks that range in age from Cretaceous to Quaternary. The Niobrara formation, Carlile shale, Greenhorn limestone, Graneros shale, and Dakota formation, all of Cretaceous age, are exposed on the uplands and along the sides of the valleys. Thin deposits of silt, sand, and gravel of Tertiary age locally overlie the Cretaceous rocks in the upland areas. Adequate supplies of potable water for public supply are not available from Cretaceous or Tertiary rocks in this area.
Quaternary alluvium and terrace deposits composed of unconsolidated gravel, sand, and silt are present in and along the larger valleys. All existing public wells in the area considered obtain water from these deposits. Additional public-supply wells can be developed in alluvium and terrace deposits in certain areas.
The City of Hays is supplied with water from 15 wells in or near the city' that tap alluvium and terrace deposits in and along the valley of Big Creek, a tributary of Smoky Hill River. The yields of the wells range from about 30 to 200 gallons a minute. Test drilling indicates that additional wells having comparable yields can be developed in parts of Big Creek Valley northwest and southeast of Hays and in parts of the terrace areas that border the valley. By locating wells over a wide area an additional amount of water equal to the present public supply can be obtained.
The City of Victoria obtains its water from five wells that tap Quaternary deposits along Victoria Creek south, west, and northwest of town. These wells have relatively small yields and are subject to marked declines in yield during prolonged dry periods. Additional water for the future needs of Victoria can be obtained by supplementing the present supply with water pumped from wells tapping the alluvium in Victoria Creek Valley several miles below town, or from wells tapping the alluvium in Big Creek Valley southeast of Victoria.
Neither Walker nor Gorham has a public water supply, and it seems probable that an adequate supply of ground water of satisfactory quality is not available in the immediate vicinity of either town. The nearest underground source of water supply for Walker and Gorham probably would be the alluvial deposits in Victoria Creek Valley or Big Creek Valley.
The municipal water supply for the City of Russell is pumped in part from Smoky Hill River and in part from Big Creek. This supply is unsatisfactory because of the high chloride content of the water during low stages of the streams.
In 1944 the State and Federal Geological Surveys made an investigation to determine the availability of a ground-water supply for the City of Russell. A summary of the unpublished report giving the results of this investigation is published in the present report.
The investigation did not reveal any place near Russell where an adequate supply of potable water to furnish the entire needs of the city could be obtained from wells. However, it was concluded that a supplemental supply could be obtained from the alluvium in the Smoky Hill Valley in the vicinity of Pfeifer, about 20 miles southwest of Russell. It was recommended that the city obtain most of its supply from the Smoky Hill River except during low river stages, at which time ground water could be used.
Logs of 88 test holes, two city supply wells at Hays, and four observation wells are given, including 42 test holes drilled by the State and Federal Geological Surveys.
---
Kansas Geological Survey, Geohydrology
Placed on web Sept. 20, 2016; originally published Dec. 15, 1948.
Comments to webadmin@kgs.ku.edu
The URL for this page is http://www.kgs.ku.edu/Publications/Bulletins/76_6/index.html