---
By Walter H. Schoewe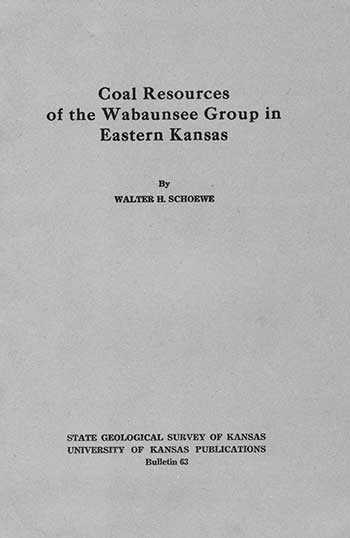 Originally published in 1946 as Kansas Geological Survey Bulletin 63. This is, in general, the original text as published. The information has not been updated.
Abstract
The Wabaunsee coal-bearing rocks constitute the youngest or uppermost group of Pennsylvanian strata in Kansas. The rocks crop out in a northeast-southwest belt, approximately 3,100 square miles in area, in the eastern part of the state, extending from Doniphan, Brown, and Nemaha counties on the north to the Kansas-Oklahoma state line in Chautauqua and Cowley counties on the south. At least 6 of the 12 coal beds in the Wabaunsee group have been mined at one time or another within the last 75 years. Nodaway, the lowermost coal, is by far the most important of the coals mined, and it is the only one of commercial importance at the present time. Including the 1944-45 coal-mining season, a minimum cumulative total of 11,783,464 tons of Nodaway coal had been mined, of which 97.2 percent came from Osage County. The Elmo coal, of which more than 200,000 tons has been produced, is the second most important of the Wabaunsee coals. The cumulative tonnage of all coals of the Wabaunsee group mined is 12,017,737 tons, which is 4.8 percent of the total coal production in Kansas. There are 186,680,000 tons of proved Wabaunsee reserve coal, of which 128,050,000 tons is Nodaway, 47,560,000 tons Elmo, and 11,070,000 tons other miscellaneous coals. The greatest Nodaway proved coal reserve, 77,670,000 tons, is found in Osage County; the greatest Elmo proved coal reserve, in Brown County, amounts to 23,160,000 tons. The proved Wabaunsee coal reserves are sufficient to last about 50 years if mined at the average annual rate of production for the 5-year period 1940-44. The potential Wabaunsee coal reserves are calculated at 3,685,780,000 tons, an amount sufficient to last approximately 250 years at the average rate of production for the last 5 years. Of the potential coal reserve, 1,285,960,000 tons or 34.8 percent is Nodaway coal, 1,515,850,000 tons or 41.1 percent is Elmo coal, and 883,970,000 tons or 24.1 percent is miscellaneous coals.
This report includes a description of the geographic distribution, stratigraphic position, thicknesses, contact rocks, and physical and chemical characters of the Wabaunsee group coals. It also contains information on the history of Wabaunsee coal mining, mining methods, production and coal reserve data, and a short account of the origin of the coal. Each of the mined Wabaunsee group coals is treated separately under each of the 16 counties in which the coal occurs.
---
Kansas Geological Survey, Geology
Placed on web Jan. 27, 2013; originally published December 1946.
Comments to webadmin@kgs.ku.edu
The URL for this page is http://www.kgs.ku.edu/Publications/Bulletins/63/index.html