---
List of Localities Mapped in Figure 3
A. Subsidence Areas Related to Mining of Salt
Morton Salt Company
Southwest of Hutchinson
Sec. 23, T. 23 S., R. 6 W.
Reno County, Kansas
Carey Salt Company
Downtown Hutchinson
Sec. 13, T. 23 S., R. 6 W.
Reno County, Kansas
Barton Salt Company
Southeastern Hutchinson
NW Sec. 19, T. 23 S., R. 5 W. (north of plant)
Reno County, Kansas
Cargill, Inc.
Southeastern Hutchinson
NW Sec. 19, T. 23 S., R. 5 W. (south of plant)
Reno County, Kansas
Crystal Salt Mine Shaft
Kanopolis (east edge)
Sec. 25, T. 15 S., R. 8 W.
Ellsworth County, Kansas
B. Subsidence Areas Related to Oil and Gas Operations
(See Table 1)
Crawford
Sec. 2, T. 14 S., R. 15 W.
Gorham Oil Field
Russell County, Kansas
Witt
Sec. 3, T. 14 S., R. 15 W.
Gorham Oil Field
Russell County, Kansas
Hodge
Sec. 25, T. 20 S., R. 6 W.
Welch-Bornholdt Oil Field
Rice County, Kansas
Hilton
Sec. 6, T. 20 S., R. 9 W.
Chase-Silica Oil Field
Rice County, Kansas
Berscheit Heirs
Sec. 6, T. 20 S., R. 10 W.
Chase-Silica Oil Field
Rice County, Kansas
Panning
Sec. 2, T. 20 S., R. 11 W.
Chase-Silica Oil Field
Rice County, Kansas
Pierce
Sec. 33, T. 23 S., R. 4 W.
Burrton Oil Field
Reno County, Kansas
Lovett
Sec. 14, T. 20 S., R. 4 W.
Groveland South Oil Field
McPherson County, Kansas
C. Salt Test Holes, Cored
Permanent
Storage
of Cores
The Geotechnical Corporation
HNAS Core Hole No. 1
Sec. 29, T 24 S., R. 5 W.
Reno County, Kansas
Total Depth: 734 feet (May 1958)
A,B,C,D
U.S. Atomic Energy Commission (AEC)
Test Hole No. 1-Lyons, Kansas
Sec. 26, T. 19 S., R. 8 W.
Rice County, Kansas
Total Depth: 1300 feet (Aug.-Oct. 1970)
B
U.S. Atomic Energy Commission (AEC)
Test Hole No. 2-Lyons, Kansas
Sec. 35, T. 19 S., R. 8 W.
Rice County, Kansas
Total Depth: 1215.6 feet (October 1970)
B
Union Carbide Corporation
AEC Test Hole No. 3
Sec. 22, T. 13 S., R. 8 W.
Lincoln County, Kansas
Total Depth: 1100 feet (May-June 1972)
A
Union Carbide Corporation
AEC Test Hole No. 4
Sec. 9, T. 11 S., R. 10 W.
Lincoln County, Kansas
Total Depth: 1275 feet (May-June 1972)
A
Cargill Salt Company
Brine Field Well No. H-1
Sec. 19, T. 23 S., R. 9 W.
Reno County, Kansas
Total Depth: 791 feet (August 1975)
E
Code: Repositories for permanent storage of cores:
A.
Union Carbide Corporation-Nuclear Division
Oak Ridge National Laboratory
Building 9,104-3
Post Office Box Y
Oak Ridge, Tennessee 37830
c/o Dr. William C. McClain
B.
Kansas Geological Survey
1930 Avenue "A"-Campus West
The University of Kansas
Lawrence, Kansas 66044
c/o Dr. William W. Hambleton
C.
The Geotechnical Corporation
Dallas, Texas
D.
United States Geological Survey
Reston, Virginia
E.
Cargill, Inc.
Post Office Box 1403
Hutchinson, Kansas 67501
c/o Donald S. Robinson, Plant Manager
D. Underground (Dry) Salt Mines
Independent Salt Company
Operating Salt Mine
Sec. 29, T. 15 S., R. 8 W.
Ellsworth County, Kansas
Crystal Mine
Abandoned Salt Mine
Sec. 30, T. 15 S., R. 7 W.
Ellsworth County, Kansas (shaft cratered 1972)
Royal Mine
Abandoned (connected with Crystal Mine)
Sec. 25, T. 15 S., R. 8 W.
Ellsworth County, Kansas
Little River Salt Mine
Sec. 18, T. 19 S., R. 6 W.
Abandoned Salt Mine (converted to LPG storage)
Rice County, Kansas
Carey Salt Company (Lyons)
Inactive; standby status
Sec. 34, T. 19 S., R. 8 W.
Rice County, Kansas
American Salt Company
Operating Salt Mine
Sec. 10, T. 20 S., R. 8 W.
Rice County, Kansas
Carey Salt Company
Operating Salt Mine
Sec. 16, T. 23 S., R. 5 W.
Reno County, Kansas
Kingman Mine
Closed 1911-1912
E2 SE Sec. 19, T. 27 S., R. 7 W.
Kingman County, Kansas
E. Solution Well Fields
American Salt Company
Sec. 15, T. 20 S., R. 8 W.
Rice County, Kansas
Morton Salt Company
Sec. 22, T. 23 S., R. 6 W.
Reno County, Kansas
Carey Salt Company
Sec. 17, T. 23 S., R. 6 W.
Reno County, Kansas
Cargill, Inc.
Sec. 19, T. 23 S., R. 6 W.
Reno County, Kansas
Vulcan Materials Company
Sec. 20, T. 29 S., R. 2 W.
Sedgwick County, Kansas
F. Liquefied Petroleum Gas (LPG) Stored in Salt Cavities
List supplied by N. W. Biegler and Ralph E. O'Connor, District Geologists, Oil Field and Environmental Geology Section, State of Kansas Department of Health and Environment, January 1976.
County and
Operator
Sec-Twp-Rge
Location
Storage Cavities
In
Use
Under
Construction
Ellsworth County
Northern Natural
Gas Company
30-17S-9W
101
Kingman County
Phillips Petroleum
Company
15-30S-7W
8
McPherson County
Home Petroleum
Corporation
28-19S-4W
92
Mid-West Underground, Inc.
29-19S-4W
29
National Cooperative
Refinery Assoc.
29-19S-4W
80
Skelly Underground
Storage
30-19S-4W
28
Mid-America
Pipeline
24-19S-5W
55
Reno County
Consolidated
Storage, Inc.
30-22S-6W
12
21
Cities Service Oil Co.
22-23S-6W
64
Hillsdale Underground
Storage, Inc.
28-23S-6W
13
7
Amoco Oil Company
14-24S-6W
18
Atlantic
Richfield
Company
14-24S-6W
7
Empire
Underground
Storage
14-24S-6W
0
13
Rice County
Mid-America
Pipeline
27-19S-7W
6
507
41
Rice County
Sentry Underground
Storage Co.
North Jefferson Street
Kearney, Mo. 64060
18-19S-6W
1*
*Capacity 2,000,000 barrels. The abandoned Little River Salt Mine (pp. 29-30), depth 785 to 796 feet, area 25 acres, was converted in 1975 for propane storage.
G. Volume of Liquefied Petroleum Gas (LPG) Stored in Salt Cavities
| Year | Kansas | U.S.A. |
| --- | --- | --- |
| 1975 | 52,522,000 | 306,332,000 |
| 1973 | 42,366,000 | 234,732,000 |
| 1971 | 32,979,000 | 167,381,000 |
The above figures, furnished by the Gas Processors Association, Tulsa, Oklahoma, and quoted by The Oil and Gas journal, September 8, 1975, indicate that about 17 percent of the light hydrocarbons stored in underground leached or mined cavities in the U.S.A. is stored in central Kansas. Kansas storage capacity has increased by about 12.5 percent per year, and the U.S. capacity by about 15 percent per year. Figures in barrels (42 gals. or 5.61 cubic feet each).
List of Borings
Oil test holes, salt test holes, and water wells used in the construction of Cross Section A-B, Figure 2 (For map showing locations, see Figure 3)
Number
Name
Description
1
Three G Oil, Incorporated
Dumler "B" #2
Elevation: 1846 KB
Section 5-13S-15W
NE SW NW
Russell County, Kansas
2
Sunray DX Oil Company
Polcyn #D-7
Elevation: 1850 KB
Section 14-14S-15W
SE NE NW
Russell County, Kansas
3
K&P Oil Company
Driscoll "A" #2
Elevation: 1768 KB
Section 4-15S-14W
SE NW NW
Russell County, Kansas
4
Gulf Oil Corporation
L. Hoffman #4
Elevation: 1839 KB
Section 31-15S-13W
NW NE SW
Russell County, Kansas
5
Petroleum, Inc.
Hitschmann "B" #1
Elevation: 1904 KB
Section 28-16S-12W
SW SW SE
Barton County, Kansas
6
Alpine Oil & Royalty Co.
Schlessiger #1
Elevation: 1811 KB
Section 28-17S-11W
NE SW SE
Barton County, Kansas
7
Clinton Oil Company
Musenberg #V-1
Elevation: 1771 KB
Section 10-19S-11W
NE SE SE
Barton County, Kansas
8
Stanolind Oil & Gas Co.
Panning #A-6
Elevation: 1763
Section 2-20S-11W
NE SE SE
Barton County, Kansas
9
Mapco Incorporated
Bernstorf #1
Elevation: 1751 KB
Section 27-19S-10W
50' East of Center NE
Rice County, Kansas
10
Samson Resources
Proffitt #4
Elevation: 1727 KB
Section 20-19S-9W
C N2 N2 NW
Rice County, Kansas
11
Atomic Energy Commission
Hole No. 1
Elevation: 1745
Section 26-19S-8W
NE NE NW
Rice County, Kansas
12
Raymond Oil Company
Miller No. 1
Elevation: 1689 KB
Section 7-20S-7W
SE SE SW
Rice County, Kansas
13
Cherry Drilling Co.
Rose No. 1
Elevation: 1578 KB
Section 9-20S-6W
NE NE SE
Rice County, Kansas
14
Cities Service Petroleum Co.
Hamilton #2 LPG Storage
Elevation: 1553 KB
Section 22-23S-6W
1502' North and 970, East of
SW Corner (SE NW SW)
Reno County, Kansas
15
Cargill Salt Company
Well #H-1
Elevation: 1522±
Section 19-23S-5W
SW; 1000' North of South Line,
200' West of East Line
App. C E2 E2 E2 SW
Reno County, Kansas
16
Westpan Hydrocarbon
Swanson #1
Elevation: 1513
Section 22-23S-5W
SE SE NW
Reno County, Kansas
17
Hinkle Oil Company
Van Buren #1
Elevation: 1474
Section 28-23S-4W
SE NE SE
Reno County, Kansas
18
Se Ro Bee
Drilling Company
Evans #5-W SWD
Elevation: 1461 KB
Section 36-23S-4W
C W/2 NE
Reno County, Kansas
19
Wofford Oil Company
Base #A-1
Elevation: 1456 KB
Section 31-23S-3W
NW NE SW
Harvey County, Kansas
20
State Geological Survey
Water Test Well # 186
Elevation: 1450
(Williams & Lohman, 1949)
Section 11-23S-3W
SE Corner
Harvey County, Kansas
21
State Geological Survey
Water Test Well # 162
Elevation: 1403
Section 16-23S-2W
NW Corner
Harvey County, Kansas
22
Anderson Pritchard
Dyck #1
Elevation: 1429
Section 10-23S-2W
NE NE NW
Harvey County, Kansas
23
State Geological Survey
Water Test Well #142
Elevation: 1442
Section 11-23S-1W
SW Corner
Harvey County, Kansas
24
Bay
Sander #1
Elevation: 1466
Section 3-23S-1E
SE SW SW
Harvey County, Kansas
25
Hummon Oil Company
Dey #1-A
Elevation: 1470 KB
Section 16-23S-2E
SW SW NW
Harvey County, Kansas
Wells and Shafts, Cross Section C-D, Figure 4 (All in Township 19 South, Range 8 West, Rice County, Kansas)
Number
Name
Description
1.
Lyons Natural Gas, Oil, and Mineral Co.
No. 1 Prospect (or #1 Lyons Gas Well)
Cable tools drilled 1887
Total depth 1230 feet
Section 34, C E2 SW SW
(South end of Block 18, Diamond Addition)
Elevation: 1693 Derrick Floor
Produced natural gas at a rock pressure of 67 lbs. for a short while from Herrington Limestone, Chase Group. The first producing well in the west ranges of Kansas. Discovery well for salt in this area.
2.
AEC Entry Shaft
Carey Salt Mine
Rotary drilled shaft, 1964
Total depth 1060 feet
Section 34, C NE SW
Elevation: 1699 Kelly Bushing
Shown on log as well X-15-40, Carey Salt Company.
Set 26" surface casing at 309'. Drilled 9 /"8 " diameter, and logged.
Reamed hole: large diameter casing set and cemented prior to developing AEC mine rooms.
Entry shaft for simulated radioactive waste containers, Project Salt Vault.
Mine floor at 1000'.
Ceiling 15'.
3.
Carey Salt Mine
Main Shaft
Hand dug 7' X 16' in 1889-1890
Total depth 1083.5 feet
Section 34, few feet NW of Center of Section.
Elevation of Shaft Collar: 1702
Salt 806' to 1068'
Mine ceiling 9'; older areas 12'
Floor of mine 1024'
4.
Woodman & Iannitti Drilling Co.
No. 2 Stockham
Rotary drilled, Nov. 1970
Total depth 3466 feet in Simpson
Section 34, NE NW NE
Dry Hole
5.
Western Petroleum Company
No. 1 Stockham
Rotary drilled, Nov. 1964
Total depth 3493 feet in Arbuckle
Section 34, C NE NE
Elevation: 1721 Kelly Bushing
Oil Well: two producing zones
Kinderbook 3344'-3348'
Simpson 3398'-3418'
41 BOPD + 15% water
gravity 33°
6.
Barnett Oil Company
No. 1 Wright
Rotary drilled, 1971
Total depth 3585 feet in Simpson
(Est. Arbuckle 3604'-1910')
Section 35, Approx. C S2 NW
810' from south line; 1150' from west line
Elevation: 1694 Kelly Bushing
Four aquifers (indicated by "W" on cross section) were cored, then drill stem tested for water information. Dry hole, 1971.
7.
USAEC Test Hole No. 2
Rotary drilled, 1970
(6 1/4" diameter)
Total depth 1215.6 feet in Chase Group
Section 35,
30' North of Center N2
Elevation: 1704 Ground Level
Stratigraphic test hole Cored 739.9' to 1099.6', 4-inch cores.
Salt section 755.0' to 1002.5'.
U.S. Corps of Engineers' rotary rig.
8.
Atlantic Refining Co.
No. 1 Pulliam "A"
Drilled 1936
Cable tools 0' to 3305'
Rotary tools 3305' to 4085'
Total depth in Arbuckle
(Est. Precambrian 4121 or -2390)
Section 35,
C S2 N2 NE
Elevation: 1731 Derrick Floor
Gas Well: 1936 to 1945
41 million cubic feet of gas per day.
Plugged and abandoned in 1945.
Reentered and replugged in 1974.
9.
Kansas Petroleum Inc.
No. 1 Pulliam
Rotary drilled, 1962
Total depth 3541 feet in Arbuckle
Re-entered 1974; set 5 1/4" casing
Gas Storage:input-withdrawl well
Northern Natural Gas Company
Section 35, Center NE
Elevation: 1729 Kelly Bushing
Dry hole.
Drilled 17 years after abandonment of the Pulliam "A"-1.
Penetrated the Arbuckle 300'.
Three drill stem tests in the Arbuckle recovered water.
Simpson-Arbuckle drill stem test, 7 million cubic feet per day of "sour" (H2S) gas and salt water.
Field Investigations at Cargill Sinkhole in 1977
Introduction
In April and May 1977, a drilling program financed by the Solution Mining Research Institute (SMRI) investigated the geometry of the roof failure in the rock strata beneath and surrounding the sinkhole developed in October 1974 on the property of Cargill, Inc., Hutchinson, Kansas. Four vertical and two inclined (30' from vertical) exploratory boreholes were drilled in the vicinity of the sinkhole by Nebraska Testing Laboratories, using a tractor-mounted Mobile-50 drilling rig. Casing with 4-inch inside diameter was set in shale bedrock near elevation 70 feet to prevent cave-ins from the shallow water sand. A tricone bit attached to 2 5/8-inch drilling rods was used in all holes except V-3, in which continuous 1 7/8-inch diameter NX core was taken. The investigation was conducted by Alfred J. Hendron, Jr., Ronald E. Heuer, and Gabriel Fernandez-Delgado, who submitted a preliminary report entitled "Field Investigations at Cargill Sinkhole, Kansas" to SMRI June 13, 1977. Information from their report, abstracted by the author, is here included with the permission of SMRI. Dr. Fernandez was resident engineer at the site during drilling and coring operations.
Drilling Program
The six test holes drilled in 1977 at the Cargill sinkhole, in the NW of Section 19, Township 23 South, Range 5 West, near the city of Hutchinson, Reno County, Kansas, are briefly characterized in Table 6. Borehole locations are mapped in Figure 38.
Figure 38--Index map, Cargill sinkhole and conceptual sketch showing underground conditions along a southwest-to-northwest cross section. Prepared for the Solution Mining Research Institute by Hendron, Heuer, and Fernandez-Delgado, June 13, 1977.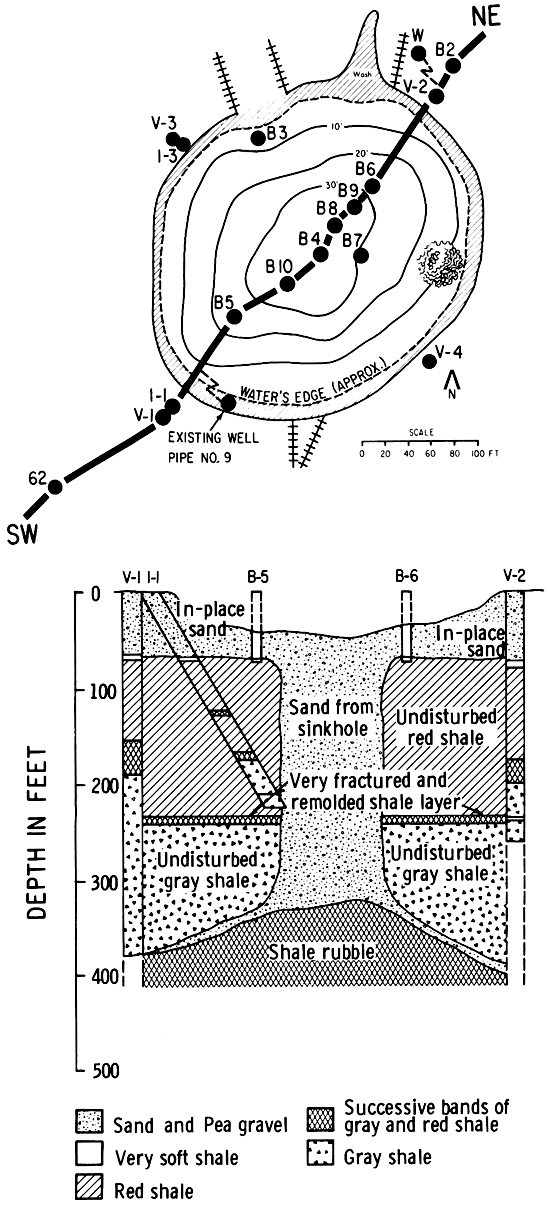 Table 6--Boreholes, Cargill Sinkhole, 1977, SMRI.
Location
Test
Hole
Angle
Total
Depth
Drilled or
Cored
Remarks
SW Bank
V-1
Vertical
405 ft
Drilled
Rough drilling 245-2501. At 388, drilled "remolded shale and fine sand."
I-1
Inclined 30 degrees
230 ft
Drilled
Sand-filled chimney 105' NE of bank at elevation 217'.
NE Bank
V-2
Vertical
265 ft
Drilled 245'
Cored 265'
Void 242'-245' due to "large block movement."
I-2
Not drilled
NW Bank
V-3
Vertical
527 ft
Cored NX
Salt at 420'.
I-3
Inclined 30 degrees
230 ft
Drilled
Sand-filled chimney 110' SE of bank at elevation 230'.
SE Bank
V-4
Vertical
525 ft
Drilled
Salt at 420'
I-4
Not drilled
Vertical borehole V-3, on the northwest bank of the sinkhole, is discussed first because it was cored with excellent recovery, permitting numerical analysis of RQD (Rock Quality Designation; Deere, 1963), and a gamma-neutron log was recorded. The upper 70 feet which were drilled, not cored, are clean loose sand; the grain size increases downward with pea gravel, 3/8-inch diameter, in the lower two feet. Underlying this Pleistocene sand is a layer ten feet thick of very soft, Permian, red shale which, under small vertical stresses and in contact with the water-bearing strata above, has undergone swelling. The attendant increase in water content has resulted in reduced strength of the shale and in more loss of core. From depths of 80 feet to 190 feet, core samples consist of hard red shale with an average RQD of 55 percent. This hard red shale is horizontally interbedded with thin (1/4" to 1") gypsum layers in the lower 40 feet.
A transition zone of alternating layers of red and gray shale, between depths of 190 and 205 feet, has horizontal bedding and an average RQD value of 60 percent. From 205 to 242 feet, gray, horizontally laminated, competent shale was cored, with RQD values averaging 66 percent. A zone five feet thick of fractured and deteriorated material (RQD = 7%) occurs between depths 242 and 247 feet. Very competent gray shale from 247 to 420 feet has an average RQD value of 95 percent. Thin (1/4" to 1") gypsum layers and 8-inch anhydrite layers were found in this gray shale. Most of the bed partings found in the gray shale were located along the contacts between the shale and the interbedded thin horizontal gypsum layers. Joints and bedding cracks (up to 1/4" thick) in the lowest portion of the gray shale, overlying the uppermost salt layers, are filled with red halite.
The Permian Hutchinson Salt was penetrated at 420 feet. Thin (1/2" to 1") layers of very "porous" salt with RQD values of zero were encountered from 420 to 480 feet. The salt has a considerable volume of holes or pores, apparently indicating the beginning of a dissolution process. Throughout the entire salt section penetrated from a depth of 420 feet to the bottom of the boring at 527 feet, salt layers are interbedded with gray shale layers which have an average RQD of 55 percent. A void 2 1/2-feet deep was found below a depth of 480 feet. Circulation of the drilling water was completely lost. The gamma-neutron log could not be recorded below 482 feet. The salt from 482 to 490 feet was porous with fractures at 483 feet and 485 feet and with a 6-inch void at 489 feet. Salt beds from 490 to 512 feet are again solid, with RQD values averaging 60 percent. From 512 to 527 feet, total depth of the hole, one-half inch to one inch layers of alternating white and dark salt are found which have RQD values less than 20 percent.
The adjacent 30-degree inclined hole, I-3, was drilled, not cored, through the upper sand, into the soft and bard red shales. It then continued through the transition zone of alternating red and gray shale, and penetrated 35 feet into gray shale. At that depth the boring encountered granular materials which squeezed against the drilling rods and caved the hole. Further advance of the hole was not possible without the use of casing. This deepest point penetrated is 230 feet below the ground surface and 110 feet southeast of the northwest edge of the sinkhole. The complete loss of water circulation at a depth of 220 feet, 10 feet before the hole started to squeeze and cave, indicates the presence of continuous voids or fractures in the formation at this location.
In vertical borehole V-4, drilled on the opposite or southeast bank of the sinkhole, cuttings samples which were recovered, as well as rate of drill bit penetration, indicate a stratigraphic sequence similar to that which was cored in borehole V-3. The circulation of drilling water was partially lost at a depth of 410 feet, was completely lost at the top of the salt, depth 420 feet, then was regained, only to be completely lost again after the bit penetrated 25 feet into the uppermost salt layers. Water circulation was never recovered from 445 feet to 535 feet (total depth). From the variability in drilling penetration rate, it is thought that gray shale layers are interbedded with the salt.
In the vertical borehole V-1, on the southwest bank of the sinkhole, normal rock sequence was drilled to a depth of 388 feet. At elevations 208 and 210 feet excessive rig vibration indicated the presence of thin (4" to, 6") fractured layers in the shale. Between depths 240 and 250 feet the presence of a very fractured zone was also indicated by excessive vibration of the drilling rig. At 388 feet water circulation was completely lost, indicating the presence of a heavily fractured zone. The material below 388 feet started to squeeze against the drilling rods and the walls started to cave. Further continuous penetration below a depth of 400 feet was not possible without the use of casing. Immediately after drilling in V-1 was stopped, a split-spoon sample was taken from 400 to 405 feet total depth. The material in the sample consisted of contorted gray shale mixed with fine sand, the amount of sand decreasing downward.
The 30-degree inclined borehole, 1I-1, which is adjacent to V-1 on the southwest bank, drilled a normal section of rocks to a depth of 190 feet, where circulation was lost completely. At depth 217 feet (slant depth 250 feet) squeezing of the drill rods occurred. This point is about 105 feet northeast of the southwest edge of the sinkhole. An additional 15 feet of drilling to total depth of 230 feet (slant depth 265 feet) was accomplished with heavy squeezing of the surrounding granular material on the drill rods. When the drilling rods were pulled out and the length of the open hole measured, a complete cave-in of the bottom 17 feet of hole was detected. From drilling characteristics it is deduced that material in the lower part of this hole is similar to that encountered in the previously drilled and cored inclined hole 1-3, and that both inclined holes encountered a sand-filled chimney beneath the central sinkhole area.
Vertical borehole V-2, on the northeast bank of the sinkhole, was drilled with a tricone bit to a depth of 245 feet. A void three feet deep was found between depths of 242 and 245 feet, and water circulation was completely lost in this interval. The walls repeatedly caved into the hole. No further progress could be made because of excessive vibration of the drilling rig due to squeezing of material around the drilling rods. After a waiting period of several days, NS core samples of 1 7/8-inch diameter consisting of gray shale were recovered in the next 20 feet. Heavily fractured, soft, altered gray shale with an RQD value of 23.75 percent was present from 249 to 254 feet. The quality of the shale improved with depth to a value of 68 percent in competent, horizontally laminated, dark gray shale with tight joints cored from 259 to 264 feet (total depth).
Interpretation of Borehole Results
Boreholes V-3 and V-4 at the northwestern and southeastern edges of the sinkhole encountered salt at a depth of 420 feet, and both holes penetrated about 100 feet into the salt. Cores of the formations and progress of the drilling provide evidence of dissolution of rock in the subsurface, but no indication of a gallery-size cavity or of sand which might have come from the sinkhole was noted. These boreholes are 300 feet apart; hence the cavity-roof span is less than 300 feet in this direction.
Boreholes V-1 and V-2 on the southwestern and northeastern edges of the sinkhole both found evidence of voids and disturbance in the gray shale at depths of 240 to 245 feet, or about 180 feet above the salt. Borehole V-1 was continued to a depth of 388 feet, about 30 feet above the estimated former (predissolution) position of the salt, where a large void containing sand was encountered. All of this information suggests that major dissolution activity among nearby brine wells has developed a cavity elongated in the southwest- northeast direction under the sinkhole. About 30 feet of roof shale has collapsed into the void beneath at the location of borehole V-1, and movement of large blocks has affected 180 feet of shale above the elongated cavity. The length of span of the gallery-roof in a southwest-to-northeast direction is unknown, but it may be more than 1300 feet (Figure 8).
The location at which sand was encountered under the sinkhole in the inclined borings I-1 and I-3 confirms the presence of a sand-filled chimney which is approximately 100 feet in diameter, and which is located below the center of the sinkhole, extending vertically from a depth of 70 feet to about 370 feet. The volume of a cylindrical plug of that general dimension is approximately 90,000 cubic yards, or approximately the same volume as the sinkhole. Both the surface sinkhole and the underlying plug, or sand-filled chimney, appear to be slightly elongated in the south-northeast direction, reflecting the influence of the underlying cavity elongated along the line of brine wells in the Airlift Field gallery southwest of the sinkhole.
The conceptual sketch showing underground conditions along a southwest to northeast cross section, Figure 38, is reproduced from the report by Hendron, Heuer, and Fernandez (1977). Information from their sketch, from their report, from records of early brine wells, and from all other available sources is combined in the natural scale cross section by the author, Figure 39. For a discussion of brine well 9, projected 23 feet into the cross section, and brine well 62 connected hydraulically to the sinkhole at the time of subsidence, see "Area Affected." The lithology of the Hutchinson Salt, depth 420 to 750 feet, was projected from boreholes V-3 and V-4 and from the logs of brine well H-3 about 2000 feet southeast of the line of section.
Figure 39--Natural scale cross section through the Cargill sinkhole by the author. The amount of salt dissolution and the resulting cavity (gallery) shape are hypothetical: "M"--Salt bed mined in underground dry mines; "Shale"--Nonsoluble beds utilized as roof-rock in LPG installations; "W"--Fresh water supply well. Not shown are the Missouri-Pacific Railroad tracks formerly located directly above the surface sinkhole (see start page).
The amount of salt dissolution and the resulting cavity shape are hypothetical. Significant features beneath the surface sinkhole are the presence of (1) a vertical, sand-filled, roof-fall chimney, (2) bedding plane dilation cracks in the Permian shales due to slight downward movement of large blocks of shale, (3) open solution voids as large as 2 1/2 feet in vertical dimension in the upper salt beds, and (4) an extensive former solution cavity which is now plugged with roof-fall rubble debris. Not indicated on the cross section is the former position of the main line tracks of the Missouri-Pacific Railroad directly above the central sand-filled chimney. The tracks were left suspended by rapid surface subsidence forming the Cargill sinkhole on October 22, 1974, Figures 10, 11 and Cover.
---
Kansas Geological Survey, Geology
Placed on web July 24, 2009; originally published February 1978.
Comments to webadmin@kgs.ku.edu
The URL for this page is http://www.kgs.ku.edu/Publications/Bulletins/214/08_app.html