---
by Thomas L. Thompson and Edwin D. Goebel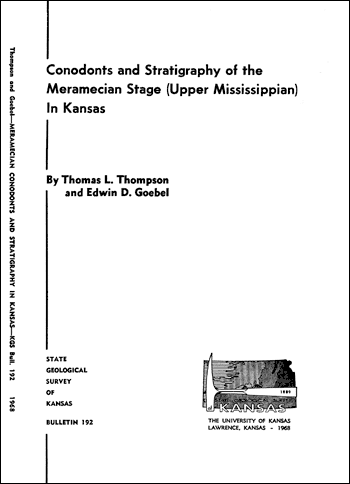 Originally published in 1968 as Kansas Geological Survey Bulletin 192.
Abstract
The Warsaw, Salem, St. Louis, and Ste. Genevieve formations in Kansas (all subsurface) are correlative with the type section in the Mississippi River Valley on the basis of their conodont fauna. Total thickness exceeds 850 feet, but formations thin to 0 at erosional edges beneath the Pennsylvanian unconformity. Fifteen well cores are the basis of lithologic determinations augmented by acetate peels, thin sections, insoluble residues, and well cuttings. Carbonate rock types which predominate are of biogenic origin. Locally, diagenesis has altered the rocks. The restricted outcrops in southeastern Kansas arc identified as Keokuk Limestone of late Osagian age.
An abundant conodont fauna (1500 specimens) recovered as insoluble residues fixes the age of the Meramecian Stage in Kansas. The fauna includes 40 named Species representing 14 genera: nine additional doubtful species are referred to seven genera; two possible new species are included; one specimen representing a possible new genus is described.
---
Kansas Geological Survey, Geology
Placed on web June 24, 2010; originally published Dec. 1968.
Comments to webadmin@kgs.ku.edu
The URL for this page is http://www.kgs.ku.edu/Publications/Bulletins/192/index.html