Prev Page--Introduction || Next Page--General Geology
---
Topography and Drainage
Sumner County is in the Wellington Lowland and the Arkansas River Lowlands of the Central Lowland physiographic province (Schoewe, 1949). The upland areas of the county, because of the thick shale beds underlying the surface, are chiefly gently rolling plains. The valleys are wide and flat except locally where sand dunes have formed. The highest points in the county are in the area west of Conway Springs. The lowest points are near Drury and Geuda Springs along Chikaskia and Arkansas Rivers. The total relief in the county is about 400 feet.
Sumner County is drained by southeastward-flowing streams. Arkansas River crosses the northeast corner of the county and is joined by Ninnescah River near Oxford. Cowskin Creek enters the county a short distance west of Mulvane and joins Arkansas River between Mulvane and Oxford. Slate Creek has its headwaters northwest of Conway Springs and joins Arkansas River near Geuda Springs. Salt Creek is a small tributary to Arkansas River flowing through Geuda Springs. Chikaskia River enters the county west of Argonia and leaves it south of Drury. Prairie Creek, whose headwaters are north of Mayfield, joins Chikaskia River west of Corbin. Bluff Creek and Fall Creek drain the southwestern part of the county, joining a short distance east of Caldwell.
Population
According to the 1950 census, the population of Sumner County was 23,646. The average density of population was 20.0 per square mile as compared to 23.2 for the entire state. The population of Sumner County in 1940 was 26,163. Hence, by 1950, it had decreased 9.6 percent. The incorporated cities of Sumner County and their 1950 populations are as follows: Argonia, 562; Belle Plaine, 971; Caldwell, 2,000; Conway Springs, 816; Geuda Springs, 245; Hunnewell, 103; Mayfield, 134; Milan, 165; Mulvane, 1,387; Oxford, 798; South Haven, 358; and Wellington, 7,747. In 1950 the population of the county was 32.8 percent urban, as compared to 27.7 percent in 1940.
Transportation
Sumner County is served by lines of the Atchison, Topeka, and Santa Fe Railway Co.; the Chicago, Rock Island, and Pacific Railway; the Missouri Pacific Railroad Co., and the Midland Valley Railroad Co. It is traversed by U.S. Highways 81, 160, 166, and 177 and by State Highways 2, 15, 42, 44, 49, 53, and 55. The Kansas Turnpike crosses the county from north to south a few miles east of Wellington and South Haven. The county is served also by a satisfactory network of graveled or otherwise improved county roads.
Agriculture
In 1952 there were 2,299 farms in Sumner County having a total area of approximately 757,120 acres. The county ranked first in the state in the production of wheat in 1952, yielding a crop of 10,727,000 bushels, an average yield of 25.3 bushels per acre. Sorghum is the second most important crop (Table 1). Tame and prairie pasture in Sumner County totaled 162,000 acres in 1952.
Table 1--Acreage and value of crops harvested in Sumner County in 1952.
| Crop | Acres harvested | Value |
| --- | --- | --- |
| Wheat | 424,000 | 22,634,000 |
| Corn | 12,800 | 376,200 |
| Oats | 18,000 | 383,100 |
| Sorghum | 41,300 | 1,924,500 |
| Alfalfa | 15,310 | 1,027,050 |
| Others | 15,735 | 407,320 |
Mineral Resources
The mineral resources of Sumner County include oil and gas, sand and gravel, salt, limestone, and gypsum.
Oil and Gas
Gas was discovered in the county in June 1915 in what is now known as the Vernon North pool. The first oil was discovered in May 1925 in the "Mississippi lime" in sec. 22, T. 34 S., R. 2 E. (Ver Wiebe and others, 1948). Oil and gas are produced from rocks of the Arbuckle Group (Cambrian-Ordovician), the Simpson Group (Ordovician), the upper part of the Mississippian System, and the Pennsylvanian Cherokee, Kansas City, Lansing, and Shawnee Groups. In 1959, Sumner County produced 2,892,057 barrels of oil from 791 wells. The total cumulative production of the county to January 1, 1960, was almost 73 million barrels, about half of which came from the Oxford and Churchill pools. In 1959 Sumner County produced more than 600,000 M cubic feet of natural gas (Goebel and others, 1960).
Secondary recovery projects have been attempted in the Churchill, Fall Creek, Oxford, and Wellington pools. The Wellington and Fall Creek projects are now in operation (Goebel and others, 1960a).
Sand and gravel
Sand and gravel deposits of Pleistocene age have been worked commercially for many years in the valleys of Arkansas River and Slate Creek near Wellington. Need for sand and gravel in construction of the Kansas Turnpike through Sumner County resulted in the opening of two large gravel pits in older Pleistocene deposits in the area east and north of South Haven.
Limestone
Limestone is not abundant nor widespread in Sumner County, but a quarry in the NW sec. 36, T. 31 S., R. 2 E., now abandoned, produced stone for several buildings and bridges in the Oxford area. Limestone of poor quality has been quarried in the SE sec. 36, T. 32 S., R. 1 W., and in the SE sec. 15, T. 34 S., R. 2 E.
Salt
In 1887, salt beds were discovered at Wellington in a prospect hole at a depth of 240 feet. Wellington is near the east edge of the salt beds in the Wellington Formation, of Permian age, and the salt is only 50 feet thick there. A small plant having a maximum daily capacity of 158 barrels was erected at Wellington in 1888 to process salt. This plant and mine operated only a short time before being abandoned because of financial failure.
Gypsum
A bed of gypsum of good quality but of undetermined thickness crops out in the SW SE sec. 27, T. 33 S., R. 2 E. This gypstone is in the Wellington Formation. A quantity of gypsum is reported to have been quarried from this locality to build the "Marble block" building in Wellington. Exploratory test drilling probably would be necessary to determine the economic importance of the deposit.
Climate
The climate of Sumner County is characterized by wide variations in temperature and precipitation. The winters are usually mild; the summers are hot, but because of the relatively low humidity and brisk air movement, they are not unduly uncomfortable.
The U.S. Weather Bureau maintains precipitation stations at Belle Plaine, Caldwell, Conway Springs, Oxford, and Wellington in Sumner County. The station at Wellington is the most centrally located and has the longest records, hence this discussion of the climate of Sumner County is based principally on the records of that station.
The normal monthly precipitation is given in Table 2. The normal annual precipitation at Wellington is 31.11 inches. A precipitation station was established at Wellington in 1889, and continuous records have been kept since 1922 except for the month of May 1945. The annual precipitation and the cumulative departure from normal precipitation at Wellington are given in Figure 3. In preparing Figure 3, the precipitation for May 1945 was interpolated from the precipitation at Belle Plaine and Oxford for that month.
Table 2--Normal monthly precipitation at Wellington.
Month
Precipitation
(inches)
January
1.02
February
1.27
March
1.68
April
3.09
May
4.74
June
4.60
July
3.08
August
2.99
September
3.36
October
2.23
November
1.69
December
1.36
Figure 3--Annual precipitation and cumulative departure from normal precipitation at Wellington.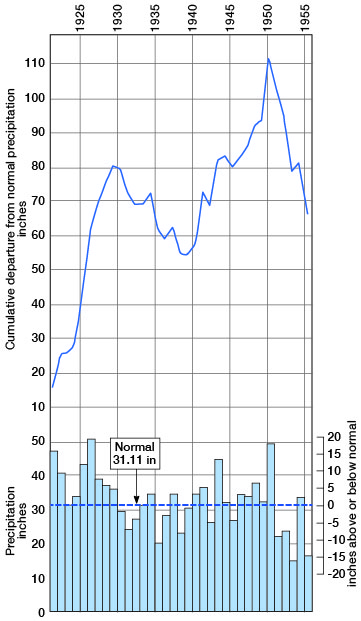 About 70 percent of the precipitation falls during the six-month period from April 1 to September 30. The highest temperature ever recorded at Wellington was 120 deg. F. and the lowest was -19 deg. F.
---
Prev Page--Introduction || Next Page--General Geology
Kansas Geological Survey, Geology
Placed on web January 2003; originally published August 1961.
Comments to webadmin@kgs.ku.edu
The URL for this page is http://www.kgs.ku.edu/General/Geology/Sumner/03_geog.html