---
by John D. Winslow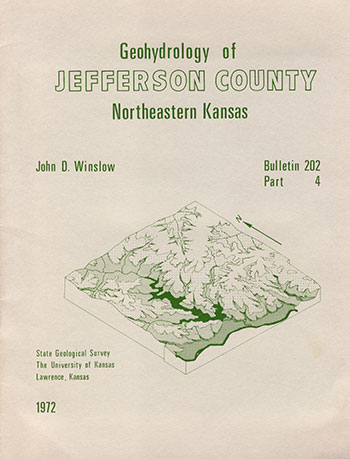 Originally published in 1972 as Kansas Geological Survey Bulletin 202, part 4. This is, in general, the original text as published in 1972. The information has not been updated.
You may also wish to visit our web site on the Jefferson County geologic map.
Abstract
Jefferson County is an area of about 552 square miles in northeastern Kansas. Rocks of Late Pennsylvanian age, which constitute the bedrock in the county, generally dip gently west-northwestward and crop out in sharp ridges and along valley walls. Deposits of Quaternary age underlie the flood plains and terraces along the larger streams and mantle much of the upland area.
Moderate to large supplies of groundwater are available to wells in alluvium in the Delaware and Kansas River valleys. Small to moderate supplies of water are available from thick glacial deposits in the northeastern part of the county; marginally adequate supplies for domestic and stock purposes may be found in upland areas elsewhere in the county. The bedrock formations generally are not a source of water.
Groundwater in Jefferson County generally is very hard and locally contains excessive concentrations of nitrate.
---
Kansas Geological Survey, Jefferson County Geohydrology
Web version July 2002. Original publication date Dec. 1972.
Comments to webadmin@kgs.ku.edu
The URL for this page is http://www.kgs.ku.edu/General/Geology/Jefferson/index.html