---
By Charles K. Bayne, Paul C. Franks, and William Ives, Jr.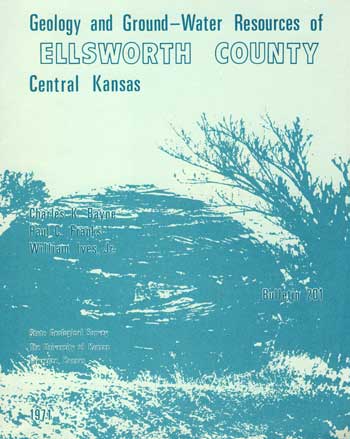 Originally published in 1971 as Kansas Geological Survey Bulletin 201. This is, in general, the original text as published. The information has not been updated.
You may also wish to visit our web site on the Ellsworth County geologic map.
Abstract
Ellsworth County comprises an area of about 720 square miles. The county lies in the Dissected High Plains section of the Great Plains physiographic province and is drained by the Smoky Hill River and its tributaries and tributaries of the Saline and Arkansas Rivers. The topography slopes generally eastward. The long-term mean precipitation at Ellsworth, the county seat, is 25.66 inches. Agriculture is the chief industry in the county, and petroleum, salt, and clay are the chief natural resources.
The oldest rock that crops out in the county is the Ninnescah Shale of Early Permian age. Rocks of Early to Late Cretaceous age unconformably overlie the Permian rocks. The Kiowa Formation is considered to be Early Cretaceous and the Graneros Shale is considered to be Late Cretaceous in age based on faunal evidence, but the age of the Dakota Formation, which occurs between the Kiowa Formation and the Graneros Shale, is problematic. Evidence indicates that the Upper-Lower Cretaceous boundary may lie within the lower part of the Dakota Formation. The Kiowa Formation and the Graneros Shale were deposited under marine conditions, whereas the Dakota Formation was deposited under terrestrial conditions.
The lithology most characteristic of the Dakota Formation is gray and greenish-gray siltstone and clay showing red and reddish-brown mottles. The contact between the Kiowa Formation and the Dakota Formation is placed at the base of the red mottled clay or siltstone.
The lower part of the Graneros was deposited in a shallow turbid sea. Later deposition occurred in deeper more saline water.
The contact between the Graneros Shale and the Greenhorn Limestone is placed at the base of the lowermost skeletal limestone in the Greenhorn that has a petroliferous odor. The upper boundary of the Greenhorn is conformable and gradational and is arbitrarily placed at the top of the Fence-post limestone bed.
Pliocene rocks in the county consist of remnants of a soil caliche formed during late Pliocene time.
Pleistocene rocks unconformably overlie Permian and Cretaceous rocks in the valleys and large parts of the upland area.
The Dakota Formation and the Pleistocene deposits in the valleys are the most important aquifers in the county. These ground-water reservoirs are recharged principally from local precipitation. Yields of properly constructed wells may be in excess of 250 gallons per minute in the most-productive areas.
The results of chemical analyses indicate that the water generally is suitable for most uses; however, the quality varies considerably from place to place, and locally a large amount of chloride is present.
---
Kansas Geological Survey, Geology
Placed on web Sept. 18, 2008; originally published March 1971.
Comments to webadmin@kgs.ku.edu
The URL for this page is http://www.kgs.ku.edu/General/Geology/Ellsworth/index.html