The first step in tackling a problem is to understand it. Perhaps no issue is as important to the people of the Great Plains as the depletion of the Ogallala aquifer. Improving the understanding of that aquifer is the goal of the newly established Ogallala Aquifer Institute (OAI).

Headquartered in Garden City, the OAI started in 2000 with funding from the Kansas Water Plan. The Ogallala underlies parts of Kansas, as well as New Mexico, Oklahoma, Texas, Nebraska, Colorado, South Dakota, and Wyoming.

According to OAI coordinator Dana Woodbury, the OAI's aim is to coordinate education and information about the aquifer, an effort that should lead to better-informed decisions concerning the long-term management of the Ogallala.

"I've been surprised by the level of support we have received from the other seven Ogallala aquifer states," said Woodbury. "They appreciate the fact that Kansas provides leadership in this area. While each state faces unique issues regarding the aquifer, everyone agrees about the need for fact-based, non-biased ground-water education and information."

Toward that end, Woodbury is collecting information about educational and scientific efforts now underway in the eight states underlain by the Ogallala. Eventually that information will be available over an OAI web site. Strategic planning for future OAI projects will be undertaken by the Institute's Board of Directors, composed of one member from each Ogallala state.

For more information about the OAI, contact Woodbury at 312 E. Finnup Drive, Garden City, KS 67846; phone 620-271-1554; or by email (dwoodbury@garden-city.org).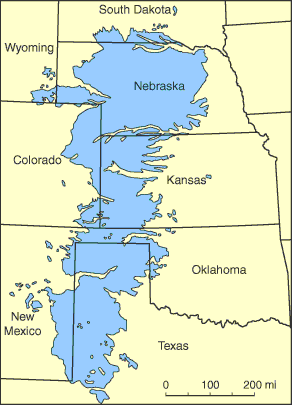 The extent of the Ogallala aquifer.