From the Director
by Lee Allison,
Director and State Geologist
The KGS is pioneering key elements of the geoinformatics system through a variety of projects
During the past two decades, personal computers changed the way science is done. New advances in integrating computers and databases could be just as important in the next 20 years.

The rapidly emerging field of informatics involves systematically integrating information technologies with scientific and technical disciplines. A geoinformatics system targets the spatially based sciences including earth, atmosphere, and ocean sciences, as well as the fields of biodiversity and environmental engineering.

In practical terms, such a system will provide the ability to gather data over the web from a variety of distributed sources, regardless of computer operating systems, database formats, and servers. Search engines will gather data about any geographic location (above, on, or below ground), covering any geologic time, and at any scale or detail.

The geoinformatics system will function as a dynamic data network. Instead of posting a variety of pre-made tables, charts, or maps based on static databases, this system creates these products on the fly, each time an inquiry is made, using the latest information in the appropriate databases.

The KGS is pioneering key elements of the geoinformatics system through a variety of projects. The Survey's Digital Petroleum Atlas (http://www.kgs.ku.edu/DPA/dpaHome.html), supported by the U.S. Department of Energy over the past five years, created a massive but static online system of oil and gas data, maps, cross sections, and photos. The second-generation GEMINI project (http://www.kgs.ku.edu/Gemini/index.html) integrates these and other data dynamically, with online software analysis, modeling tools, and tutorials that can be used to construct geo-engineering reservoir models. The third-generation MIDCARB project (http://www.midcarb.org/), featured in this edition of The Geologic Record, is seamlessly interconnecting disparate databases, running on different servers and operating systems from five state geological surveys.

Pulling together these tools and databases will do more than just change the way science is done. In a very practical way, it ensures that KGS is providing the citizens of Kansas the best possible service.
KGS Photo Library
If you're interested in pictures of Kansas, take a look at the KGS Photo Library, a new educational resource available on the KGS web site (http://www.kgs.ku.edu/Images/DB/index.html). The Photo Library, designed by KGS web administrator Dana Adkins-Heljeson, went online in December 2001. It contains over 700 photos; new photos are being added regularly. This photo collection covers a range of subjects from around the state, all taken by KGS staff over the years. "This archive makes these images, some of which have been sitting in boxes for 40 years, accessible to everyone," said KGS photographer John Charlton. The photo library can be searched in various ways: three interactive maps allow users to select photos by county, physiographic region, or highway. Users also can search by selecting subjects (such as agriculture, flowers and foliage, landscapes, and wildlife) or by keywords. Detailed information about finding and selecting photos is available through the Help button at the web site. Activity at this site grew to more than 5,000 hits in August 2002.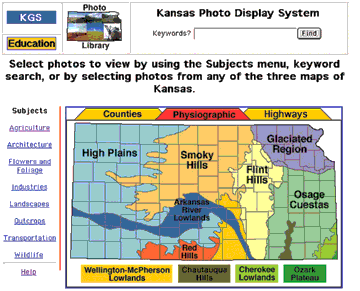 The physiographic map is one way to select photos on the Photo Library web site.