A Place to Visit

Tallgrass Prairie

Chase County,
Kansas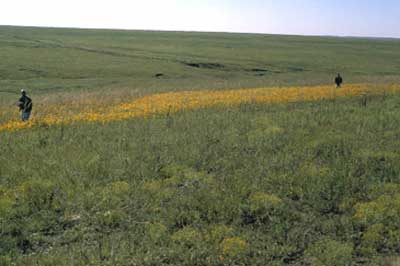 One of the best places to see the Kansas Flint Hills is the Tallgrass Prairie National Preserve (TPNP) in Chase County, Kansas. A spectacular green in the spring, the Flint Hills can be colorful in the autumn, as grasses turn rusty red and brown. Also found on the hills of the TPNP is a somewhat surprising fall bloomer called beggar-ticks. These showy yellow flowers generally flourish in a moist environment, and they're on the hillside shown here because of the interbedded limestone and shales that characterize the geology of the Flint Hills. Water moves through the limestone until it encounters the impermeable shale, then seeps out onto the hillside and supports wetland plants, such as beggar-ticks and cardinal flower. The TPNP consists of 10,894 acres, mostly native tallgrass pasture, managed jointly by the National Park Service and the National Park Trust. The TPNP is just off U.S. Highway 177, about 1 mile west and 2 miles north of Strong City or 17 miles south of Council Grove. Photo by Robert Sawin.

Kansas Geological Survey
1930 Constant Avenue, Campus West
Lawrence, Kansas
66047-3726
(785) 864-3965
Kansas Geological Survey Advisory Council
Dennis Clennan, Hutchinson

Sharon Falk, Stafford

Hubert H. Hall, Lecompton

David Heinemann, Chair, Topeka

Mary Hubbard, Manhattan

Sheila Leiker-Page, Victoria

Larry McCants, Goodland

Dennis McKinney, Greensburg

Larry J. Richardson, Wichita

Derek Schmidt, Independence

Sidney T. Warner, Cimarron

Hannes Zacharais, Olathe

William Hambleton, Emeritus Member, Lawrence

A. Scott Ritchie, KU Geology Assoc. Rep., Wichita
Editors: Liz Brosius, Robert Sawin, Rex Buchanan
Design: Jennifer Sims
The mission of the Kansas Geological Survey, operated by the University of Kansas in connection with its research and service program, is to conduct geological studies and research and to collect, correlate, preserve, and disseminate information leading to a better understanding of the geology of Kansas, with special emphasis on natural resources of economic value, water quality and quantity, and geologic hazards.
The Geology Extension program furthers the mission of the KGS by developing materials, projects, and services that communicate information about the geology of Kansas, the state's earth resources, and the products of the Kansas Geological Survey to the people of the state.