A Place to Visit

Mount Sunflower

Wallace County, Kansas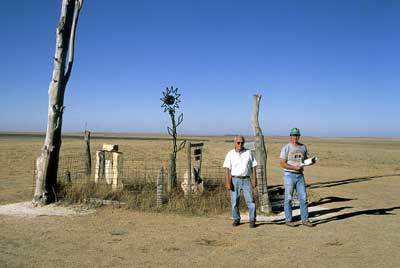 At 4,039 feet above sea level, Mount Sunflower is the highest point in Kansas. Located in Wallace County, just east of the Kansas/Colorado border, Mount Sunflower is more than 3,300 feet above the state's topographic low point in Montgomery County in southeastern Kansas. Much of Mount Sunflower's elevation is due to the uplift of the Rocky Mountains to the west. Mount Sunflower is on private property, but the landowners generally accommodate visitors who want to conquer its lofty summit and gaze at a typical High Plains, shortgrass prairie landscape. To reach Mount Sunflower, take Kansas Highway 27 south from Goodland or north from Sharon Springs. Turn west on BB Road for 12 miles, south on 6 Road for 4 miles, west on X Road for 3 miles, 1 mile south on 3 Road, then 1.1 mile west. Finally, turn north about 0.3 mile to Mount Sunflower. Or, from the town of Kanorado, go 22 miles south on 3 Road, then 1.1 miles west and 0.3 mile north. Photo by Robert Sawin.
Earth Science Teacher Honored
Julie Miller, earth science teacher at California Trail Junior High School in Olathe, received the 2001–2002 Excellence in Kansas Earth Science Education Award from the Kansas Geological Foundation and the Kansas Earth Science Teachers Association. This award of $1,000, funded by the Kansas Geological Foundation, is given to an outstanding earth science teacher in grades K-12. The award was presented in December 2001 at the Kansas Geological Foundation's annual meeting in Wichita.

Miller is the ninth recipient of the Excellence in Kansas Earth Science Education Award. The 2000-2001 winner was Bill Dymacek, earth science teacher at Nike Middle School in Gardner.

Kansas Geological Survey
1930 Constant Avenue, Campus West
Lawrence, Kansas
66047-3726
(785) 864-3965
Kansas Geological Survey Advisory Council
Tom Collinson, Chair, Pittsburg

Robert Crangle, Lincoln

Dyan Jones, Prairie Village

Sheila Leiker-Page, Victoria

Jeffrey Mason, Goodland

Dennis McKinney, Greensburg

Stephen Morris, Hugoton

Larry J. Richardson, Wichita

John K. Strickler, Manhattan

William Hambleton, Emeritus Member, Lawrence

A. Scott Ritchie, KU Geology Assoc. Rep., Wichita
Editors: Liz Brosius, Robert Sawin, Rex Buchanan
Design: Jennifer Sims
The mission of the Kansas Geological Survey, operated by the University of Kansas in connection with its research and service program, is to conduct geological studies and research and to collect, correlate, preserve, and disseminate information leading to a better understanding of the geology of Kansas, with special emphasis on natural resources of economic value, water quality and quantity, and geologic hazards.
The Geology Extension program furthers the mission of the KGS by developing materials, projects, and services that communicate information about the geology of Kansas, the state's earth resources, and the products of the Kansas Geological Survey to the people of the state.