Anderson County Geologic Map
A new geologic map of Anderson County, showing the age and type of rocks at the earth's surface, was recently released by the KGS. Because geologic maps show the rock formations likely to be encountered at a particular location, they are useful in construction, in understanding soils and agriculture, in searching for water and mineral deposits, and in a variety of engineering and environmental uses. The Anderson County geologic map, compiled by retired U.S. Geological Survey geologist William D. Johnson, Jr., is part of a Survey program to produce new geologic maps of counties in the state.

The map, produced in full color, is drawn at a scale of 1:50,000 (one inch on the map equals about 3/4 mile). Copies of the new map are available from the KGS (contact pubsales@kgs.ku.edu). The cost is $15.00 plus tax, shipping, and handling.

New Circulars on Coalbed Methane and the Public Land Survey System
Methane, the main component of natural gas, has been a product of the petroleum industry for years. Now, a relatively new and unconventional source of natural gas—methane from coal beds—has generated interest in eastern Kansas. Natural Gas from Coal in Eastern Kansas, by Robert Sawin and Larry Brady (Public Information Circular 19), describes coal and coalbed methane, gas production from coal, leasing and landowner mineral rights, and the potential for coalbed methane production in Kansas.

The Public Land Survey System in Kansas, Public Information Circular 20, by Daniel Suchy explains how to use the system to legally describe a parcel of land using township and range, section, and smaller divisions.

Copies of PIC 19 and 20 can be obtained free of charge by contacting Publications Sales at the KGS. These circulars also are available electronically through the Survey's web site (www.kgs.ku.edu).

Current Research
Two new articles have been published in the Survey's online research bulletin, Current Research in Earth Sciences. The first, Modeling Dielectric-constant Values of Geologic Materials: An Aid to Ground-penetrating Radar Data Collection and Interpretation, by Alex Martinez and Alan P. Byrnes, was published in December 2001. It describes the use of dielectric-constants (an electrical property of matter that influences radar returns) as a tool in ground-penetrating radar (GPR) studies. GPR is a near-surface geophysical imaging technique used for non-intrusive subsurface geologic and engineering investigations. The second article, Response of Forest to Climatic Events and Human Management at Fort Leavenworth, Kansas, by James S. Aber, Juliet Wallace, and Matthew C. Nowak, discusses the use of Landsat data to study the effects of climatic events and human activities on forested areas in northeastern Kansas. The article was published in January 2002.

These articles, along with previously published articles in the Current Research bulletin, can be viewed at www.kgs.ku.edu/Current/index.html.
New
Publications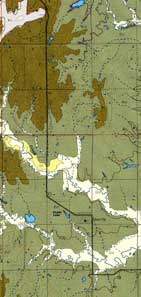 Segment of Anderson County Geological Map.
Kansans obtain their energy from a variety of sources. Most are conventional, such as coal or natural gas, but some, such as wind, are new to Kansas. Now, a comprehensive summary of energy information is available through the Kansas Energy Information Network (KEIN). Designed to be the first stop for those who seek energy information on the internet, KEIN is provided as a service of the Kansas Corporation Commission's Energy Program and the University of Kansas Energy Research Center, based at the Kansas Geological Survey.
In addition to information about traditional energy resources—coal, natural gas, petroleum, and nuclear—KEIN provides information about renewable and alternative resources such as solar, wind, hydropower, ethanol, hydrogen, and fuel cells. The web site contains news articles, current fuel prices, data, history, publications, and research reports, along with information about conservation, environmental and safety issues, agencies, producers, trade and nonprofit organizations, and educational and industry resources.
For more information about the Kansas Energy Information Network contact Scott White at the Survey (785-864-2073, or whites@kgs.ku.edu).
Energy Information on the Internet