A Place to Visit

Science City and
Exploration Place

Sedgwick County and Kansas City, Missouri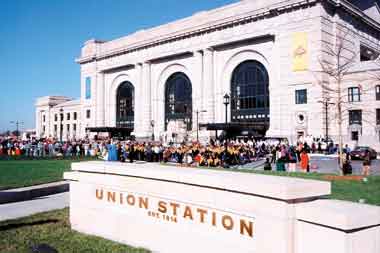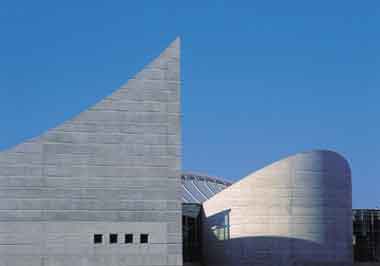 In less than a year, two major new locations featuring science education have opened in the Midwest. Science City at Union Station premiered in the fall of 1999 in Kansas City, Missouri; in the spring of 2000, Exploration Place opened in Wichita. Both offer hands-on science experiences in dramatic architectural settings—historic Union Station in Kansas City and a sweeping new building on the banks of the Arkansas River in Wichita.

The two locations offer differing experiences. Science City provides "recreational learning" in five areas, many of them modeled on life in a real city. Visitors can experience the re-creation of a fossil dig, a simulated cave, and activities related to outer space. In addition, Science City offers IMAX movies and a variety of restaurants and shops, all housed within Union Station, the second largest train station in North America. For more information about Science City—including information about events, tours, and field trips—go to www.sciencecity.com or call 1-877-SCI-CITY.

Exploration Place is housed in a new, 98,000-square foot, $62-million facility designed by architect Moshe Safdie. Visitors to Exploration Place can participate in a simulated fossil dig, try their hand at one of four flight simulators, discover the plants and animals of a Kansas wetland, or a number of other activities. The CyberDome Theatre, where visitors can choose, view, and create computer graphics, will open in the summer of 2000. The Exploration Place web site is at www.exploration.org or call 316-263-3373.

Kansas Geological Survey
1930 Constant Avenue, Campus West
Lawrence, Kansas
66047-3726
(785) 864-3965
Kansas Geological Survey Advisory Council
Tom Collinson, Chair, Pittsburg

Robert Crangle, Lincoln

Dyan Jones, Prairie Village

Sheila Leiker-Page, Victoria

Jeffrey Mason, Goodland

Dennis McKinney, Greensburg

Stephen Morris, Hugoton

Larry J. Richardson, Wichita

John K. Strickler, Manhattan

William Hambleton, Emeritus Member, Lawrence

A. Scott Ritchie, KU Geology Assoc. Rep., Wichita
---
Director: Lee Allison

Editors: Liz Brosius, Robert Sawin, Rex Buchanan

Design: Jennifer Sims

The mission of the Kansas Geological Survey, operated by the University of Kansas in connection with its research and service program, is to conduct geological studies and research and to collect, correlate, preserve, and disseminate information leading to a better understanding of the geology of Kansas, with special emphasis on natural resources of economic value, water quality and quantity, and geologic hazards.

The Geology Extension program furthers the mission of the KGS by developing materials, projects, and services that communicate information about the geology of Kansas, the state's earth resources, and the products of the Kansas Geological Survey to the people of the state