A Place to Visit

Mushroom Rock

Ellsworth County, Kansas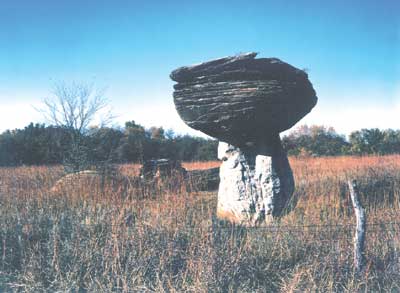 The strangely shaped rocks at Mushroom Rock State Park in Ellsworth County are made of sandstone from the Dakota Formation, deposited along the edge of a Cretaceous sea about 100 million years ago. Over time, circulating water deposited a limy cement between the sand grains, creating harder bodies of sandstone called concretions. Concretions, such as the cap of the rock shown here, are often spherical (the top half of the concretion pictured here has eroded away). The softer sandstone of the stem has eroded more rapidly, creating the mushroom-shaped rock. Mushroom Rock State Park is located two miles south and two and a half miles west of the intersection of Kansas highways 140 and 141.
KGS Bulletin Series Goes Online
In January 1997 the Survey published the first paper in its new electronic bulletin, Current Research in Earth Sciences. This paper is accessible in the online publications section of the Survey's home page on the World Wide Web.

Current Research features short papers that highlight current research in earth science, especially that of Kansas and the midcontinent. In the electronic version of Current Research, papers will be made available online as soon as they have been peer-reviewed, revised by the authors, and edited. Papers published electronically will be printed and bound at the end of the year.

Kansas Geological Survey
1930 Constant Avenue, Campus West
Lawrence, Kansas
66047-3726
(785) 864-3965
Kansas Geological Survey Advisory Council
Tom Collinson, Chair, Pittsburg

Dyan Conway, Prairie Village

Robert Crangle, Lincoln

David J. Heinemann, Topeka

Gary Hulett, Hays

Jeffrey Mason, Goodland

Stephen Morris, Hugoton

David Nance, Pittsburg

Marvin Odgers, Sublette

Larry J. Richardson, Wichita

John K. Strickler, Manhattan

William W. Hambleton, Emeritus Member, Lawrence

A. Scott Ritchie, KU Geology Assoc. Rep., Wichita
---
Director: Lee C. Gerhard

Editors: Liz Brosius, Robert Sawin, Rex Buchanan

Design: Jennifer Sims

The mission of the Kansas Geological Survey, operated by the University of Kansas in connection with its research and service program, is to conduct geological studies and research and to collect, correlate, preserve, and disseminate information leading to a better understanding of the geology of Kansas, with special emphasis on natural resources of economic value, water quality and quantity, and geologic hazards.

The Geology Extension program furthers the mission of the KGS by developing materials, projects, and services that communicate information about the geology of Kansas, the state's earth resources, and the products of the Kansas Geological Survey to the people of the state