Case Study - Medicine Lodge North, Barber County, Kansas, Mississippian "Chat" Reservoir – Log and Core Petrophysics, Volumetric Modeling
Object of study of Medicine Lodge North Field was to evaluate reservoir for infill drilling sites that could be drilled and fracture stimulated to produce additional oil in a depleting "Chat" reservoir.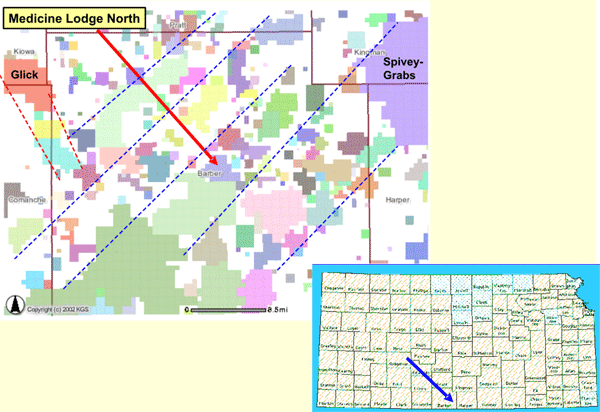 Lineaments are added manually on visual inspection paralleling trends recognized from previous work that indicates deep-seated basement heteorgeneity reflected in Paleozoic structure and magnetic and gravity mapping (Watney et al, 2001). Many of these fields produce oil and gas from the Mississippian "chat". Map is generated from the ARCIMS map server. (http://www.kgs.ku.edu/PRS/petroMaps.html)
Distribution of Mississippian chat fields in Kansas
Low Resistivity pays
Stratigraphic Traps
Cum. Gas 2.4 TCF
Cum. Oil 280 MM bbls.
Potential for re-exploration and IOR using appropriate recovery technologies
Autoclastic chert with clay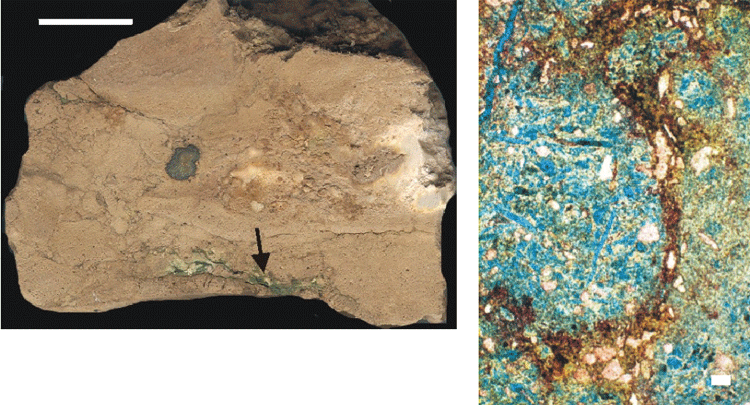 4398ft.
Autoclastic chert breccia "clasts" lined by clay and brown microcrystalline calcite. Abundant microporosity, molds, and vugs in spiculitic microcrystalline chert.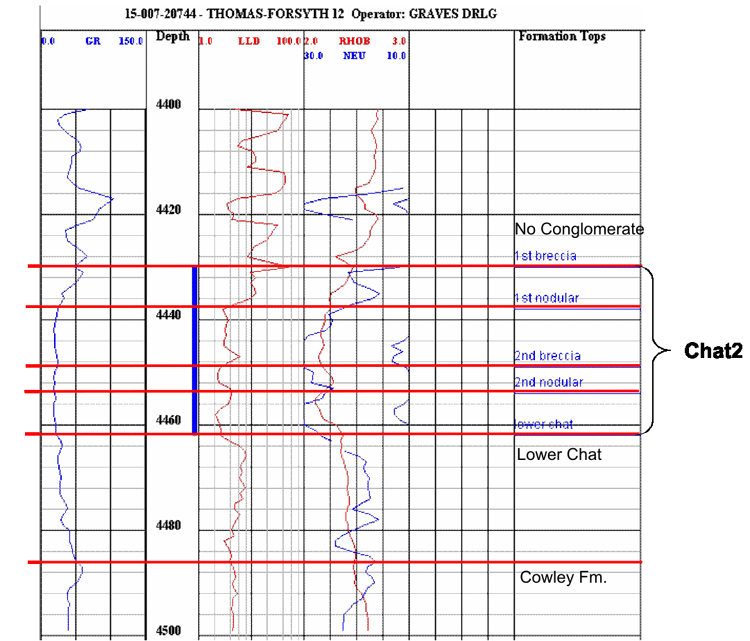 Type log of cored well in Medicine Lodge North Field shows lithofacies and stratigraphic subdivisions of "chat" reservoir. Note that the nodular zones have slightly higher porosity and than the zones of breccia.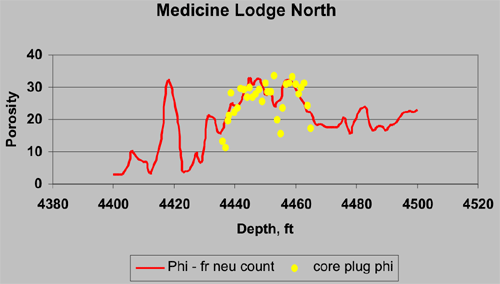 Comparison between core plug porosity and porosity calculated from conversion of neutron counts.
Core measurements of m, the Archie cementation exponent vs. depth indicate that m varies between 1.9 and 3.3.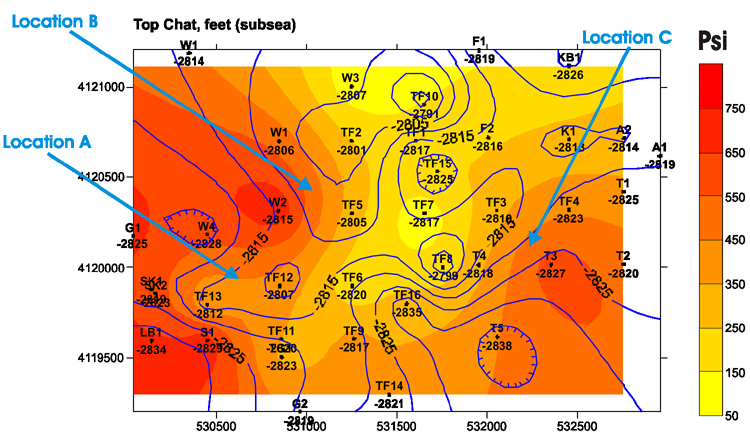 Map depicting both current reservoir pressure in color with contours of overlying structure on top of the "chat" reservoir. Crest of structure and lower pressure closely coincide.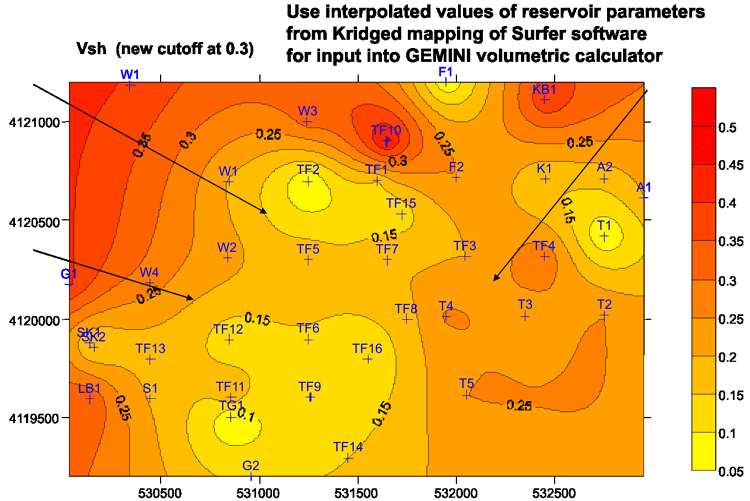 Map of average Vsh for pay interval in the chat2 reservoir. Arrows locate prospective infill drilling locations.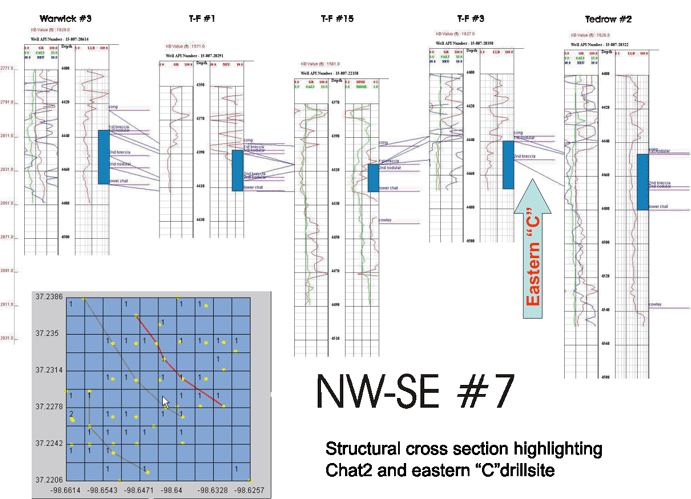 Click on above image for better detail
Northwest-southwest structural log cross section identifying another potential infill location. Note local thinning and truncation of the uppermost "chat" reservoir along the basal Pennsylvanian unconformity and local thickening of overlying Pennsylvanian conglomerate some correspondence to areas of underlying truncation of "chat".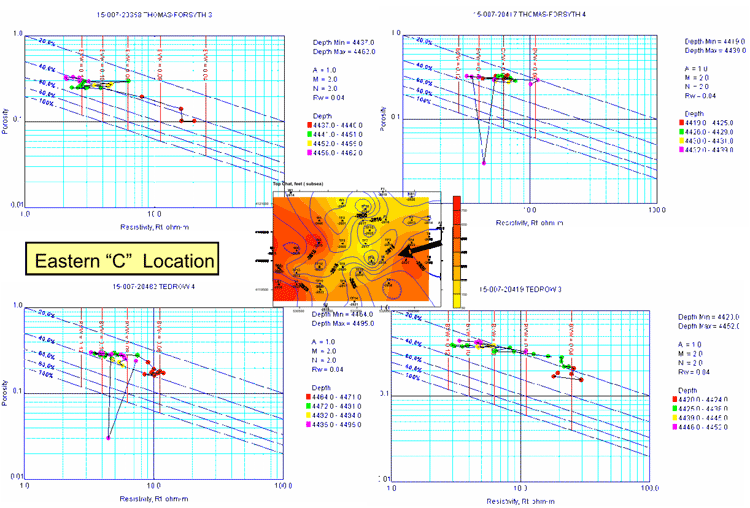 Eastern infill location "C" depicted by Pickett crossplots of surrounding wells. The lower BVW, the better the reservoir quality.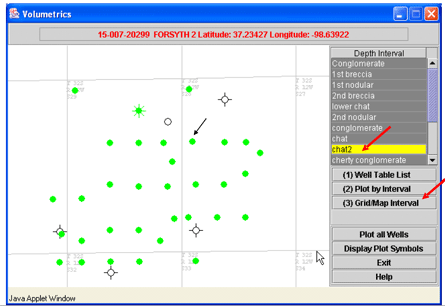 Volumetric dialog for Medicine Lodge North showing various zones and models that were part of the experiment to define the optimum volumetric model for assessing infill drilling locations
Case Study - Medicine Lodge North Volumetrics and Infill Drilling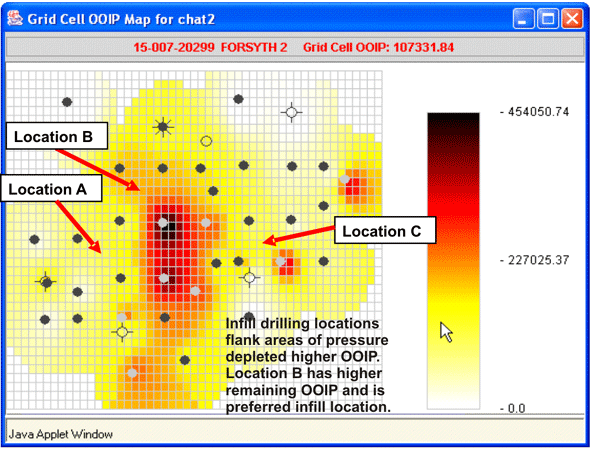 Map of OOIP for Medicine Lodge Field with 200 ft grid cell.
Summary in GEMINI Application to Medicine Lodge North Field
Expeditious construction of a reservoir model of Medicine Lodge North has relied on the ability to integrate various analytical steps from core and log analysis to mapping and volumetric evaluation. Seamless iteration among these analytical tools has helped to achieve an optimized solution. Moreover, web collaboration environment leverages the public-domain data, helps achieve an interdisciplinary solution in spite of distance between collaborators, and provides the ability to share the model and data with partnering companies and eventually the public as part of technology transfer. The option to export results for further modeling has enhanced results. In total, the integrated software makes possible collaborative, interdisciplinary quantitative reservoir modeling in a timely manner.
---
http://www.kgs.ku.edu/PRS/publication/2004/AAPG/GEMINI/p3-01.html
Last Modified October 2004