Kansas Geological Survey, Open-file Report 2005-34
---
Midcontinent Meeting for the National Karst Map Project--Field Trip Notes
by
P. A. Macfarlane, M. A. Townsend, and G. C. Ohlmacher

KGS Open File Report 2005-50
December 2005
Introduction
These notes pertain to a day long fieldtrip from the Kansas Geological Survey into the Flint Hills region and central Kansas with stops planned at Florence, the Hutchinson area, and Cheyenne Bottoms, just outside Great Bend (Figure 1). Lunch and dinner stops are planned at Hutchinson and the Brookville Hotel in Abilene, respectively. Should you have special needs or concerns please do hesitate to discuss them with the field-trip leaders.
Figure 1. The field trip route from the West Lawrence entrance onto Interstate 70 (the Kansas Turnpike) and return by way of the dinner stop at Abilene on Interstate 70. Stop 1 is at Crystal spring near Florence, Kansas; Stop 2 is at the IMC subsidence in Hutchinson; Stop 3 is at the US-50 and Victory Road subsidence east of Hutchinson; and Stop 4 is at Cheyenne Bottoms near Great Bend.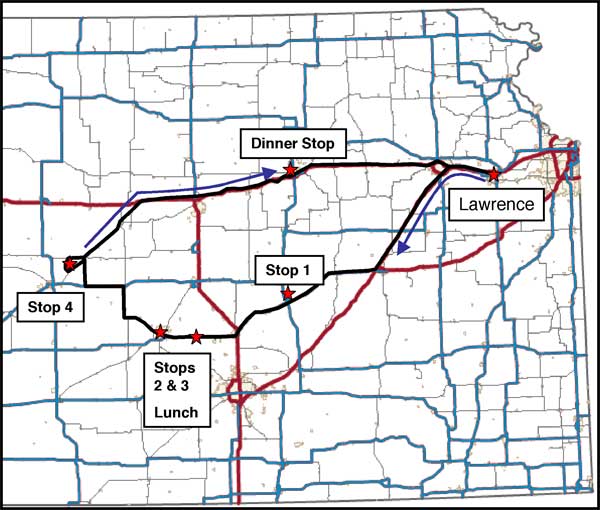 The complete report is available as an Adobe Acrobat PDF file.
OFR2005_50.pdf (5 MB)
To read this file, you will need the Acrobat PDF Reader, available free from Adobe.
---
Kansas Geological Survey, Geohydrology
Placed online Dec. 22, 2005
Comments to webadmin@kgs.ku.edu
The URL for this page is http://www.kgs.ku.edu/Hydro/Publications/2005/OFR05_50/index.html