Kansas Geological Survey, Public Information Circular (PIC) 13
---
Landslides in Kansas
Gregory C. Ohlmacher
Geologic Investigations, Kansas Geological Survey
Introduction
In May of 1995, a Kansas landslide made news when a local TV station filmed the collapse of a $400,000 home in Overland Park, Kansas (fig. 1). This Johnson County landslide also destroyed one other home and affected four vacant lots. That same month, a landslide near Manhattan closed McDowell Creek Road and subsequently cost Riley County $880,000 to stabilize the slope and repair the road.
Figure 1--A 1995 landslide in Overland Park, Kansas, destroyed two homes and damaged four lots.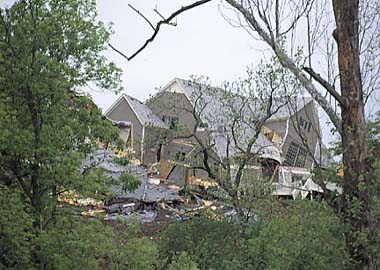 Kansas landslides have damaged or destroyed houses and other structures, closed roads, and disrupted transportation systems. Every year, structures must be repaired and landslide debris removed from highways and railroad tracks. Nationally, landslides cause an estimated $1.5 billion in property losses.
Many areas of Kansas have all the required conditions for landslides. The growth of the Kansas City metropolitan area and other cities in the state creates the potential for more property damage as a result of landslides. This circular provides property owners, government officials, and developers an introduction to landslides in Kansas and outlines common approaches for their remediation. Linked terms are defined in the glossary.
---
Glossary || Additional Reading and Internet Sites
Kansas Geological Survey, Public Outreach
Web version April 1999
http://www.kgs.ku.edu/Publications/pic13/pic13_1.html