---
By Raymond C. Moore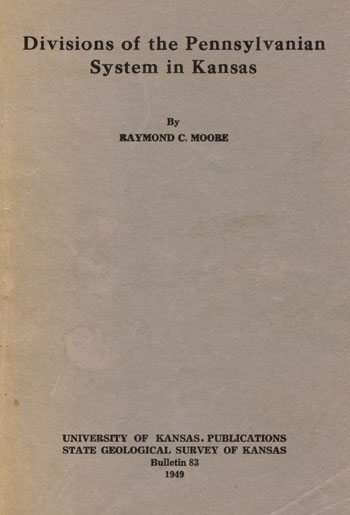 Originally published in 1949 as Kansas Geological Survey Bulletin 83. This is, in general, the original text as published. The information has not been updated.
Abstract
This report summarizes studies in the northern midcontinent region bearing on classification of rocks belonging to the Pennsylvanian System in Kansas. It does not review historical features in the development of classification, treated in 1936 (Kansas Geological Survey Bulletin 22), but takes account of work done since that date. In particular, it gives explanation of time-stratigraphic divisions of the Pennsylvanian rocks and embodies changes in the definition and naming of groups and subgroups which were adopted by agreement of the State geological surveys of Iowa, Kansas, Missouri, Nebraska, and Oklahoma at a conference held in May 1947. Except for definition of member subdivisions of formations belonging to the Marmaton group and a few revisions of formation and member names in the Shawnee and Wabaunsee groups, no changes in designation of lithologic units of the Kansas Pennsylvanian succession have been made during the last dozen years.
The Pennsylvanian rocks (including subsurface deposits which are not exposed in Kansas) are divided into five series (in upward order): Morrowan, Atokan, Desmoinesian, Missourian, and Virgilian. The boundaries between these divisions are drawn at disconformities which are judged to denote important interruptions in sedimentation. Each of the designated series is characterized by paleontological distinctions, also. Deposits of Morrowan age (Kearny formation) and Atokan age (unnamed) are recognized in the subsurface of western Kansas but do not crop out. The Desmoinesian Series is well exposed in southeastern Kansas and widely distributed beneath the surface in the State. It comprises rocks of the Cherokee group, below, and Marmaton group, above. Paleontologically, the Desmoinesian rocks belong to the Zone of Fusulina. The Missourian Series contains important limestone formations and is divided, in upward order, into the Pleasanton, Kansas City, Lansing, and Pedee groups. It comprises the lower half of the Zone of Triticites. Rocks of Virgilian age are widely and excellently exposed in eastern Kansas. This uppermost main division of the Pennsylvanian rocks contains the Douglas, Shawnee, and Wabaunsee groups and comprises the upper part of the Zone of Triticites.
The interstate agreement on classification of Pennsylvanian rocks agreed to the name Pleasanton group for clastic deposits (formerly called Bourbon group by the Kansas Geological Survey). In the lower part of the Missourian Series, the conference adopted definition of the Kansas City group as extending from the top of Pleasanton beds to the base of the Plattsburg limestone. The rocks of this group were divided into three subgroups: Bronson (base of Hertha limestone to top of Winterset limestone), Linn (base of Cherryvale shale to top of Iola limestone), and Zarah (base of Lane shale to top of Bonner Springs shale). in the Wabaunsee group, the conference recognized differentiation of subgroups, in upward order: Sacfox, Nemaha, and Richardson.
---
Kansas Geological Survey, Geology
Placed on web Jan. 26, 2009; originally published Nov. 1949.
Comments to webadmin@kgs.ku.edu
The URL for this page is http://www.kgs.ku.edu/Publications/Bulletins/83/index.html