Woodson County--Oil and Gas Production
---
Production
Year
Oil
Gas
Production
(bbls)
Wells
Cumulative
(bbls)
Production
(mcf)
Wells
Cumulative
(mcf)
1995
606,866
1116
39,763,182
79,289
9
969,718
1996
591,332
2714
40,354,514
72,141
22
1,041,859
1997
559,688
2664
40,914,202
73,950
21
1,115,809
1998
492,442
2633
41,406,644
66,472
21
1,182,281
1999
459,442
2513
41,866,086
50,086
20
1,232,367
2000
492,066
2629
42,358,152
43,181
21
1,275,548
2001
481,116
2592
42,839,268
35,683
21
1,311,231
2002
445,844
2512
43,285,112
28,639
22
1,339,870
2003
447,531
2478
43,732,643
33,930
22
1,373,800
2004
430,018
2536
44,162,661
32,202
30
1,406,002
2005
424,437
2546
44,587,098
35,426
32
1,441,428
2006
452,801
2587
45,039,899
59,505
51
1,500,933
2007
458,593
2613
45,498,492
131,047
51
1,631,980
2008
470,971
2705
45,969,463
160,552
49
1,792,532
2009
460,078
2776
46,429,541
155,535
65
1,948,067
2010
456,916
2841
46,886,457
90,609
44
2,038,676
2011
491,852
2938
47,378,309
72,419
41
2,111,095
2012
552,147
3176
47,930,456
17,428
39
2,128,523
2013
566,799
3406
48,497,255
25,051
17
2,153,574
2014
567,179
3683
49,064,434
12,564
14
2,166,138
2015
546,083
3692
49,610,517
12,021
8
2,178,159
2016
547,165
3725
50,157,682
727
1
2,178,886
2017
537,027
3749
50,694,709
820
1
2,179,706
2018
506,274
3736
51,200,983
615
1
2,180,321
2019
449,792
3797
51,650,775
264
1
2,180,585
2020
424,754
3756
52,075,529
608
1
2,181,193
2021
268,014
3699
52,343,543
463
1
2,181,656
Updated through 8-2021.
Note: bbls is barrels; mcf is 1000 cubic feet.
County Map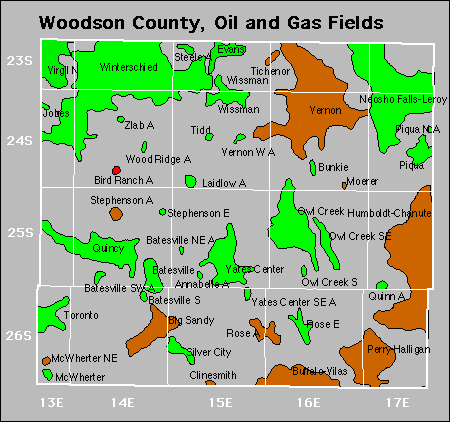 Fields
Also available is a text file containing field summary data for all fields in this county.


Abandoned

Annabelle
Batesville Southwest
Evans
Laidlow
Mcwherter
Rose
Steele
Stephenson
Yates Center Southeast
Zlab


Gas Storage Fields
---
Kansas Geological Survey
Comments to webadmin@kgs.ku.edu
URL=http://www.kgs.ku.edu/PRS/County/tw/woodson.html
Data from Kansas Dept. of Revenue files monthly.