Scott County--Oil and Gas Production
---
Production
Year
Oil
Gas
Production
(bbls)
Wells
Cumulative
(bbls)
Production
(mcf)
Wells
Cumulative
(mcf)
1995
369,483
89
7,294,741
310,411
20
7,138,126
1996
284,959
85
7,579,700
287,635
19
7,425,761
1997
255,905
88
7,835,605
300,678
23
7,726,439
1998
253,968
89
8,089,573
339,931
22
8,066,370
1999
271,882
84
8,361,455
337,446
21
8,403,816
2000
361,349
92
8,722,804
317,998
22
8,721,814
2001
278,553
87
9,001,357
307,499
20
9,029,313
2002
269,023
91
9,270,380
259,002
21
9,288,315
2003
264,985
94
9,535,365
275,241
21
9,563,556
2004
272,077
98
9,807,442
271,927
19
9,835,483
2005
261,843
102
10,069,285
244,796
19
10,080,279
2006
410,714
111
10,479,999
246,198
20
10,326,477
2007
405,683
130
10,885,682
213,533
21
10,540,010
2008
551,018
138
11,436,700
337,605
21
10,877,615
2009
558,202
145
11,994,902
346,788
19
11,224,403
2010
662,699
167
12,657,601
375,415
23
11,599,818
2011
705,731
189
13,363,332
432,586
23
12,032,404
2012
649,963
214
14,013,295
356,144
23
12,388,548
2013
826,623
247
14,839,918
337,120
22
12,725,668
2014
1,321,337
304
16,161,255
254,462
22
12,980,130
2015
1,011,235
315
17,172,490
249,303
19
13,229,433
2016
786,594
319
17,959,084
219,632
18
13,449,065
2017
708,967
324
18,668,051
200,307
16
13,649,372
2018
589,447
321
19,257,498
190,709
12
13,840,081
2019
547,461
329
19,804,959
166,402
10
14,006,483
2020
435,916
298
20,240,875
67,945
10
14,074,428
2021
462,354
288
20,703,229
82,449
10
14,156,877
2022
389,809
336
21,093,038
134,182
9
14,291,059
Updated through 9-2022.
Note: bbls is barrels; mcf is 1000 cubic feet.
County Map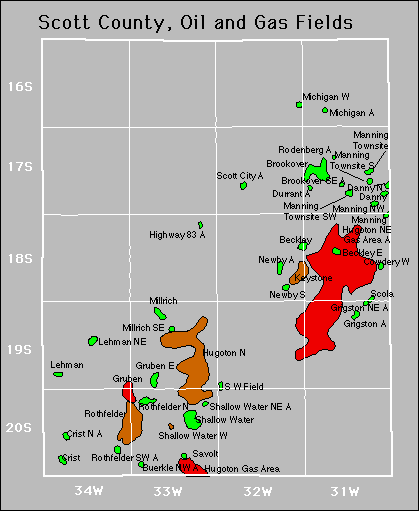 Fields
Also available is a text file containing field summary data for all fields in this county.


Abandoned

Durrant
Grigston
Rodenberg
Shallow Water Northeast

---
Kansas Geological Survey
Comments to webadmin@kgs.ku.edu
URL=http://www.kgs.ku.edu/PRS/County/rs/scott.html
Data from Kansas Dept. of Revenue files monthly.