Meade County--Oil and Gas Production
---
Production
Year
Oil
Gas
Production
(bbls)
Wells
Cumulative
(bbls)
Production
(mcf)
Wells
Cumulative
(mcf)
1995
335,653
176
23,099,884
8,636,359
287
480,550,479
1996
346,544
250
23,446,428
9,451,322
351
490,001,801
1997
284,150
219
23,730,578
7,859,360
349
497,861,161
1998
233,711
214
23,964,289
6,259,222
300
504,120,383
1999
207,373
209
24,171,662
6,920,154
291
511,040,537
2000
194,388
130
24,366,050
6,259,537
298
517,300,074
2001
199,187
127
24,565,237
6,571,918
305
523,871,992
2002
243,835
139
24,809,072
6,894,952
297
530,766,944
2003
337,385
137
25,146,457
6,246,387
295
537,013,331
2004
306,311
125
25,452,768
5,401,079
292
542,414,410
2005
297,416
144
25,750,184
5,279,970
298
547,694,380
2006
271,656
139
26,021,840
4,655,514
296
552,349,894
2007
455,232
137
26,477,072
4,731,417
299
557,081,311
2008
469,793
158
26,946,865
5,536,783
317
562,618,094
2009
379,080
148
27,325,945
5,501,883
326
568,119,977
2010
428,716
162
27,754,661
4,945,112
328
573,065,089
2011
445,898
159
28,200,559
5,416,839
333
578,481,928
2012
428,840
186
28,629,399
5,208,631
337
583,690,559
2013
388,921
173
29,018,320
4,473,719
346
588,164,278
2014
382,293
207
29,400,613
4,203,164
348
592,367,442
2015
334,011
162
29,734,624
3,701,949
327
596,069,391
2016
256,287
177
29,990,911
3,031,426
306
599,100,817
2017
225,348
173
30,216,259
2,761,124
290
601,861,941
2018
222,906
157
30,439,165
2,793,638
288
604,655,579
2019
240,081
161
30,679,246
2,446,142
282
607,101,721
2020
156,943
134
30,836,189
2,021,170
263
609,122,891
2021
146,410
134
30,982,599
1,897,992
261
611,020,883
2022
104,433
131
31,087,032
1,348,423
263
612,369,306
Updated through 9-2022.
Note: bbls is barrels; mcf is 1000 cubic feet.
County Map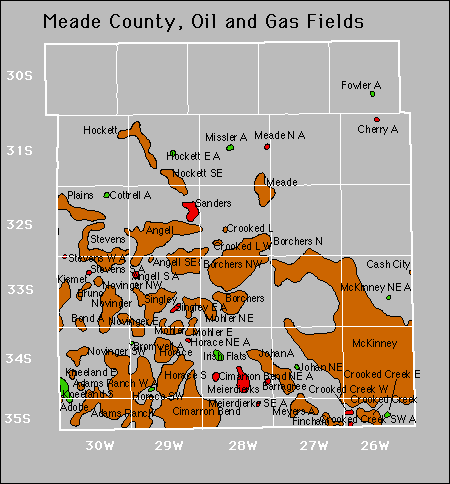 Fields
Also available is a text file containing field summary data for all fields in this county.


Abandoned

Bond
Bromwell
Cherry
Cottrell
Horace Northeast
Sanders
Stevens West


Gas Storage Fields
---
Kansas Geological Survey
Comments to webadmin@kgs.ku.edu
URL=http://www.kgs.ku.edu/PRS/County/klm/meade.html
Data from Kansas Dept. of Revenue files monthly.