Labette County--Oil and Gas Production
---
Production
Year
Oil
Gas
Production
(bbls)
Wells
Cumulative
(bbls)
Production
(mcf)
Wells
Cumulative
(mcf)
1995
26,956
45
2,591,780
144,562
44
2,519,862
1996
20,156
119
2,611,936
149,795
58
2,669,657
1997
16,012
117
2,627,948
185,531
63
2,855,188
1998
16,760
103
2,644,708
154,473
68
3,009,661
1999
13,791
112
2,658,499
80,316
68
3,089,977
2000
10,867
87
2,669,366
101,765
50
3,191,742
2001
14,234
84
2,683,600
138,254
86
3,329,996
2002
11,317
109
2,694,917
204,365
100
3,534,361
2003
10,801
91
2,705,718
336,792
123
3,871,153
2004
12,616
108
2,718,334
692,446
135
4,563,599
2005
11,870
162
2,730,204
1,401,094
197
5,964,693
2006
10,341
141
2,740,545
2,017,587
291
7,982,280
2007
18,999
123
2,759,544
2,794,027
437
10,776,307
2008
16,328
116
2,775,872
3,851,529
516
14,627,836
2009
10,131
134
2,786,003
3,938,460
593
18,566,296
2010
8,253
108
2,794,256
4,239,060
671
22,805,356
2011
6,808
88
2,801,064
4,568,417
689
27,373,773
2012
7,271
125
2,808,335
4,038,998
675
31,412,771
2013
6,316
140
2,814,651
3,533,561
648
34,946,332
2014
7,214
105
2,821,865
3,290,661
642
38,236,993
2015
6,083
81
2,827,948
3,061,922
629
41,298,915
2016
5,746
92
2,833,694
2,835,052
600
44,133,967
2017
6,645
103
2,840,339
2,646,774
571
46,780,741
2018
6,086
95
2,846,425
2,355,845
554
49,136,586
2019
7,313
106
2,853,738
2,150,808
517
51,287,394
2020
4,338
81
2,858,076
1,812,798
502
53,100,192
2021
2,182
83
2,860,258
1,092,141
447
54,192,333
Updated through 8-2021.
Note: bbls is barrels; mcf is 1000 cubic feet.
County Map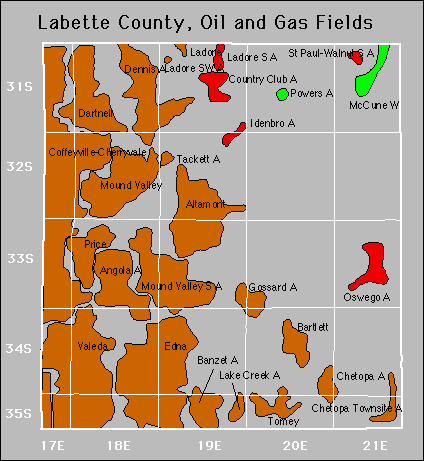 Fields
Also available is a text file containing field summary data for all fields in this county.


Abandoned

Chetopa
Chetopa Townsite
Gossard
Idenbro
Powers
Price

---
Kansas Geological Survey
Comments to webadmin@kgs.ku.edu
URL=http://www.kgs.ku.edu/PRS/County/klm/labette.html
Data from Kansas Dept. of Revenue files monthly.