Harper County--Oil and Gas Production
---
Production
Year
Oil
Gas
Production
(bbls)
Wells
Cumulative
(bbls)
Production
(mcf)
Wells
Cumulative
(mcf)
1995
375,360
398
31,415,801
4,526,006
278
233,750,022
1996
365,674
415
31,781,475
4,554,502
339
238,304,524
1997
354,962
421
32,136,437
4,563,760
338
242,868,284
1998
362,414
403
32,498,851
4,479,795
337
247,348,079
1999
348,845
403
32,847,696
4,122,519
320
251,470,598
2000
306,317
409
33,154,013
3,981,796
317
255,452,394
2001
327,132
416
33,481,145
4,026,646
336
259,479,040
2002
331,723
412
33,812,868
4,291,651
332
263,770,691
2003
333,219
419
34,146,087
4,147,040
331
267,917,731
2004
340,049
433
34,486,136
4,364,271
331
272,282,002
2005
347,468
438
34,833,604
4,687,340
372
276,969,342
2006
349,717
457
35,183,321
4,987,995
375
281,957,337
2007
329,266
457
35,512,587
4,940,213
507
286,897,550
2008
324,068
485
35,836,655
5,071,674
403
291,969,224
2009
321,933
487
36,158,588
4,917,531
405
296,886,755
2010
361,448
501
36,520,036
5,050,316
444
301,937,071
2011
506,877
509
37,026,913
5,202,539
468
307,139,610
2012
873,056
537
37,899,969
7,408,328
524
314,547,938
2013
1,734,019
609
39,633,988
13,544,374
593
328,092,312
2014
2,934,109
698
42,568,097
24,358,304
673
352,450,616
2015
3,573,071
692
46,141,168
31,898,861
701
384,349,477
2016
2,079,562
656
48,220,730
27,311,079
662
411,660,556
2017
996,772
629
49,217,502
20,338,258
646
431,998,814
2018
728,680
605
49,946,182
17,064,033
632
449,062,847
2019
540,505
603
50,486,687
13,974,620
626
463,037,467
2020
321,972
496
50,808,659
9,430,623
579
472,468,090
2021
296,938
467
51,105,597
8,151,943
563
480,620,033
2022
88,968
365
51,194,565
2,644,691
527
483,264,724
Updated through 4-2022.
Note: bbls is barrels; mcf is 1000 cubic feet.
County Map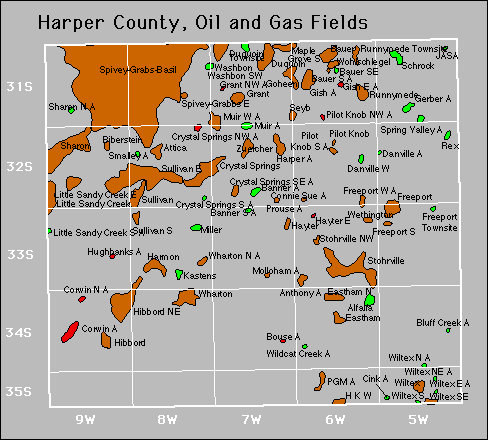 Fields
Also available is a text file containing field summary data for all fields in this county.


Abandoned

Banner
Banner South
Bauer South
Bluff Creek
Grant Northwest
Hughbanks

---
Kansas Geological Survey
Comments to webadmin@kgs.ku.edu
URL=http://www.kgs.ku.edu/PRS/County/ghj/harper.html
Data from Kansas Dept. of Revenue files monthly.