Barber County--Oil and Gas Production
---
Production
Year
Oil
Gas
Production
(bbls)
Wells
Cumulative
(bbls)
Production
(mcf)
Wells
Cumulative
(mcf)
1995
536,988
666
58,020,250
11,414,164
592
1,335,289,342
1996
523,279
674
58,543,529
11,834,046
652
1,347,123,388
1997
503,154
655
59,046,683
11,415,877
663
1,358,539,265
1998
449,387
608
59,496,070
11,329,113
664
1,369,868,378
1999
470,148
612
59,966,218
10,969,623
681
1,380,838,001
2000
473,796
631
60,440,014
11,522,597
697
1,392,360,598
2001
463,363
654
60,903,377
10,824,095
704
1,403,184,693
2002
515,919
666
61,419,296
10,334,974
734
1,413,519,667
2003
476,341
766
61,895,637
9,954,157
760
1,423,473,824
2004
545,302
808
62,440,939
10,953,913
805
1,434,427,737
2005
615,047
729
63,055,986
12,287,786
893
1,446,715,523
2006
763,963
800
63,819,949
13,998,673
940
1,460,714,196
2007
1,057,501
837
64,877,450
15,360,132
1048
1,476,074,328
2008
1,397,824
936
66,275,274
17,720,542
1142
1,493,794,870
2009
1,615,794
976
67,891,068
17,403,951
1198
1,511,198,821
2010
1,822,698
1062
69,713,766
19,990,859
1249
1,531,189,680
2011
1,917,025
1165
71,630,791
21,978,264
1357
1,553,167,944
2012
2,253,941
1278
73,884,732
26,115,592
1464
1,579,283,536
2013
2,356,338
1396
76,241,070
28,464,432
1495
1,607,747,968
2014
2,059,343
1485
78,300,413
27,760,982
1562
1,635,508,950
2015
1,652,323
1447
79,952,736
24,957,992
1585
1,660,466,942
2016
1,142,514
1475
81,095,250
20,003,053
1551
1,680,469,995
2017
947,643
1480
82,042,893
17,125,455
1480
1,697,595,450
2018
793,477
1435
82,836,370
14,911,074
1466
1,712,506,524
2019
695,874
1388
83,532,244
12,738,341
1432
1,725,244,865
2020
546,734
1304
84,078,978
10,237,306
1363
1,735,482,171
2021
379,810
1167
84,458,788
6,513,408
1259
1,741,995,579
Updated through 8-2021.
Note: bbls is barrels; mcf is 1000 cubic feet.
County Map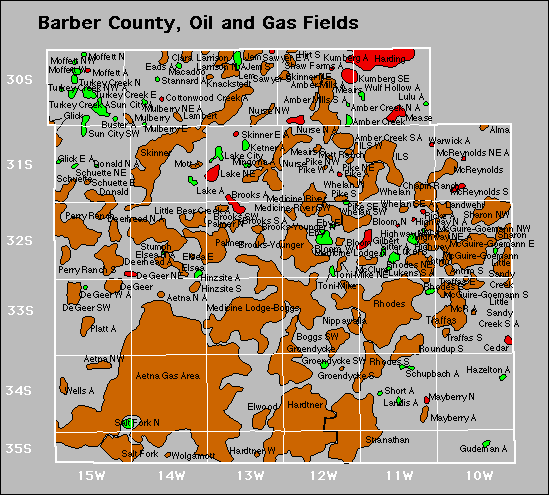 Fields
Also available is a text file containing field summary data for all fields in this county.


Abandoned

Degeer West
Glick East
Highway North
Highway Northwest
Ketner
Lulu
Mcr
Warwick

---
Kansas Geological Survey
Comments to webadmin@kgs.ku.edu
URL=http://www.kgs.ku.edu/PRS/County/abc/barber.html
Data from Kansas Dept. of Revenue files monthly.