Topographic Maps of Kansas Lakes
Copies of the maps are available from the Kansas Geological Survey, 1930 Constant Ave., Lawrence, KS 66047-3724 (or phone 785-864-3965) and at 4150 Monroe Street, Wichita, Kansas, 67209, 316-943-2343. The cost is $15, plus $4 for handling and postage. Kansas residents should call for the sales tax amount to be included.
Complete listing of maps follows this index map. You may also read a news release that describes the maps.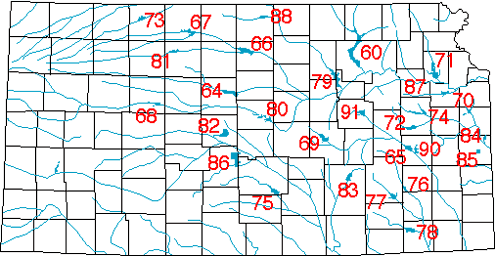 M-60--Tuttle Creek Map with lake-bottom topography
1 p., 1999, $15.00, on water-resistant paper
Map Info: 25 X 32 inches, scale 1:36,000
M-64--Wilson Lake Map with lake-bottom topography
1 p., 1999, $15.00, on water-resistant paper
Map Info: 29 X 23 inches; scale 1:36,000
M-65--John Redmond Reservoir Map
1 p., 1999, $15.00, on water-resistant paper
Map Info: 17 X 16 inches; scale 1:36,000
M-66--Glen Elder Lake Map with lake-bottom topography
1 p., 1999, $15.00, on water-resistant paper
Map Info: 22 X 22 inches; scale 1:36,000
M-67--Kirwin Reservoir Map with lake-bottom topography
1 p., 1999, $15.00, on water-resistant paper
Map Info: 18 1/2 X 22 inches; scale 1:36,000
M-68--Cedar Bluff Lake Map with lake-bottom topography
1 p., 1999, $15.00, on water-resistant paper
Map Info: 19 1/2 X 17 inches; scale 1:36,000
M-69--Marion Lake Map
1 p., 1999, $15.00, on water-resistant paper
Map Info: 19 1/2 X 17 inches; scale 1:36,000
M-70--Clinton Lake Map with lake-bottom topography
1 p., 1999, $15.00, on water-resistant paper
Map Info: 17 1/2 X 22 inches; scale 1:36,000
M-71--Perry Lake Map with lake-bottom topography
1 p., 1999, $15.00, on water-resistant paper
Map Info: 23 X 35 inches; scale 1:36,000
M-72--Melvern Lake Map with lake-bottom topography
1 p., 1999, $15.00, on water-resistant paper
Map Info: 31 X 28 1/2 inches; scale 1:36,000
M-73--Keith Sebelius Lake Map with lake-bottom topography (formerly Norton Reservoir)
1 p., 1999, $15.00, on water-resistant paper
Map Info: 23 X 18 inches; scale 1:36,000
M-74--Pomona Lake Map with lake-bottom topography
1 p., 1999, $15.00, on water-resistant paper
Map Info: 25 1/2 X 22 inches; scale 1:36,000
M-75--Cheney Reservoir Map with lake-bottom topography
1 p., 1999, $15.00, on water-resistant paper
Map Info: 21 1/2 X 27 inches; scale 1:36,000
M-76--Toronto Lake Map
1 p., 1999, $15.00, on water-resistant paper
Map Info: 23 X 23 1/2 inches; scale 1:36,000
M-77--Fall River Lake Map with lake-bottom topography
1 p., 1999, $15.00, on water-resistant paper
Map Info: 22 X 23 1/3 inches; scale 1:36,000
M-78--Elk City Lake Map with lake-bottom topography
1 p., 1999, $15.00, on water-resistant paper
Map Info: 17 1/2 X 18 inches; scale 1:36,000
M-79--Milford Reservoir Map with lake-bottom topography
1 p., 1999, $15.00, on water-resistant paper
Map Info: 26 X 41 1/2 inches; scale 1:36,000
M-80--Kanopolis Lake Map
1 p., 1999, $15.00, on water-resistant paper
Map Info: 23 1/2 X 19 inches; scale 1:36,000
M-81--Webster Lake Map with lake-bottom topography
1 p., 1999, $15.00, on water-resistant paper
Map Info: 24 X 21 inches; scale 1:36,000
M-82--Cheyenne Bottoms State Waterfowl Refuge Map
1 p., 1999, $15.00, on water-resistant paper
Map Info: 26 x 23 1/2 inches, scale 1:36:000
M-83--El Dorado Lake Map with lake-bottom topography
1 p., 1999, $15.00, on water-resistant paper
Map Info: 19 x 32 inches, scale 1:36:000
M-84--La Cygnes Lake Map with lake-bottom topography
1 p., 1999, $15.00, on water-resistant paper
Map Info: 10 1/2 x 23 1/2 inches, scale 1:36,000
M-85--Marais Des Cygnes Waterfowl Area Map
1 p., 1999, $15.00, on water-resistant paper
Map Info: 15 1/2 x 22 inches, scale 1:36:000
M-86--Quivira National Wildlife Refuge Area Map
1 p., 1999, $15.00, on water-resistant paper
Map Info: 16 1/2 x 32 inches, scale 1:36:000
M-87--Lake Shawnee Map
1 p., 1999, $15.00, on water-resistant paper
Map Info: 13 x 19 inches, scale 1:24:000
M-88--Lovewell Reservoir Map
1 p., 1999, $15.00, on water-resistant paper
Map Info: 23 1/2 x 17 1/2 inches, scale 1:36:000
M-90--Coffey County Lake Map with lake-bottom topography
1 p., 2000, $15.00, on water-resistant paper
Map Info: 14 x 27 inches, scale 1:36.000
M-91--Council Grove Lake Map with lake-bottom topography
1 p., 1999, $15.00, on water-resistant paper.
Map Info: 14 x 27 inches; Scale: 1:36,000