News Release, Kansas Geological Survey, October 10, 2022
---
Kansas Geological Survey scientists collaborate on project to identify unmarked graves in local cemetery
LAWRENCE—A joint project of the Kansas Geological Survey, Douglas County Historical Society's Oak Hill Cemetery Program Committee, and Watkins Museum of History aims to uncover and memorialize the stories of hundreds of people interred in Oak Hill Cemetery's potter's field from the 1860s through the 1910s.
The project is funded by a $13,000 grant from the Douglas County Heritage Conservation Council and a $10,000 grant from Humanities Kansas.
A potter's field was a section of a cemetery set aside for the burial of the poor, the unknown, and the marginalized, often without monuments to mark the graves.
During the summer of 2021, a team led by KGS Science Outreach Manager and Associate Researcher Blair Schneider that included 18 community volunteers surveyed about an acre, or 4,800 square yards, of the Oak Hill Cemetery's potter's field over a period of several weeks. They used four geophysical research methods, including ground-penetrating radar and techniques that detect differences in electrical and magnetic signatures, to identify objects and materials buried beneath Earth's surface.
Schneider and her colleagues are now analyzing and interpreting that data to identify individual burial sites.
"This project turned out to be a really wonderful opportunity for the KGS to engage with our local community and use the tools and methods that I have to address a problem that disproportionately impacts historically excluded groups," Schneider said. "Being able to use my research skills to address issues related to social justice and diversity, equity, inclusion and belonging is very important to me. I value being able to center the voices of those who have historically not been heard, or even actively ignored."
Caleb Latas, project director and independent consultant for the Douglas County Historical Society, plans to merge the geophysical survey results with existing but sometimes incomplete cemetery records kept by the city of Lawrence as well as with state and federal census data to develop the most complete picture of the lives of individuals buried in the cemetery's potter's field.
"Our hope is to give meaning and a name to the geophysics results and to create a database for descendants to be able to find and connect with their ancestors and relatives," said Latas, a master's student at the University of York who received a bachelor's degree in anthropology from the University of Kansas.
The project will create interpretive signs that list the names of those buried in potter's field and, when the information is available, their dates of birth and death, place of birth, and residence.
"These signs will also have QR codes that can be scanned, and each sign will have an associated podcast telling their stories, the history of the potter's field here and what a potter's field is, along with how the folks here represent an untold history of Lawrence and how their lives are an untold history of many major historical moments and events in Lawrence and Kansas," Latas said.
Larry Hoyle, a retired research scientist who volunteered with the geophysical site survey, continues to provide research assistance and help finding resources. "For the community, it's important to remember that, while no markers exist for most of those in potter's field, they were a part of the community then and our history now," he said.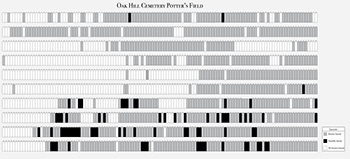 In addition to the KGS, the Douglas County Historical Society's Oak Hill Committee and Watkins Museum staff will oversee the project, coordinate public information, and serve as fiscal agent. Lawrence Parks and Recreation owns Oak Hill Cemetery and will work with Watkins Museum to develop interpretation of the site.
"This project will help us tell a more complete story of Lawrence's past and broaden the diversity of the historical record," said Steve Nowak, executive director of the Douglas County Historical Society. "The information gathered will complement what we know about Oak Hill Cemetery and the role it has played in the community."
The grants will fund a series of community discussions about the project and local events called "history harvests" to collect stories from people whose ancestors are buried in potter's field.
"It's really important to us that the community is an equal partner in this, that they are directly guiding and shaping this project for what is important to them," Latas said.
In addition to Schneider, Latas, Nowak, and Hoyle, Donna Rae Pearson, owner of Kitchen Table History and a local historian from Topeka, and Kerry Altenbernd, local historian and member of the Douglas County Historical Society Oak Hill Committee, will aid in research and understanding of the history and context of Oak Hill Cemetery. More information is available on the project's website.
---
For more information, contact Blair Schneider, blair.schneider@ku.edu, (785) 864-0663.
Story by Julie Tollefson

Kansas Geological Survey, Public Outreach
URL: