---
By Monta E. Wing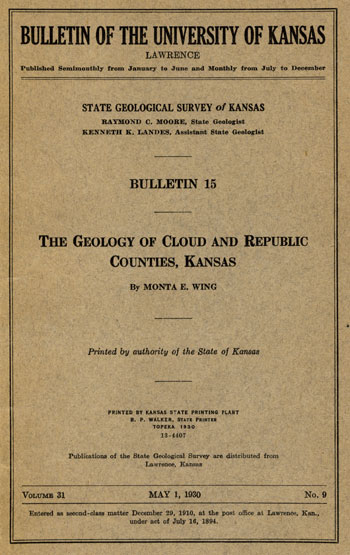 Originally published in 1930 as Kansas Geological Survey Bulletin 15. This is, in general, the original text as published. The information has not been updated.
You may also wish to visit our web sites on the Cloud and Republic county geologic maps.
Introduction
This bulletin contains the results of a geologic survey of Cloud and Republic counties made during the summer of 1929. The work was begun in Cloud County, and extended into Republic County, which contains the same rock formations, salt swamps, coal deposits and other geologic features. The field work was of a reconnaissance nature, and the contacts between the formations were sketched on topographic maps issued by the United States Geological Survey. The results of the survey are of considerable scientific and economic interest. One new formation is described. Among the economic resources water, soil and petroleum are given the most attention, although important sand, gravel and clay deposits are also considered. The chief results of the survey, however, are general. Geologic formations appearing at the surface and topographic features, such as the hills and valleys, are described and their origin given, thereby increasing the appeal which normally comes from observation of these features. The principal events in the geologic history of the area are listed, with special emphasis on the forces that have changed the surface and the tremendous amount of time involved. While the report contains many things of scientific interest the attempt is made to interest a large number of readers rather than only a few. Consequently, terms that would not be understood except by a geologist are not used, and many explanations that might be unnecessary for the geologist are given.
Acknowledgments
Unusual interest has been shown in the survey of Cloud and Republic counties, not only by officials but by other individuals. The writer is indebted particularly to many farmers in the area who gave information concerning water wells and other geologic features; to Representative Frank Carlson, of Concordia, and Senator Robert Hanson, of Jamestown; to John Swenson, William O'Reilly and James O'Rourke, of Concordia, and George Palmer, of Miltonvale, who furnished well logs and other data; and to A. F. Ries, of the Throckmorton-Ries Construction Company, Fort Scott, Kan., who supplied certain information concerning gravel deposits near Glasco. In Republic County the writer was assisted materially by W. M. Slopansky, city manager of Belleville, and by the county commissioners, E. L. Shepard, E. P. Ahrens and T. W. Lowe. The report was prepared in the State Geological Survey office at Lawrence, where the writer received help from the staff, including especially Drs. Raymond C. Moore, K. K. Landes and J. W. Ockerman. Arthur Lyon, of Beloit, Wis., assisted with the field work.
---
Kansas Geological Survey, Geology
Placed on web July 24, 2008; originally published May 1930.
Comments to webadmin@kgs.ku.edu
The URL for this page is http://www.kgs.ku.edu/General/Geology/Republic/index.html