---
Geology and Ground-water Resources of Reno County, Kansas
by C.K. Bayne
with a geologic map by O.S. Fent and C.K. Bayne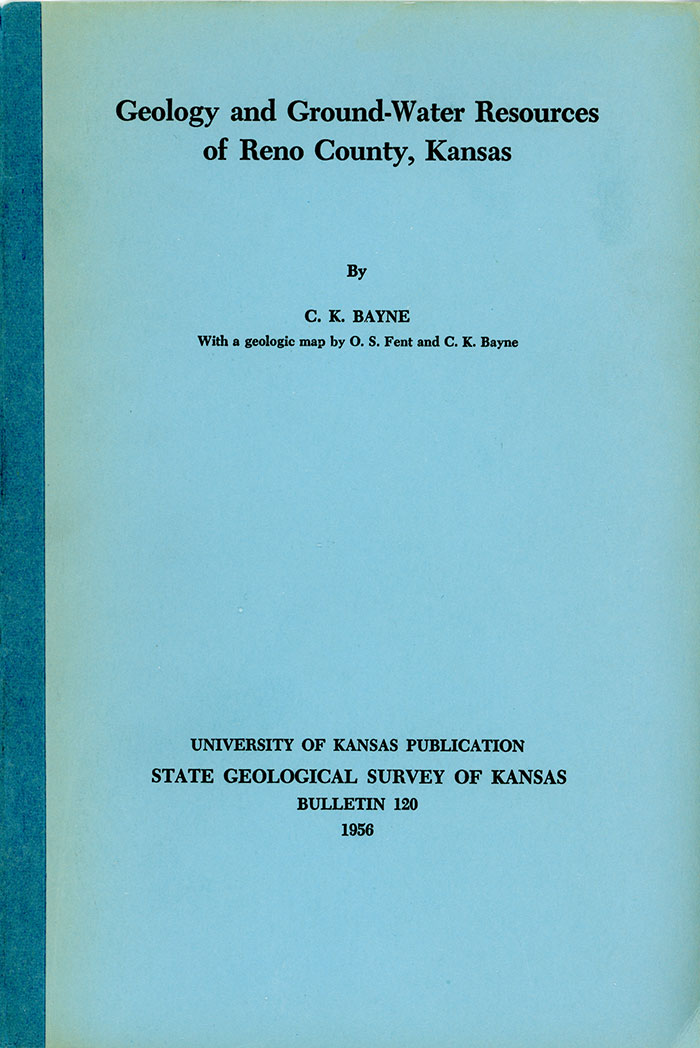 Originally published in 1956 as Kansas Geological Survey Bulletin 120. This is, in general, the original text as published. The information has not been updated. An Acrobat PDF version (87 MB) is also available.
You may also wish to visit our web site on the Reno County geologic map.
Abstract
This report describes the geography, geology, and ground-water resources of Reno County, Kansas. The hydrologic and geologic information was obtained in the field during the summers of 1949 and 1950. The county has an area of about 1,255 square miles and in 1950 had a population of 54,058. The area lies principally in the Great Bend lowland physiographic division. A small area in the southwestern part of the county is in the High Plains section of the Great Plains province and a small area in the south-central part of the county is in the Red Hills division. The area is drained by the Arkansas River and its tributaries. The normal annual precipitation is 28.53 inches and the mean annual temperature is 56.1°F. Farming is the principal occupation, wheat being the main crop. Petroleum and salt are important mineral products.
All the exposed rocks in Reno County are of sedimentary origin; they range in age from Permian to Quaternary. A map showing the surface geology, and cross sections and maps showing the distribution of the unconsolidated deposits are included in the report. Four major cycles of erosion and deposition are recorded in the Pleistocene rocks.
The unconsolidated sand and gravel deposits of Pleistocene age form the most important aquifer in the area. These deposits reach a maximum thickness of about 300 feet and yield water to wells for all public and industrial and most domestic supplies. The water is hard in most of the area, and water of high chloride content is found in the deep Pleistocene channels.
Hydrologic and geologic data on which this report is based include records of 241 wells, logs of 94 test holes and wells, and analyses of 154 samples of water.
---
Kansas Geological Survey, Geology
Comments to webadmin@kgs.ku.edu
Web version Feb. 2001. Original publication date Aug. 1956.
URL=http://www.kgs.ku.edu/General/Geology/Reno/index.html