Prev Page--Introduction || Next Page--Geology
---
Topography and Drainage
Most of Pratt County lies within the High Plains section of the Great Plains physiographic province (Schoewe, 1949). The northern margin is considered to be part of the Arkansas River Lowlands section of the Central Lowland physiographic province.
Topography of the county consists of nearly level to gently rolling plains, with steeper slopes along the major drainageways and in the sand hills. The highest point measured, 2,105 feet above mean sea level, is on the western margin of the county in T.28 S. The lowest point measured, 1,665 feet above mean sea level, is at the east county line where the South Fork Ninnescah River leaves the county. Although the total relief in the county is about 440 feet, the local relief does not exceed 100 feet. The surface of the High Plains slopes gently eastward at about 10 feet per mile in Pratt County.
The northern third and the southeast corner of Pratt County are covered by a thin veneer of dune sand. True dune topography is best developed in the northwestern part of the county. The only tract of active dunes is near the southeast corner of T. 26 S., R.15 W. Most of the dunes are stabilized by sparse vegetation.
The major stream in Pratt County is the South Fork Ninnescah River. This perennial stream flows eastward from near Cullison and, with its tributaries, drains about 256 square miles of the county. The stream gradient is about 15 feet per mile in the headwater area and about 10 feet per mile in the eastern part of the county.
Turkey Creek and North Branch Elm Creek, which are perennial streams tributary to Medicine Lodge River (Barber County), drain 127 square miles of southern Pratt County. These creeks have gradients of about 20 feet per mile.
The Chikaskia River and its tributary, Sand Creek, head in the small sand-hills area in the southeast corner of Pratt County. These intermittent streams drain an area of 67 square miles.
Although Rattlesnake Creek crosses the extreme northwest corner of the county, the creek has no contributing drainage area within the county. The creek is a losing stream in Pratt County and adds a minor amount of water to the ground-water reservoir.
Undrained sand-hill areas of Pratt County total 268 square miles in the north and northwest and 11 square miles in the southeast. These areas contain many small basins where precipitation collects and evaporates or seeps into the ground.
Climate
The climate of Pratt County is semiarid with moderate but variable precipitation and a high rate of evaporation. It is classified semiarid because the average precipitation is insufficient for the evaotranspiration demand. Although summer days are hot, the heat is relieved somewhat by good air movement. The winters are moderate with occasional severe cold periods of short duration.
The following climatic data were compiled from the 68-year record of the National Weather Service (formerly U.S. Weather Bureau) at the Pratt station. The mean monthly temperature at Pratt is 82° F in July and 34° F in January. Temperature extremes recorded at Pratt were 115° F in 1911 and 1936 and -24° F in 1899. The normal annual precipitation at Pratt is 24.04 inches. More than two-thirds of the precipitation is in the form of brief heavy thunderstorms during the growing season (fig. 3). The distribution of precipitation throughout the year and from year to year is irregular. Maximum precipitation on record was 39.30 inches in 1957; minimum precipitation was 10.96 inches in 1956. The eastern part of the county receives as much as 2 inches more and the western part about 2 inches less than the annual average of 24 inches received at Pratt. Maximum 24-hour precipitation of 6.65 inches was recorded in July 1928.
Fig. 3--Fluctuations of water levels in selected wells and corresponding annual precipitation at Pratt.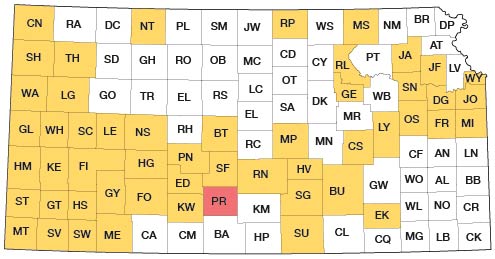 Evaporation is not measured at the Pratt weather station. However, data from stations at Garden City (Finney County) and Kanopolis Dam (Ellsworth County) can be used to approximate evaporation potential in Pratt County. At Garden City, 46 to 92 inches of potential evaporation was measured from April through September of years 1961-65. At Kanopolis Dam the potential evaporation ranged from 50 to 63 inches during the period April through October of years 1961-65. These values far exceed the average annual precipitation and result from the typically hot windy summers. Evaporation continues during the winter but at a much lower rate.
Population
In 1970 Pratt County had a population of 10,056, an average of 13.8 inhabitants per square mile [Note: Pratt County population was listed as 9,647 in 2000 U.S. census, with a population per square mile of 13.1 (KU Institute for Policy & Social Research).]. However, more than two-thirds of the county population live in the city of Pratt. When the populations of other communities are added to that of Pratt, more than 75 percent of the people in the county live in towns. The communities and their 1970 populations are: Byers, 46 [50 in 2000]; Coats, 152 [112 in 2000]; Cullison, 117 [98 in 2000]; Iuka, 210 [185 in 2000]; Pratt, 6,736 [6,570 in 2000]; Preston, 239 [164]; and Sawyer, 164 [124 in 2000] (Kansas State Board of Agriculture, 1971).
Agriculture
Agriculture is the major economic activity in Pratt County. According to the census of the State Board of Agriculture, there were 672 farms in 1969 with 214,265 total acres harvested. The value of the field crops was about 8.5 million dollars, and the value of livestock and poultry was about 9.4 million dollars. Harvested acreage of the principal crops is listed in table 1.
Table 1--Acreage of principal crops harvested in Pratt County in 1969 (Kansas State Board of Agriculture, 1971).
Crop
Acreage
harvested
Wheat
161,000
Sorghum
41,600
Corn
3,370
Oats
200
Barley
720
Rye
1,320
Alfalfa
3,300
Wild hay and pasture
2,600
Mineral Resources
The three principal mineral resources in Pratt County, in addition to ground water, are oil and gas, sand and gravel, and volcanic ash.
Oil and Gas
The first commercial oil well in the Pratt County area was drilled as a westward extension of the Cunningham pool in 1935. In 1964, 596 wells produced 1.2 million barrels of oil from 49 pools. Cumulative production from formations of Mississippian and Pennsylvanian are in Pratt County totals 53.7 million barrels. The producing horizons are at depths ranging from 3,600 to 4,700 feet (Oros and Beene, 1965). [For current information on oil and gas production, see the Survey's oil and gas page for Pratt County.]
Twenty gas fields in Pratt County produce gas from rocks of Mississippian, Pennsylvanian, and Permian age at depths ranging from 1,900 to 4,600 feet. Gas production in 1964 was 2.49 billion cubic feet; cumulative production was 33.3 billion cubic feet. A more complete discussion of oil and gas in Pratt County can be found in oil and gas bulletins of the State Geological Survey of Kansas.
Sand and Gravel
Sand and gravel is used for concrete arggregate and road metal, Although sand and gravel deposits of Pleistocene age underlie all Pratt County, the Grand Island and Sappa Formations are the best source of material. Gravel in these formations crops out in the southern part of the county and along the South Fork Ninnescah River. In active commercial gravel pits near Pratt (pl. 1) the material is quarried and sorted hydraulically.
Volcanic Ash
Common uses of volcanic ash are as an abrasive, a ceramic glaze material, an additive to cement and road asphalt, and a sweeping compound. Potential uses include the manufacture of light-weight aggregate, cellular blocks, and glass and ceramic bodies, and as an inert filler (Carey and others, 1952).
Five deposits of volcanic ash have been located (pl. 1) and sampled in Pratt County. The thickest of these is in the S2 SW sec. 21, T. 27 S., R. 12 W. where 14 feet of volcanic ash is exposed in a pit. The deposit is reported to extend eastward into the adjacent quarter section and southward across the section line into sec. 28 and is estimated to contain a reserve of 48,000 tons of ash. Another deposit is in the NE SE sec. 22, T. 28 S., R. 14 W., where 10 feet of ash is overlain by 2.5 feet of mixed ash and sand. Four feet of volcanic ash, exposed in a pit in the NW SE sec. 34, T. 27 S., R. 12 W., is overlain by about 6 feet of mixed ash, sand, and silt. This deposit extends westward into sec. 33, T. 27 S., R. 12 W. Ash also has been found in the SW SW sec. 23, T. 27 S., R.11 W., and in the northeast driveway of the El Rancho Cafe (NW NW sec. 4, T. 27 S., R. 13 W.).
Volcanic ash is reported to underlie a 40-acre tract at the center of sec. 31, T. 27 S., R. 12 W. The owner reported that the ash deposit, which is not exposed, is 15 to 20 feet thick. The reserve of ash in this location is reported to be approximately 54,000 tons (Carey and others, 1952).
The presence of volcanic ash has been explained by Swineford (1949), who stated that the ash may have been derived from the explosion of Valle Grande Caldera in north-central New Mexico. Carried by winds over Kansas and adjacent areas, the ash eventually settled to the ground, forming a thin layer spread extensively over the land surface. This readily erodable material overloaded the small streams leading into ponds and undrained depressions on the extensive alluvial plain that existed in Pleistocene time. Such a mode of accumulation accounts for the sharp lenticularity and range in thickness of the deposits and for the varying amount of silt and sand contained in some of the deposits.
The irregularity with which volcanic ash has been deposited hinders prospecting for commercial deposits. However, the determination of the proper stratigraphic position of the ash serves to eliminate much unproductive territory and, therefore, is a valuable aid in exploration.
---
Prev Page--Introduction || Next Page--Geology
Kansas Geological Survey, Geology
Placed on web Aug. 18, 2008; originally published Feb. 1973.
Comments to webadmin@kgs.ku.edu
The URL for this page is http://www.kgs.ku.edu/General/Geology/Pratt/03_geog.html