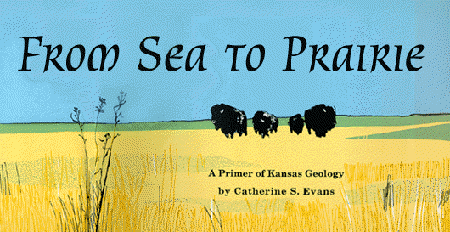 Page 1--Home Page
---
Welcome to From Sea to Prairie: A Primer of Kansas Geology, written by Catherine S. Evans. These pages will introduce you to the science of geology and the varied geology and landscapes of Kansas.

This online version is based on a book available from from the Kansas Geological Survey. If you are interested in purchasing a copy, call the KGS Publications Sales office at (785), 864-3965 and ask for "Educational Series 6." The price is $5. Other educational publications are also available from the Kansas Geological Survey.
---
Table of Contents
Introduction
---
Acknowledgments
This publication could not have been completed without the contributions of several people. Jennifer Sims created the cover design, layout, and illustrations. John Charlton took many of the photographs and printed those from the Survey. Fred Terry edited the copy. Chris Maples, Lynn Watney, Marla Adkins-Heljeson, Rex Buchanan, Pieter Berendsen, and Frank Wilson reviewed the manuscript. Shelley Marcotte typed the manuscript. David Collins created the computer-generated map of Kansas elevations. The Kansas Historical Society and the University of Kansas Museum of Natural History provided photographs and information.
---
---
Kansas Geological Survey
1930 Constant Ave., Lawrence, KS 66047-3726
Phone (785) 864-3965, FAX (785) 864-5317
Placed online Feb. 1, 1996
URL = "http://www.kgs.ku.edu/Publications/primer/primer01.html"
Send comments and/or suggestions to webadmin@kgs.ku.edu